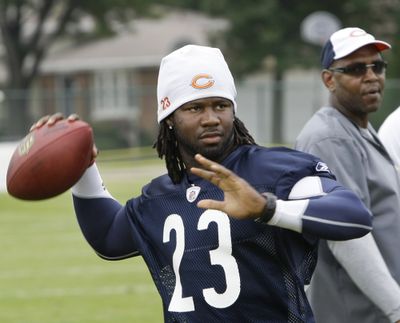 Chicago Bears kick return star Devin Hester reported to training camp in Bourbonnais, Ill., on Friday, ending his holdout while negotiations on a new contract continued.
The two-time Pro Bowler has two years left on his deal. Hester, who also played wide receiver last season, skipped the Bears' first two days of practices after watching several teammates get new contracts in the off-season.
A second-round draft pick in 2006, he had said he skipped practices to make a statement that he was serious about a new deal, and that $445,000 a year was not enough money. Hester's financial value is difficult to judge, since he's never started a game on offense and wide receivers earn more than return specialists – even those that dazzle.
Hester thrilled fans with 11 punt and kickoff returns for touchdowns in his first two seasons. He also returned a missed field goal 108 yards in 2006 and ran back the opening kickoff in the 2007 Super Bowl 92 yards for a touchdown.
The Bears eased him in on offense last season, after he initially balked at moving from the defensive backfield, and Hester wound up catching 20 passes for 299 yards.
Cowboys to waive Glenn
The Dallas Cowboys said Friday that they will waive veteran receiver Terry Glenn, who resisted signing an injury clause after missing most of last season with a right knee injury.
Cowboys owner Jerry Jones said the decision on the first day of training camp wasn't about an off-season dispute with Glenn over an injury waiver that kept him off the practice field. Jones said he wanted to clear the way for younger receivers to compete for the job opposite leading receiver Terrell Owens.
Titans, Haynesworth agree
The Tennessee Titans believe they might have reached a long-term deal with All Pro defensive tackle Albert Haynesworth if only they had more time before the NFL deadline. That made it easier to promise Haynesworth they won't slap him with the franchise tag in 2009 – if he meets several incentives.
Haynesworth agreed to terms Friday morning, drove three hours from his home in East Tennessee and signed his $7.25 million tender. While his teammates took part in the first practice of training camp, he passed his physical, then talked to reporters in the locker room.
"I'm making $7.2 million. That's a lot of money. I don't care how you cut it. I'm happy they're giving it to me, and we'll see what happens next year," Haynesworth said with a smile.
Around the league
Brett Favre has yet to petition the league for reinstatement, a routine step required if he is to go ahead with his plans to show for the Green Bay Packers' training camp. … St. Louis Rams running back Steven Jackson, entering the final year of his contract, was a no-show for the opening day of training camp at Mequon, Wis. … The Buffalo Bills could begin fining Jason Peters up to $15,000 a day after the Pro Bowl left tackle failed to report for the start of training camp at Pittsford, N.Y., because of a contract dispute.
---