News > Voices
Raising a magician
Dave Womach's father, family supportive as he grew as a performer
Sat., July 26, 2008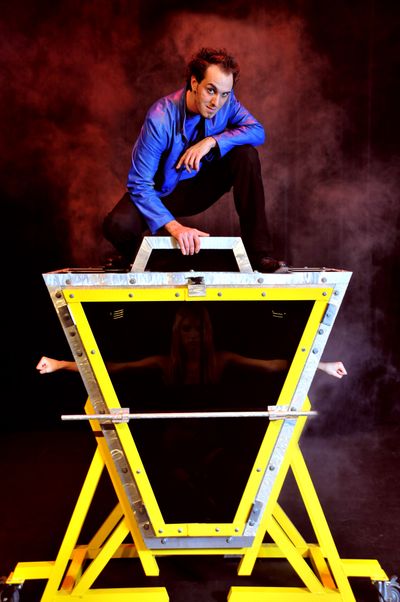 What's it like to raise a budding magician? According to Dave Womach's father, Dan, "It's a lot of work."
His famous son was in the area recently for a brief visit, after winding up a yearlong gig at the SandCastle Dinner Theater in Saipan. While in Saipan, Womach set a world record for the deepest underwater card stab – a trick that involved the magician finding a randomly selected card floating near the ocean's floor and stabbing it with a spear gun. He dove without a scuba tank and had to hold his breath for two minutes.
The senior Womach said his son showed a passion for prestidigitation from a very young age.
In a phone interview Dave Womach agreed. He said, "It started when I was about 4 and my older brother got a magic kit for Christmas. He didn't really enjoy it and stuck it in a closet."
It didn't take long for Dave to unearth the kit and learn the tricks. "I showed everyone in the family," he said.
However, as true performers know, one show is never enough. His dad said, "He drove us all nuts." Womach decided he needed a bigger audience, so he invited the family's North Side neighbors to attend his performances. "I charged them a nickel per show," he said.
The self-taught performer honed his craft by recording episodes of the "World's Greatest Magic" television show. "He spent hours each day watching videos," his dad said.
Womach's neighborhood shows paved the way for school appearances. A friend of his mother's was an elementary teacher and invited him to perform for her classroom. By the time he was in middle school he was performing regularly for school assemblies.
He also expanded his act to include birds. "I bought doves from Northwest Seed and Pet."
Dan Womach described his son's fascination this way, "He got hung up on birds. We had birds in the house – parakeets, a blue and gold macaw and a really mean cockatoo."
By 15, Womach had landed a regular gig at Red Robin restaurants doing tableside magic. "I worked every Friday and Saturday night," he said, and added with a laugh, "It (magic) is a great way to keep your kid out of trouble in high school." He made sure to leave his self-printed business card at every table.
His parents were kept busy because Womach couldn't drive yet. They had to take their son and his props to all his shows. Those props were getting larger and more complicated. Womach designed most of them in his dad's workshop. His father rolled his eyes at the memory. "He never cleaned it up, either!"
While still in high school, Womach got a job at Silverwood theme park. "I worked 17 shows a week and earned $5 per hour," he said. During the season he stayed in a small trailer at the campground across the highway. "I lived on Hot Pockets." To supplement his diet he'd go to a service station in Athol, Idaho. "I found out they throw away the food at the end of the night. I would show up and they gave me the food." Thus he was able to add hot dogs and deep fried-burritos to his daily meals.
At 18, Womach was invited to perform at the Shanghai Magic Festival. Though he missed a lot of school, his teachers at North Central were supportive. "They let me learn from the road," he said.
After graduation he traveled throughout Canada as part of a variety-act tour. When that tour ended, he continued to travel – this time as an entertainer on cruise ships. And in the midst of all the shows, four years ago, he managed to find time to fall in love and marry Sandpoint native Jamie Morris. She became his wife and his onstage assistant.
They'd met when Jamie attended one of his shows at North Idaho College. Jamie's father, Gil Morris, found Womach to be a "pretty impressive young man." When he asked for Jamie's hand in marriage, Morris said, "He offered to show us his financial statement."
The 25-year-old magician plans to return to the Spokane area in December for a variety of shows. "There's something about the Washington/Idaho audiences," he said. "They're unlike any audience I've been in front of. You hear sometimes you're not appreciated in your hometown. I think it's maybe because you don't realize how appreciated you are until you leave and return."
His father credits Womach's success to his unflagging determination and natural showmanship. "He doesn't know how to take no for an answer, and he doesn't take crap from anybody." When asked if he's proud of his son, his eyes filled with tears. He nodded and said, "Yes, I am. It's hard to talk about."
Maybe some fathers hope their children choose careers in law or medicine, but Dan Womach said, "Who am I to tell him what he should be?" And he offers this word of advice to others who have big dreams. "Follow your heart," he said. Then he smiled and added, "Dave did."
Local journalism is essential.
Give directly to The Spokesman-Review's Northwest Passages community forums series -- which helps to offset the costs of several reporter and editor positions at the newspaper -- by using the easy options below. Gifts processed in this system are not tax deductible, but are predominately used to help meet the local financial requirements needed to receive national matching-grant funds.
Subscribe to the Coronavirus newsletter
Get the day's latest Coronavirus news delivered to your inbox by subscribing to our newsletter.
---