News > Features
Poetry in motion
Sat., June 14, 2008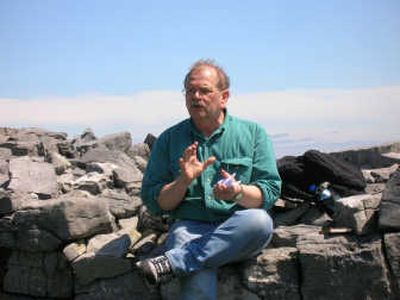 There's nothing special about, say, an old man folding a handkerchief. Unless, of course, you're a poet. And such a poet is Sam Green, Washington state's poet laureate. The first to hold the position – he was appointed by Gov. Christine Gregoire in December – Green is all about looking at things in new and different ways.
Which is what he'll talk about when he appears at 4:30 p.m. Thursday at Eastern Washington University's JFK Library, which is located on the school's Cheney campus. The title of his free lecture: "Poetry in the Every Day."
"What I'm after here is partly how poetry can help us look at what's around us each day, how to increase awareness," Green said during a recent phone interview, "how we can come to those perceptions both through the poems of other people but also trying to write them ourselves."
A good example from his own work is the poem "Old Man Folding a Kerchief in the Supermarket," which includes the lines:
"Now, he is folding it back into shape/
with blunt fingers, hunched/
over his labor, watching intently/
his hands as though/
they might betray him."
The poem is taken from a real-life moment that Green, 59, experienced first-hand, sitting in a supermarket eating a fast-food Chinese dinner as the elderly man went through his motions at a nearby table. "There's nothing extraordinary about seeing an old man pick out a handkerchief and clean the table with it," Green said. But, he added, the moment caused him to start "opening up to the possibilities," asking himself to imagine the many reasons why the man would want to spend so much time doing such an common task.
"Why did he do it so carefully, what does that mean, what does that mean to the rest of us?" Green asked.
The answer he came to: "It reminded me that we can take extreme care with everything we do. Everything. You know, the old cliché holds true: If it's worth doing, it's worth doing well."
Green does several things well. A native of Sedro-Woolley, Wash., who was raised in Anacortes, Green has lived with his wife, Sally, since 1982 on Waldron Island, a small hunk of Puget Sound's San Juan Island chain.
In the years they've lived there, in a log cabin they built by hand, Green has scored several teaching gigs – most recently at Seattle University – and he and Sally run Brooding Heron Press.
Besides publishing poetry in a variety of national journals, he's authored two collections: "Vertebrae: Poems, 1978-1994" (EWU Press) and the forthcoming "The Grace of Necessity" (Carnegie-Mellon University Press).
Even though their cabin has no electricity, Green and his wife do have cell phones and computers and Internet access, concessions to the modern world necessitated by the demands of their publishing business.
It's those kinds of concessions, though, that Green struggles against – the kind that keep us from seeing the beauty of what's there, right in front of us, if only we take the opportunity to see it.
"Think of the word 'contemplate,' " he said. "It means to stand outside the temple. To be with the temple, to templum, contemplum.
"That kind of thing is important to me, using words to understand what I experience through my five senses – and, if we want to get odd about it, we could say the six senses, the intuitive sense, the one that maybe makes some linkage between all these other things that we see. In the writing of the poem, that's where I finally figure it out."
But though Green has made a career out of finding those linkages, and working them out on paper, he believes that everyone can do it. You just have to make the effort.
"So here we are living in a textbook of reminders, and it's just easy to ignore them," Green said. "And I try not to ignore them.
"What happens, of course, is that we miss an extraordinary amount. As a friend of mine said one time, 'Every day the world bothers to be beautiful, but it's up to us to show up and notice it.' It's hard to show up."
But hardly impossible.
Local journalism is essential.
Give directly to The Spokesman-Review's Northwest Passages community forums series -- which helps to offset the costs of several reporter and editor positions at the newspaper -- by using the easy options below. Gifts processed in this system are not tax deductible, but are predominately used to help meet the local financial requirements needed to receive national matching-grant funds.
Subscribe now to get breaking news alerts in your email inbox
Get breaking news delivered to your inbox as it happens.
---