News > Spokane
Waiting for war
Robert Shipp faces challenges of deployment
Sun., May 11, 2008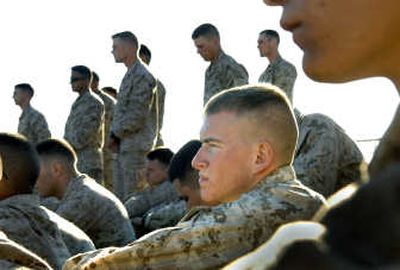 After nearly two months in the Kuwait desert preparing for combat, the men of Bravo Company, 1st Battalion, 5th Marine Regiment were frustrated; instead of marching into Iraq, they were ordered back to their ship.
Among the Marines was Lance Cpl. Robert Shipp, one of the Hauser Lake, Idaho, twins whose lives have been chronicled in The Spokesman-Review for two years by reporter James Hagengruber and photographer Brian Plonka.
"Why did they spend so much money on training if they're not going to use us?" Robert told the journalists. "I just wish I could've actually gone."
Going back to the USS Germantown, an amphibious assault ship, was particularly disappointing for Robert because Iraq is where his twin brother, Cpl. Matthew Shipp, is serving infantry duty.
The twins, now 20, were virtually inseparable before they enlisted.
Read about Robert Shipp's deployment in today's special "Brothers in Arms" section.
Next Sunday, the journalists chronicle Matthew's experience with the 3rd Battalion, 11th Marine Regiment.
Local journalism is essential.
Give directly to The Spokesman-Review's Northwest Passages community forums series -- which helps to offset the costs of several reporter and editor positions at the newspaper -- by using the easy options below. Gifts processed in this system are not tax deductible, but are predominately used to help meet the local financial requirements needed to receive national matching-grant funds.
Subscribe to the Coronavirus newsletter
Get the day's latest Coronavirus news delivered to your inbox by subscribing to our newsletter.
---