News > Spokane
One Marine's paradise
Sun., May 18, 2008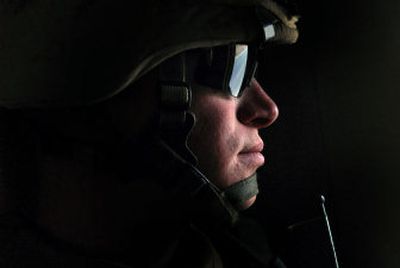 COMBAT OUTPOST NORSEMAN, Iraq – Wearing a uniform that hadn't been washed in months and operating on a typical ration of five hours of sleep, Cpl. Matthew Shipp chambered a bullet in his machine gun and set off on his fourth patrol of the day.
The 20-year-old U.S. Marine from Hauser Lake, Idaho, sat in the front passenger seat in the "lead vic" – the first vehicle – of the small convoy. Dust had been wiped from the bulletproof glass in hopes of making it easier to spot the spider strand wires that trigger roadside bombs.
Matthew was tired, hungry, coated in grime and having the time of his life.
His country might be growing weary of the war, but Matthew sure wasn't.
"I love it here," he said, as his vee-hulled armored patrol vehicle drove out of the gate of the tiny combat outpost. "I definitely like it better than Twentynine Palms" – his unit's home base in the desert of Southern California. "There we had to deal with a bunch of Californians."
The patrol's mission on that March afternoon – the fifth anniversary of the war's start – was to fetch a pair of captured insurgents and bring them back to a makeshift prison at the combat outpost. Although Matthew considered the work routine, it involved driving potentially bomb-rigged streets. Matthew said all he could do about that was stay alert and make sure his body armor was snugly fastened. "If you get hit, then you get hit."
In October, Matthew's unit, India Battery of the 3rd Battalion, 11th Marine Regiment, began its tour of duty in Iraq. Being here, he said, has been the realization of a longtime dream of serving as an infantry Marine in a combat zone. Matthew and his twin brother, Robert, enlisted together two years ago. Along with the military's intense recruiting effort – finding enough volunteers hasn't been easy for the war in Iraq – the twins' decision was shaped by teenage years loaded with action movies and the traditional, patriotic values of their small North Idaho community.
The brothers were 12 when the Twin Towers fell. They both believe their military service will help protect America from another attack. Robert, however, is frustrated that his infantry unit, the 1st Battalion, 5th Marine Regiment, wasn't sent to Iraq or Afghanistan. His first deployment was with a Marine Expeditionary Unit that spent time on an amphibious assault ship and in the desert of Kuwait. Lance Cpl. Robert Shipp has not yet had a taste of combat.
Matthew's experience in Iraq hasn't exactly been the stuff of Hollywood war movies – his guard post was once fired upon and there have been several mortar and rocket attacks in the town next to his base. These brief brushes with combat did not offer chances for the Marines to return fire.
Mostly, Matthew's patrols have involved assisting Iraqi police as they try to secure this relatively untamed patch of Anbar desert, or running errands between the combat outpost and a series of satellite garrisons. The mission of fetching the pair of captured al-Qaida suspects meant traveling from Outpost Norseman to a traffic checkpoint about five miles away. This required Matthew and his fellow Marines to drive through the narrow, rubble-strewn streets of the city of Rutbah, a town of 50,000 near Iraq's western border.
Thanks to dust pouring in from the machine gunner's roof hatch, the windshield of Matthew's vehicle was again coated with the tan, talcum-like powder of Anbar sand. Nonetheless, one could still catch glimpses of the Iraqi town through the dusted, steak-thick glass: a boy flying a paper kite, a bony camel tied to a mud house, old men smoking a water pipe outside a barbershop, sheep grazing beside piles of smashed brick, countless plastic bags fluttering from barbed wire. A young girl with ribbons in her black hair waved at the passing convoy. Most other townspeople reacted only with stares.
Matthew kept his eyes glued to the road and said nothing until the convoy was parked behind the relative safety of the traffic checkpoint's blast walls. The prisoners were marched out wearing body armor over their long robes and had strips of cloth tied across their sunburned faces. Matthew put helmets on their heads before seat-belting them into the back of his vehicle. He asked them in Arabic, "Are you OK?" The men nodded. Matthew didn't know how the men had been captured or why. His job was simply to drive them back to a makeshift prison at his outpost. Matthew's only concern was having enough time to eat dinner before the next patrol.
Back at the outpost, after the vehicles were parked, Matthew walked to the small shack that served as a chow hall, stopping first to fill a sandbag (standing orders before all meals). The outpost's only stove was broken, which meant another night of grilled burgers, along with green beans warmed over a fire made from wooden pallets.
After dinner, Matthew and his squad learned they had no other scheduled patrols for the evening. "I haven't had eight hours of sleep since I've been back home," Matthew said, walking back to the cramped room in a plywood building that he shared with about a dozen platoon members.
Rather than going to sleep, Matthew decided to spend a couple hours lifting weights in the outpost's makeshift workout room – even the smallest of Marine bases have a gym. Since arriving in Iraq, Matt's muscles have ballooned. He works out every chance he gets. The bulk is also from long days of wearing body armor that weighs as much as a small child. His commanding officers point to Matthew's work ethic and effectiveness at carrying out missions as factors in his relatively swift promotion to corporal earlier this year.
Although the outpost has two telephones and two computers with Internet access, Matthew limits his calls and e-mails home, believing these contacts to be distracting reminders of the safety and comfort he left behind. He married his high school sweetheart, Jessica, a year ago. She has spent his deployment living with her mother in Hayden and taking classes at North Idaho College. Matthew calls her occasionally, but he doesn't talk much about his work. "She knows I go out on convoys," he said. "I don't know if she knows I do foot patrols."
When he's not patrolling, Matthew works in the outpost's combat operations center. The small, air-conditioned room is crammed with computers, radios, a remote-controlled video camera and highly detailed maps of Rutbah's maze of narrow streets. The outpost, which is about the size of a city block, is the base for several tanks and 155 mm howitzer cannons. The tanks patrol the desert every day, hoping to find the insurgents who lob the occasional mortar at coalition installations. One cannon at the outpost points toward Rutbah and is always ready to be fired, but the Marines have not used these howitzers in combat on this tour.
Matthew doesn't like the office work, even if it offers a physical break.
"I'd rather be out patrolling, where you're out there doing something," he said.
In the rare moments when he is not working or lifting weights, he rests on his cot, thumbing through Outdoor Life or a Cabela's catalog, dreaming about hunting the ridges behind his parents' home or of his future with Jessica, whose picture he keeps in the shoulder pocket of his sweat-stained uniform. They want to buy a house in Post Falls or maybe pursue a fantasy of building a cabin deep in the forest, he said, "next to a stream with a waterfall that flows into a lake."
■
Matthew and the 140 or so Marines of 3/11's India Battery began their combat tours at a base north of here, near the city of Rawa. Although the Marines were trained to kick down doors and kill insurgents, most of their time was spent trying to build trust with residents, said First Lt. Hamilton Ashworth. They helped train police forces and managed to see the town undergo what Ashworth called an "amazing transformation. … By the time we left, everybody in the city loved us. They definitely didn't want us to leave."
In early March, the artillery battery was transferred from Rawa to this small outpost of concertina wire and sandbags near Rutbah, where the police station bears fresh scars from rocket attacks, young men still hide grenades in the streets, and civic leaders continue to be targeted by hit squads.
Despite Norseman's primitive conditions, the camp was relatively luxurious compared with the unit's previous base. There, the men had to burn their bathroom waste each morning – oftentimes, they would huddle around the burning, reeking barrels to get warm after the toe-numbingly cold desert nights.
"The porta-potties here are heaven," said Lance Cpl. Stephan Bush.
Along with portable toilets and showers, Outpost Norseman also has heaters and air conditioning units. The Marines pride themselves on being tough, but none of the men complains about a warm shower after a day of hard work.
The extra comfort has come with greater risk. On the night of the war's fifth anniversary, just hours after Matthew returned from his patrol, a massive explosion echoed through the outpost. The boom came from Rutbah and was much louder than the usual gunfire that crackles through the night sky.
Matthew's evening off was over. His mobile assault patrol squad readied themselves for more work.
About an hour later, Marines returned to Norseman carrying an Iraqi who had blown off his arms and lost one eye while trying to hide a grenade in a street.
The young man was quivering in shock. Blood seeped from his bandaged stumps and from myriad shrapnel slices on his chest and face. A physician and his crew attempted to stabilize the man in the outpost's one-room field hospital. Young Marines wandered outside the door, smoking and grumbling about the care being offered to a man who wanted them dead.
"Why are we treating this guy anyway?" asked one of Matthew's squad mates, Lance Cpl. Scott Clark.
First Lt. Jim Rowe, the unit's executive officer shot back, "Because we have to!"
"Well, at least he won't be planting IEDs anymore," Clark said.
Moments later, a helicopter descended from the night sky. The injured man would be evacuated to a larger hospital. Rowe said the failed bomb effort fit a typical pattern of being "well-planned and poorly executed." The Marines were succeeding in their efforts to keep better-trained insurgents from entering the town, but they could not stop local, unemployed men from trying to earn $10 or $20 by hiding munitions in the streets patrolled by Matthew and his compatriots.
"It gets old," Rowe said after the helicopter took off. "How many more people in this town are going to get blown up?"
Moments later, Matthew and his team were sent out to provide security at the blast scene as Iraqi police and U.S. bomb experts gathered evidence.
Matthew's exhaustion was obvious, but he didn't complain.
"I came here knowing that it would be tough," he said. "It's still not as tough as I expected."
■
The upcoming presidential election has cast some uncertainty over the future commitment of U.S. forces in Iraq. Presumed Republican candidate John McCain, whose son has served with the Marines in Iraq, has vowed to keep troops there until the country is secure. Both the Democrat contenders, though, are calling for varying degrees of troop reductions.
The Marines hope to accomplish their mission before politics can interfere.
That's why they're scrambling to bring security to Anbar province, with Rutbah posing among the toughest challenges.
Highways from Jordan, Syria and Saudi Arabia converge near Rutbah before continuing on to Baghdad. The town's location makes it a key smuggling route for foreign fighters and bomb-building material, especially from Syria, said First Lt. Hamilton Ashworth. Although most of Anbar has calmed because of last year's surge in U.S. forces – combined with a hiring spree of Iraqi police officers – Rutbah remains a stronghold of the insurgency.
"We're in the wild, wild west," Ashworth said.
The morning after the young man blew off his arms, the remote outpost was visited by Maj. Gen. John Kelly, commander of all multinational forces in western Iraq. The Marine general wanted to find out why the insurgency here hasn't yet fizzled while most of the shooting has stopped elsewhere in the province.
Matthew and his squad provided security for the general and his staff as they traveled by heavily armored convoy to meet with the leaders of Rutbah. The delegation met inside a dimly lit brick building in the heart of the city. Dozens of Marines and Iraqi police stood guard outside – just two weeks earlier, rockets had hit nearby walls, causing minor injuries to a soldier.
Kelly sat at a table across from the mayor and police chief. "How are the people doing?" the general asked, after removing his helmet and flak jacket.
"Are the schools open for children? How's the economy?"
The mayor, who goes by the name Qasim, fingered the gold watch hanging from his wrist. He offered a pained smile and said, "The economy? We don't have one."
Rutbah is withering, Qasim said, both from the al-Qaida-backed insurgency and the coalition-led traffic checkpoints. The checkpoints are aimed at snagging fighters and bomb-building supplies, but they have also stifled the town's little remaining legitimate business. There is no oil here, Qasim said. The town's lifeblood is highway commerce.
As the general's aides scribbled notes and made sure coffee cups were filled, Qasim tossed his hands in the air and said his city is faced with an impossible situation. "There could not be an economy if there is no security," he said, his words translated by the general's interpreter.
Kelly believes the solution is in creating strong, professional Iraqi security forces. A year ago, about 6,000 Iraqi police patrolled the huge province of Anbar. "They didn't have guns and they were getting their heads cut off," Kelly said. Today, about four times as many police serve in the cities of Anbar – they carry weapons and body armor from the U.S. and have recently started patrolling in Humvees.
In coming weeks about 10 percent of the 25,000 Marines serving in Anbar are scheduled to return home, but two Iraqi army brigades will move into the region, which should help maintain the tenuous security, Kelly said.
Qasim is aware that many Americans would like to see even more troops leave Iraq. He urged the general to tell politicians in Washington to remain in Iraq.
"Withdrawal right now means handing Iraq to Iran. This will fulfill the dreams of the Iranians for an empire," the mayor said, echoing a common fear in the Sunni-dominated province. Iranians are largely Shiite Muslims. Qasim also spoke out against the idea of partitioning Iraq into semiautonomous Shiite, Sunni and Kurdish regions.
"The first ones to lose if Iraq gets divided is the Americans," Qasim said.
"For generations to come, they will not say the fault was Iranian. They will say it was the Americans."
Along with this warning, Qasim hoped the general could bring more money for his police officers. About 50 of the town's force of 337 officers have not received paychecks in recent months. He has a personal security force of 52 men that he pays out of his own pocket.
"If you bring the salaries back, there will be a statue of you downtown," Qasim promised.
After the visit, Kelly said sheiks and civic leaders across Anbar are increasingly anxious about the current deflation of last year's troop surge.
"We're pretty close from the point of view of security," said Kelly, now in his third tour in Iraq. "They have their training wheels on. Most kids don't like their training wheels taken off, either."
Less than two hours after the general and his aides flew back to their command post, the mayor's home was peppered with bullets. Nobody was hurt, but members of the town's fledgling police force piled into pickup trucks and raced out to find the gunmen.
Matthew works beside the Iraqi police, but like most other Marines in his squad, he doesn't have much trust in these men and he cringes when he sees the Iraqis driving heavily armored vehicles. Some of the police officers brag about having fought U.S. troops earlier in the war, Matthew said. "They talk about blowing up Marines," he said. "They'll be your friend during the day, go home at night and plant a bomb."
Despite these concerns, U.S. military leaders believe a strong Iraqi army and police force are the only hope for bringing stability to the shattered country. Some Marines in Matthew's unit were garrisoned with an Iraqi police fortress in downtown Rutbah, where they work with U.S. advisers to train the local officers.
Marine Sgt. Roberto Lopez is stationed with the Iraqi police at their fortress headquarters in Rutbah. He said that although finding enough money from Baghdad to pay their salaries is a huge struggle, the tallest hurdle is trying to instill in the officers a sense of professionalism and honor after a generation of corruption and brutality.
"That's the key to making this stick when we leave: pride in their selves and pride in their country," Lopez said. "This is the turning point for us getting out of here."
Matthew and his patrol team often worked with the mixed security teams. One mission had them escorting Outpost Norseman's commander to the city hall for a weekly meeting with civic leaders. Matthew stood guard in front of the building, keeping a close eye on the neighborhood's many darkened, shattered windows. Inside the building, a pair of U.S. Navy corpsmen bantered with a group of Iraqi police officers.
The Iraqis begged for American cigarettes and practiced their new language skills. One of the officers extended his middle finger and asked a corpsman, "What is this?"
The corpsman laughed and shook his head. The police officer then asked in broken English, "What you call big water?"
Lake? Sea? Ocean?
"Yes! Yes!" the officer replied. "Ocean! Beach! Madames! Whiskey!"
The corpsman sighed. He pulled out a package of gum. An Iraqi snatched it from his hand and gobbled three pieces before handing the rest to his colleagues, who quickly took what was left.
Marines say the officers' low and inconsistent salaries have done little to stifle corruption. Shortly after consuming the gum, for instance, one of the younger Iraqis offered to sell a visitor a puck of hashish that he kept in the breast pocket of his uniform. When the drug was declined, the Iraqi then offered to arrange for a prostitute. One of the contingent's English-speaking officers, a man who gave his name as Pedro Hussein, said he hopes the Marines stay longer. "We're not really ready to take care of things yet."
■
Matthew isn't sure if he will sign up for another four years in the Marines.
He might stay longer, but he's also been thinking about going to hunting guide school in Montana, or maybe earning his pilot's license.
But he had clearly defined plans for how he would be spending his first days back in Idaho. Many other Marines were planning big parties. Not Matthew. He would be spending time with his wife and he also hopes to meet his twin brother's ship when it returns to San Diego next month. "No offense to these guys, but I've been with them for seven months," he said. "I'm going to go home, buy myself a pizza and drink a beer."
Matthew is finishing his first tour of duty as a Marine with a firm belief that his service has helped protect his country and family from terrorism.
At the same time, he has serious doubts about the prospects of Iraq becoming stable and secure anytime soon.
"I don't think it will ever really be safe," he said. "It's going to take a lot more than us."
But he doesn't want the U.S. to give up. "It'd be pointless after five years to pull out and say we're done."
Matthew will have two or three more deployments during the remainder of his four-year contract with the Marines. He hopes he will have a chance to return to Iraq. "I'd come back in a heartbeat."
Local journalism is essential.
Give directly to The Spokesman-Review's Northwest Passages community forums series -- which helps to offset the costs of several reporter and editor positions at the newspaper -- by using the easy options below. Gifts processed in this system are not tax deductible, but are predominately used to help meet the local financial requirements needed to receive national matching-grant funds.
Subscribe to the Coronavirus newsletter
Get the day's latest Coronavirus news delivered to your inbox by subscribing to our newsletter.
---