News > Idaho
Realizing a dream in Rutbah
Matthew Shipp welcomes opportunity to serve in Iraq
Sun., May 18, 2008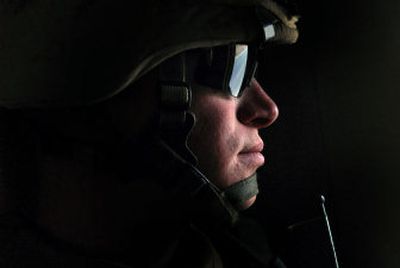 The fifth anniversary of the start of the war in Iraq found Cpl. Matthew Shipp negotiating potentially bomb-rigged streets in the city of Rutbah on his way to pick up captured insurgents.
"I love it here," said the 20-year-old Marine from Hauser Lake, Idaho.
Unlike his twin brother, Robert, who is serving on a ship and yearning for action, Matthew had been in Iraq since October. He was exhausted and grimy, but being there was the fulfillment of a longtime dream.
"I came here knowing that it would be tough," he said. "It's still not as tough as I expected."
As he finished his first tour of duty, he believed his service had helped protect the United States from terrorism. At the same time, he had doubts about the prospects of Iraq becoming secure anytime soon.
"It's going to take a lot more than us," he said.
Journalists James Hagengruber and Brian Plonka have chronicled the lives of Matthew and Robert for two years, from the time the twins graduated from high school through basic training and now into active duty.
Robert Shipp's deployment was the subject of a special report last Sunday; today, read about Matthew Shipp's experience with the India Battery of the 3rd Battalion, 11th Marine Regiment.
Local journalism is essential.
Give directly to The Spokesman-Review's Northwest Passages community forums series -- which helps to offset the costs of several reporter and editor positions at the newspaper -- by using the easy options below. Gifts processed in this system are not tax deductible, but are predominately used to help meet the local financial requirements needed to receive national matching-grant funds.
Subscribe to the Coronavirus newsletter
Get the day's latest Coronavirus news delivered to your inbox by subscribing to our newsletter.
---