News > Voices
Public safety in the park
New substation gives police, fire a presence in popular area near the lake
Sat., Nov. 1, 2008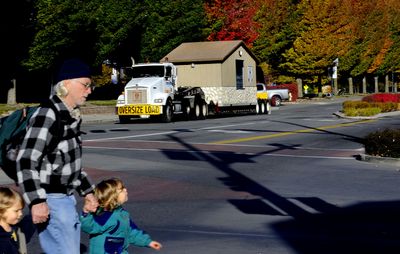 It's might be a little addition to the City Park, but a new public safety building could make a big impact.
That's the purpose behind the Coeur d'Alene Police Department's decision to build a roughly 500-square-foot substation between the basketball courts and the Museum of North Idaho. The one-room command post will be primarily used during the busy summer months and staffed by reserve officers, Citizens on Patrol, EMTs and other public safety personnel.
"It's basically a public safety building," said Police Chief Wayne Longo, adding that the Coeur d'Alene Fire Department would share the space during the visitor-heavy summer events such as Car d'Alene and Art on the Green. "For awareness, for visitors who need directions or help, and as a deterrent to crime – we're hoping our presence down there will help facilitate that."
The police and fire departments wanted to have the prefabricated structure ready by this past Fourth of July, as the downtown area has seen an increased need for foot patrols due to rowdy behavior in recent years. Construction on the building is scheduled to be finished in the coming weeks.
"It's something that we've wanted to do for a while," Longo said. "We still have some work to do. So we're not quite open for business yet, but we will be soon."
Funding for the project, which Longo said cost just under $50,000, came from the Lake City Development Corp., Coeur d'Alene's urban renewal agency, and from the city. There's no plumbing or cells in the building, only a computer terminal and an evidence locker that, if necessary, could be transported to the police station later. "It should save some drive time" in having to go from the downtown area to the outlying police department, the police chief said.
The command post will offer all public safety officers a greater vantage point in monitoring the Lake City's warm weather events, Coeur d'Alene Fire Department Chief Kenny Gabriel said.
And for the greater public safety image, he added "having a joint building hub in one of the most visual spots in the community will be great for us.
"It's the one place in the park that the public knows if they need information, need help, or just need a Band-Aid, they have a place to come now," he said.
Local journalism is essential.
Give directly to The Spokesman-Review's Northwest Passages community forums series -- which helps to offset the costs of several reporter and editor positions at the newspaper -- by using the easy options below. Gifts processed in this system are not tax deductible, but are predominately used to help meet the local financial requirements needed to receive national matching-grant funds.
Subscribe now to get breaking news alerts in your email inbox
Get breaking news delivered to your inbox as it happens.
---