Suspect flees bar stabbing
Police say fire captain helped son leave scene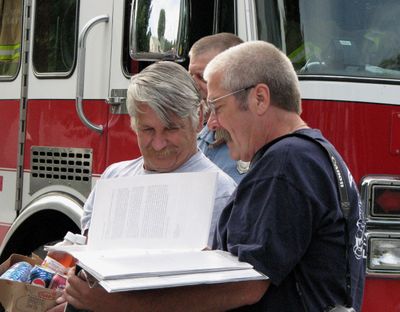 A Spokane fire captain sped away from police sirens and the scene of a stabbing at a Chattaroy restaurant early Tuesday, police say, with the primary suspect – his son – in the car.
Ron D. Clinger was arrested for attempting to elude police, a felony, and booked into Spokane County Jail. A judge released Clinger on his own recognizance because he has no criminal history, and after reminding him that, as a fire captain, he should have known better.
Clinger, 53, was placed on paid administrative leave from the Spokane Fire Department, city officials said Tuesday. His annual salary is $102,737.
Clinger's 32-year-old son, Daniel, remained in jail accused of second-degree assault for stabbing a man in the back twice during a fight at Prime Tyme Restaurant and Lounge.
"If I did stab him, it was because he deserved it for hitting my dad," Daniel Clinger told police. The knife used in the stabbing has not been found.
The Spokane County prosecutor's office has three days to file a formal charge against Daniel Clinger.
Ron Clinger, along with his two sons, Daniel and Timothy, were at the restaurant, at 4211 E. Westwood Road, about 1:20 a.m. Tuesday. According to police documents, the 29-year-old victim was talking to a waitress when a man behind him made an inappropriate comment to her.
The victim told the man to "show some respect," according to a Spokane County Sheriff's Office press release. The next thing he knew, he was on the floor being beaten by three people.
Witnesses saw one of the men with a folding knife, court documents say. In addition to stab wounds to his back, the victim also suffered a slash to his knee. He was treated at a Spokane hospital and released, authorities said.
The Clingers reportedly fled the restaurant in a Ford pickup, witnesses told police. A deputy spotted the truck going 85 mph on Deer Park-Milan Road at Missile Site Road.
The deputy caught up with the truck after Ron Clinger – a 27-year fire department employee – pulled into his driveway on Deer Park-Milan Road, authorities said. When the deputy asked Clinger why he didn't stop, he said: "I saw the emergency lights and heard the siren but just wanted to get to a safe place," the police document states.
The fire captain was also investigated for driving under the influence, according to the report. He told the deputy he'd had five mixed drinks before driving. His blood alcohol level was between .035 and .039, which is under the legal limit, officials determined. Clinger has not been charged for drunken driving at this time.
A police dog found Daniel Clinger hiding underneath the truck, police said. He had been in the front passenger seat. His brother was in the back.
Daniel Clinger has a criminal history that includes assault, failure to appear and violation of protection orders, court officials said. There are three warrants for his arrest – driving under the influence and violation of a protection order in Spokane County and assault out of Tacoma.
Daniel Clinger lives in North Dakota, but was in Spokane visiting his three children. District Court Judge Sara Derr agreed with a deputy prosecutor that he should be held on $50,000 bail.
Before Derr released Ron Clinger, she chastised him for speeding away from an emergency vehicle.
"Your employment would lead me to believe you would pull over," she said, shaking her head. "I'm sure as a fire captain, you have advised others to pull over as soon as they see emergency lights."
---