News > Idaho
A tempered Risch joining U.S. Senate
Defeats may have forged stronger candidate
Thu., Nov. 27, 2008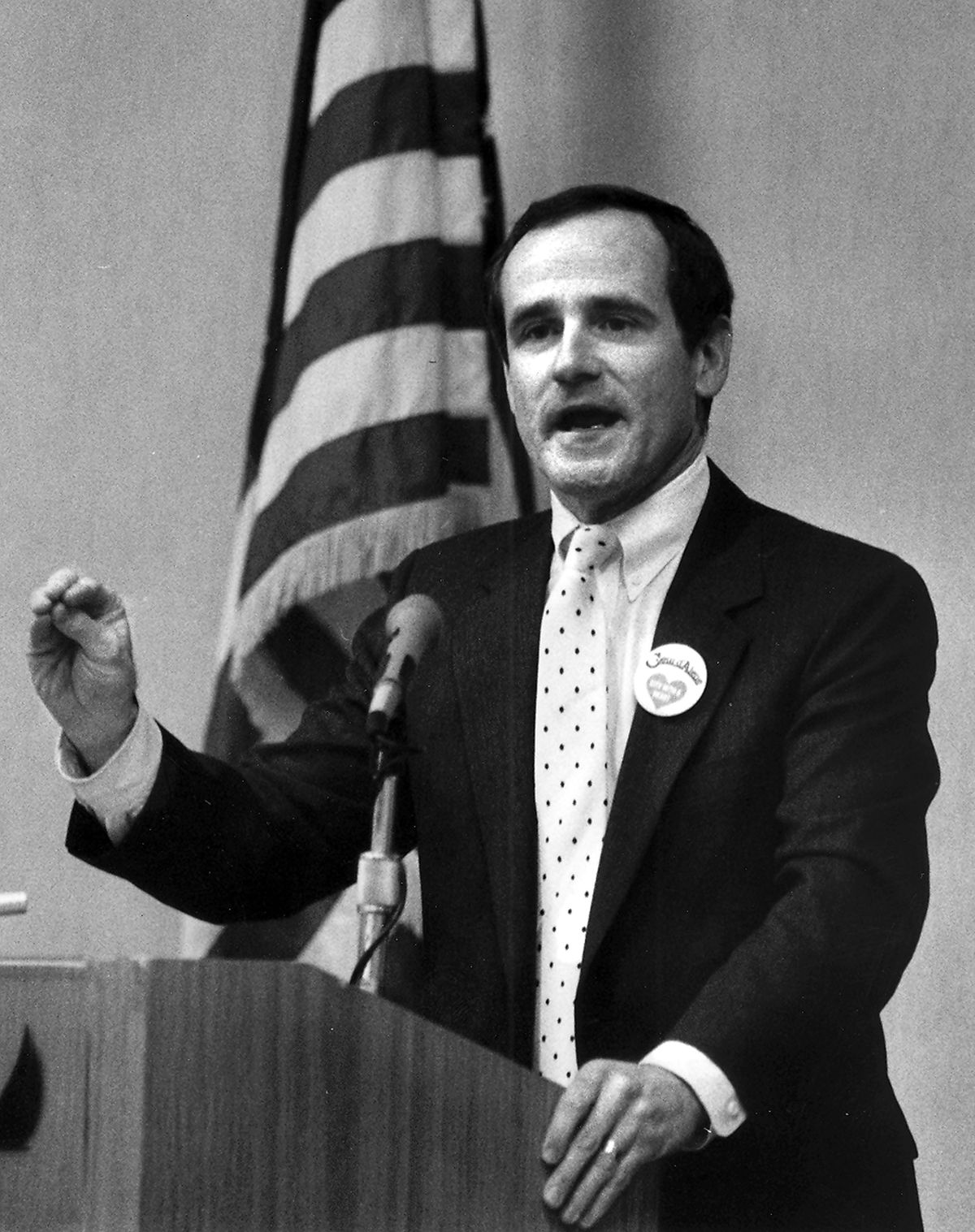 Jim Risch, pictured in 1987, is a different politician from the brash, combative character of the 1970s and 1980s. (File / The Spokesman-Review)
BOISE – Jim Risch was a formidable political force in Idaho, feared and admired as he wielded his power – and then, suddenly, everything ended.
It was 1988, and the Republican president pro-tem of the Idaho Senate found himself turned out of office by the voters. In what he called his last press conference, Risch declared himself done with politics. He would return to private life for good.
"I have no future political plans of any kind," he said. Asked if he might consider a run for Congress, he said, "I don't like anything about Washington, D.C. – particularly living there."
Much has changed in two decades, and Risch, 65, is now Idaho's newest U.S. senator-elect. But the Jim Risch who will head to the nation's capital in January is a different politician from the brash, combative character who relished his role in Idaho politics in the 1970s and 1980s.
"Everybody mellows," Risch said. In youth, he said, "you're more sure of yourself when you shouldn't be. As you get older, you become less sure of yourself when you shouldn't be."
Risch was clearly stunned by his 1988 defeat, his first election loss in an 18-year political career. Four years later, he attempted a comeback but lost in the GOP primary. It wasn't until Gov. Phil Batt appointed him to a vacant state Senate seat in 1995 that he began rebuilding his political career, rising to Senate leadership again, then becoming lieutenant governor and then governor for a whirlwind seven months, and now a U.S. senator.
Mike Burkett, the Boise attorney who defeated Risch in 1988 and later served with him in the state Senate, said, "Jim Risch on more than one occasion has greeted me with, 'That race was the best thing that ever happened to me, because I've come back as a new type of politician and approached things differently.' I think that's very accurate."
Rachel Gilbert, a Boise Republican who won re-election to the state Senate in 1988 after Risch tried to promote a newcomer against her in the primary, said she's now a stong supporter of him.
"We had our differences, and I think maybe those defeats probably matured him, gave him a chance to look at his modus operandi," she said.
Throughout his political career, Risch has articulated clear goals and systematically pursued them. One of those was to become governor: He spent $350,000 of his own money to challenge Lt. Gov. Jack Riggs in the primary in 2002, when then-Gov. Dirk Kempthorne was rumored to be up for a Cabinet post in the Bush administration.
But it wasn't until seven months before the end of Kempthorne's term that he was named Interior secretary, leaving Risch just a short stint as governor. He made the most of it, calling a special session of the Legislature to enact major tax reforms, writing a new plan for managing Idaho's roadless lands, and reorganizing the huge state Department of Health and Welfare.
"In his short term as governor, he was doing a number of things that reached across all kinds of lines – it wasn't a rigid ideological position," said Tony Stewart, a retired political scientist at North Idaho College. "He came back as a much more conciliatory person, building more coalitions."
Early career
Risch started his career in 1969 as a deputy Ada County prosecutor, fresh from the University of Idaho and newly married to wife Vicki. Soon he was the elected county prosecutor, and he took pride in personally prosecuting all homicide cases. But he found a frustration: "I kept putting people in (prison), and they kept coming out the back door."
In 1974, Risch decided to run for the state Senate to see if he could slow what he saw as a revolving door at state prisons. "I went to the Legislature to try to do something about that, and I did," he said. "As people came up for appointment to the parole board, I talked the Senate into rejecting some of them, and then the rest of them got mad and quit, and so we got a whole new parole board and things turned around."
While also opening what was to become a successful private law practice that would make him wealthy, Risch thrived in the state Senate, where he ran against Larry Craig for majority leader in 1976 and 1978 and won both times. By 1982, he'd defeated incumbent Senate President Pro-tem Reed Budge, The Risch era was on.
'He was feared'
Risch made it clear where he stood. Once when the House passed legislation he didn't favor, word went out that he was awaiting it in the Senate with "open jaws."
"He was feared, which is either good or bad," said Jim Weatherby, political scientist emeritus at Boise State University. "It's good in terms of being an effective leader." Added Weatherby: "He knew how to count votes, and he knew how to move legislation. … His leadership style was very effective. Some people appreciated it – others who were on the losing side didn't, and thought it was dictatorial."
Kermit Kiebert, a North Idaho Democrat who was a minority leader in the Senate when Risch was majority leader and president pro-tem, said, "He had to work on his patience – he was a doer. But he was always very honest and straightforward."
Risch clashed with Democratic Gov. Cecil Andrus, particularly over education funding in the 1980s.
After Risch told a reporter he'd worked cooperatively with Andrus during his run for Senate this year, Andrus issued a blistering rebuttal.
"Worked against me is more like it," the former four-term governor said. "Risch is one of the most partisan people I've ever had to deal with. During his time in legislative leadership, cooperation across the aisle and with the governor's office reached a new low."
Risch's debating skills and firm hold on Senate business were respected in the Statehouse. But his hardball tactics as the head of a GOP caucus that adamantly opposed increased school funding didn't play well in his growing Ada County district.
Risch said of his 1988 loss, "It certainly wasn't a joyous occasion." But, he said, "there was a certain amount of relief to it, too. … It was time for a change, for everybody."
By the time he returned to the state Senate in 1995, Risch said he wasn't the only one who had changed. "Idaho's mellowed," he said. "The Legislature is an entirely different proposition today than it was when I entered it in '74."
Issues are more complex now, Risch said, and lawmakers more diverse. "I think life … has become much grayer than it used to be."
Risch's 'rock'
Risch said he went back and forth on whether to run for lieutenant governor in 2002, but as with most major decisions, it was consultation with his wife that clinched it. Risch commissioned a poll and brought it home to Vicki.
"She turned to the first page, turned to the second page, turned to the third page, and she said, 'We're in,' put the poll on the table and that was that – we were in."
Risch often says "we" when referring to his campaigns and political career, but it's not a royal "we." He's referring to himself and his wife.
"She's been his rock forever," said Kiebert, who has remained friends with Risch since their early days in the state Senate. "They do everything together."
Vicki Risch is known as a skilled campaigner whose political judgment Risch clearly trusts.
Here's how Risch describes his approach to his initial run for lieutenant governor: "There was a chance we'd become governor. There was an opportunity that was there – we knew how to do it as well as anyone in the state. We had the resources to do it."
When Risch finally became governor, the couple talked about what he could accomplish. "We had that conversation that night at the kitchen table," Risch said. "I made a list of things I wanted to do, and we went to work on 'em."
Going to Washington
While he was governor, people began asking Risch if he'd run for the U.S. Senate if Craig decided not to seek another term. "My first reaction was absolutely not, because I had never considered federal office," Risch said.
But then he and Vicki made a trip to Washington, D.C., and he saw a process that was familiar. "I enjoyed that legislative process, I really did," he said. "This is the same thing at a higher level. It's got a lot more moving parts. … That's still what intrigues me."
Risch said he's "committed to the six-year term," and will decide later if he'll seek a second one. He'll be 71 when he completes his Senate term. "I guess we'll see how that plays out, and whether I'll enjoy it as much as I think I'm going to enjoy it," he said.
Kiebert said he thinks the new Jim Risch can do well in the Democratic-controlled U.S. Senate, even though being in the minority will be a new experience.
"I think one of our great assets in having him as our senator is going to be the new Jim Risch that is able to walk across the aisle and make a deal for Idaho," he said.
Local journalism is essential.
Give directly to The Spokesman-Review's Northwest Passages community forums series -- which helps to offset the costs of several reporter and editor positions at the newspaper -- by using the easy options below. Gifts processed in this system are not tax deductible, but are predominately used to help meet the local financial requirements needed to receive national matching-grant funds.
Subscribe now to get breaking news alerts in your email inbox
Get breaking news delivered to your inbox as it happens.
---