Sports
A feast of courses
Area abounds with favorites for runners, coaches, spectators
Wed., Oct. 1, 2008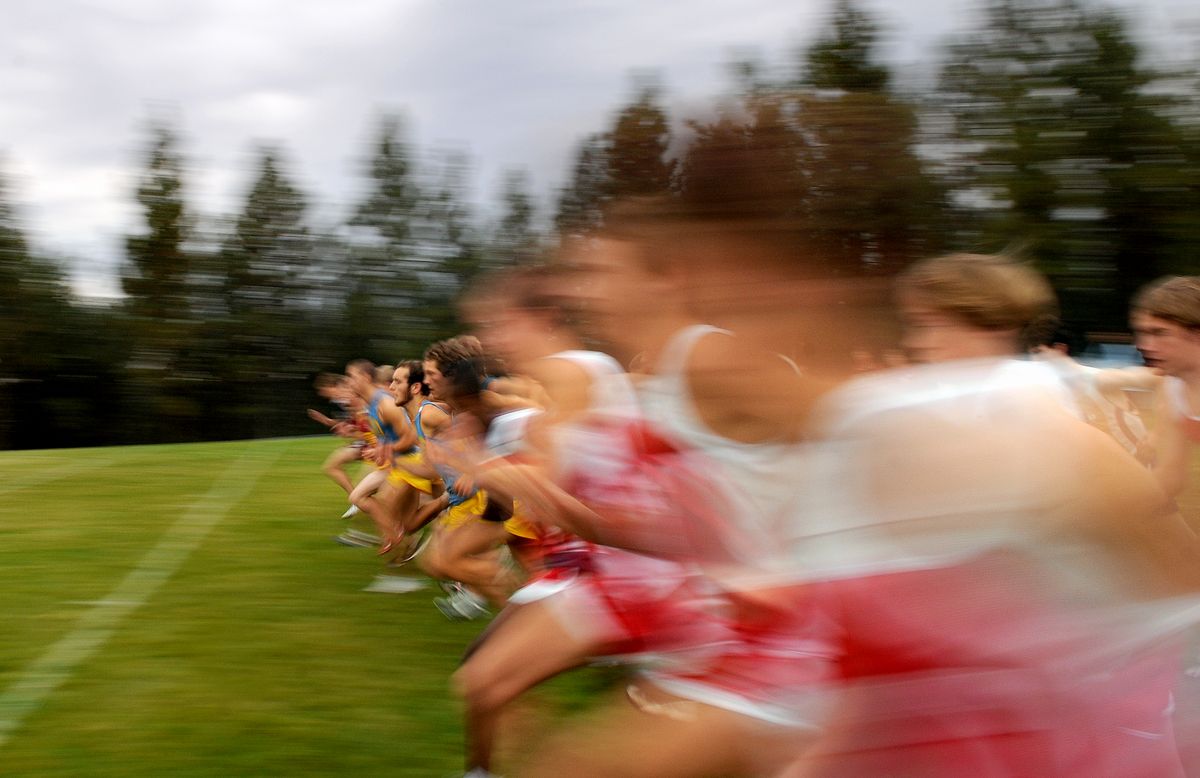 Mead's cross country course is noted for its wide-open start, giving competitors plenty of room to manipulate. (Rajah Bose / The Spokesman-Review)
Toward the end of each cross country postseason, veteran Riverside coach Bill Kemp has his runners write an essay and identify their favorite course from that season.
After 29 years, Kemp has pinpointed which courses qualify as the favorites in the area.
"I really think that the runner's perception of a course depends primarily on their success at that course," said Kemp, who added nearly every course gets mentioned. "They overlook rocks, narrow corners, bad footing and other obstacles and think only of their success."
Shadle Park track coach and cross country assistant Jaime (Miller) Rees affirms that, recounting a disagreement with her husband Jeff about the best courses from their distance running days at University.
"I really like Audubon Park because it was a flat and fast course and always ran well, but hated Richland's course because I ran terrible there," she said. "Jeff was completely opposite of me. He hated Audubon because he liked hills and loved Richland for that fact."
What Kemp's annual exercise doesn't do is identify the best cross country course, but an unscientific sampling of the running community provided a near unanimous answer: Hangman Valley Golf Course.
Pat Tyson, who coached 12 state championship teams at Mead and is now the Gonzaga University coach, was the most effusive among those singing the praises of Hangman.
"Hangman has all the elements of (the perfect) course," he said, listing those as well as some of the big-time races held there. "It's all about the buzz. … Just the name Hangman brings out an interesting theme."
Unfortunately, it's been more than a decade since runners felt the buzz.
Parking was the biggest issue, according to former Central Valley athletic director Jay Rydell, the meet manager for the last race at Hangman.
"If you're doing one team, not a problem, but … buses going in and out just create a real obstacle," he said. "Logistics were a big issue, then the manpower it takes to put it on at a place that's normally not a cross country course. It takes a full day the day before to set it up (and) it takes 22 course marshals alone."
The Greater Spokane League is currently using Wandermere Golf Course for the postseason, which also gets positive reviews from the running community.
"I can't say enough about the Brown family," Butch Walter, the current CV athletic director and GSL cross country coordinator, said of the Wandermere owners. "But we're going to have to look at the parking to see how we can be good neighbors to everyone out there."
A number of elements are part of the ideal layout, which North Central senior star Andrew Kimple described in his favorite course, Finch Arboretum.
"The course has a good hill, downhill and flat ratio," he said. "It also has multiple terrains such as gravel and grass and differences in course width, which are good to make tactical moves on, and hard corners, which force the runners to change their pace.
"Plus, it's a beautiful place."
"If you took Seven Mile as the base, added Wandermere's start, the sand section at Liberty Lake and the single track from Seimer's (Farm in Greenbluff) you would have one bombin' course," U-Hi senior Stevie Gildehaus said.
Often overlooked are the start and finish. More than one person mentioned Mead's course for the start and Wandermere Golf Course for the finish.
"A nice wide-open start is also important so that random variables like getting knocked down or spiked aren't as likely to affect the outcome," North Central boys coach Jon Knight said.
"A wide-open, slightly downhill finish encourages all runners to finish strong," Kemp said.
In between is where opinions truly differ, except for one thing.
"It needs to have good balance to make it a good course," Ferris boys coach Mike Hadway said. "You need to break up the tempo of the runners. If the course is flat, then the runners stay at one tempo. That's not cross country."
"I think the course has to test the speed runner and the strength runner," former U-Hi coach Bob Barbero said. "It has to have the right combination of even running surface and hilly running surface."
Grass in general, short grass in particular, a mowed golf course fairway specifically, is what most like.
"The ideal surface is golf course turf," Tyson said. "Putting the track spikes on to run fast is huge."
But Chrissy Francek, a coach at U-Hi who is on maternity leave, disagrees.
"As long as the surface is not pavement I won't complain too much," she said. "As a runner I always preferred courses that were on trails, so I think that is why I prefer them as a coach. Logistically, trails are hard for racing because they are typically not very wide, but they are more pleasing (to the) runner."
Junior Allan Schroeder of Mt. Spokane favors Seven Mile.
"It's almost the epitome of a cross country course," he said. "You run through the woods and jump over logs.
Of all the courses, Liberty Lake Park and Farragut State Park in Idaho drew the most varying opinions.
"Liberty Lake is a tough course, bordering on brutal, with a good surface" former CV boys coach John Preston said. "The setting is gorgeous next to the lake and on a trail next to a stream. It has a good combination of grass, dirt and sand."
"Steep downhill puts runners at risk," Knight said, which was a particular complaint of Farragut.
Generally, golf courses and flat, short courses that need laps to reach the required distance (generally 3 miles) make it easier for coaches and fans to enjoy the competition than trail courses winding through stands of trees.
"One lap is a great course, but I prefer two laps for spectator enjoyment and for pacing purposes for the runners," Shadle Park girls coach Bob Isitt said.
"As a runner, all I want is a tough course," Mead girls coach Dori Robertson said. "As a coach I like courses I can see. I think it is important for parents to see the race so they can appreciate this amazing sport."
Kimple dismisses laps for two reasons.
"There should be portions of the course that are spectator friendly but not all, because it can make the fans eager to see who will come out of blind spots first," he said. "Laps should be limited because it is more challenging for a runner to adapt to terrain instead of knowing what will come later in the race."
"The crowd at Highlander (Shadle Park), on the Seven Mile course, with the beautiful trees at Finch (Arboretum)," Mead senior Sara Stenersen said.
The Shadle course, like most of the school courses, involves laps and spectator congestion.
"I really like getting that outdoor feeling, trees, streams, etc., (but) encouragement from coaches and parents is very uplifting to runners," Timberlake junior Ryan Sacksteder said.
Francek said the St. George's course had all the elements for a good run.
"I love courses that allow the runner to get away from the crowds," she said. "There is a long section in the woods, so it's great scenery … it's on campus, where the fans can cheer."
That ultimately emphasizes the bottom line about cross country: It's an individual sport that takes a lot of time training in solitude to excel but can be an exciting competition with frenzied spectators.
That is how many remember Hangman, which Tyson compared to such venues as Wrigley Field and Fenway Park.
"Rich tradition," he said. "Two NCAA championships (one won by Washington State's Henry Rono, the other by Oregon's Steve Prefontaine), Prefontaine's last race in an Oregon jersey, the many GSL regional competitions which were spectacular, two state competitions in the snow. It has the buzz that one finds rarely in any sport."
"It's a spiritual place for cross country runners," Mead boys coach Steve Kiesel added.
Local journalism is essential.
Give directly to The Spokesman-Review's Northwest Passages community forums series -- which helps to offset the costs of several reporter and editor positions at the newspaper -- by using the easy options below. Gifts processed in this system are not tax deductible, but are predominately used to help meet the local financial requirements needed to receive national matching-grant funds.
Subscribe to the sports newsletter
Get the day's top sports headlines and breaking news delivered to your inbox by subscribing here.
---