News > Features
OPEN BOOK
Sherman Alexie takes young readers on journey of life
Mon., Oct. 13, 2008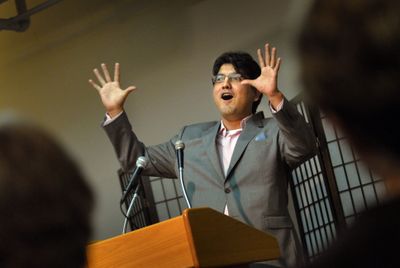 In its seven years of existence, the Spokane Is Reading project has taken several different forms. It's posed as a study of life on the eastern Colorado plains (Kent Haruf's powerful "Plainsong"). It's included a Darwinistic look at survival during the Civil War (Charles Frazier's National Book Award-winning novel "Cold Mountain").
It's tackled science fiction (Orson Scott Card's "Ender's Game"), served as a reinvention of Sherlock Holmes (Laurie R. King's "The Beekeeper's Apprentice") and immersed us in a classic Dutch painting (Susan Vreeland's "Girl in Hyacinth Blue").
Only recently, however, has Spokane Is Reading – a jointly sponsored event that seeks to promote a regional literary community by having everyone read the same book – expressed anything resembling a local view.
That became the case last year when the reading selection was Spokane author Jess Walter's Edgar Award-winning novel "Citizen Vince." The local ties continue in 2008 with another national author who boasts Spokane-based roots.
The author's name: Sherman Alexie.
Alexie's novel "The Absolutely True Diary of a Part-Time Indian," 2007 winner in the National Book Award's first Young People's Literature category, will be the subject throughout October of several book discussions held at various branches of the Spokane Public Library and Spokane Country Library District.
Auntie's Bookstore joins those two public entities as a co-sponsor, while the Spokane Masonic Center is listed as a presenting sponsor.
In fact, Alexie is scheduled to present his book twice on Thursday, first at 1 p.m. at The Service Station, 9315 N. Nevada St. At 7 p.m., Alexie will appear at the Masonic Center, 1108 W. Riverside Ave. Both talks are free and open to the public.
By now Alexie's rise to literary fame is familiar to anyone who has read his poetry collections ("The Business of Fancydancing," etc), story compilations ("The Lone Ranger and Tonto Fistfight in Heaven," etc.) or novels ("Reservation Blues," "Indian Killer," etc.).
There's the story of his 1966 birth in Wellpinit, Wash., his growing up on the Spokane Indian Reservation, his leaving the rez to attend high school in Reardan, Wash.
It's those high-school years that he dramatizes in "The Absolutely True Diary of a Part-Time Indian."
His real-life story didn't end there, of course. It included his short stay at Gonzaga University, his recognition of his own propensity to abuse alcohol, his transfer Washington State University, his discovery of creative writing (and mentorship by WSU writing professor Alex Kuo).
From there Alexie began publishing, poetry first, and attracting attention. He developed his ability to read his work in public at such places as Auntie's Bookstore. His move to prose included adapting "The Lone Ranger and Tonto" for filmmaker Chris Eyre (whose film "Smoke Signals" won the Audience Award at the 1998 Sundance Film Festival).
Then came the novels, Alexie's continuing maturing as a stand-up performer and growing national reputation – culminating in last year's NBA.
"Absolutely True Diary" follows Alexie's life in many respects. The book's opening line, "I was born with water on the brain," describes his own birth. The book's 14-year-old protagonist, Arnold Spirit, leaves the rez to go to school at the mostly white high school. He struggles to find his voice in such an alien (to him) world. As Mary Ann Gwinn wrote in the Seattle Times, "He battles the alcoholism of his parents, the death of family members, poverty and despair."
Each of those obstacles have been standard themes both in Alexie's literary works and his stand-up commentaries.
Directly addressing the autobiographical content in the book, Alexie has said, "It's scary to put a very close version of my story out in the world – there's a lot of emotional capital at stake."
But he also has said that his intent, too, was to offer up a life lesson.
"I hope it encourages all sorts of trapped people to feel like they can escape," he said.
Hope and encouragement: Those are two more faces of this annual rite known as Spokane Is Reading.
Local journalism is essential.
Give directly to The Spokesman-Review's Northwest Passages community forums series -- which helps to offset the costs of several reporter and editor positions at the newspaper -- by using the easy options below. Gifts processed in this system are not tax deductible, but are predominately used to help meet the local financial requirements needed to receive national matching-grant funds.
Subscribe now to get breaking news alerts in your email inbox
Get breaking news delivered to your inbox as it happens.
---