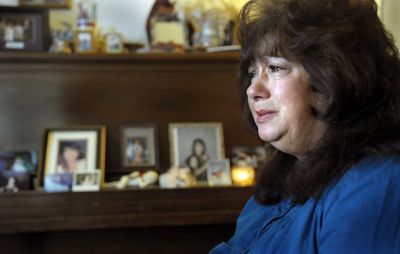 For three decades, Kathy Forech had nightmares that her daughter would disappear on her birthday and be found in the Spokane River.
It's just a mother's fear, she thought.
It was more of a premonition.
Angela Walsh and her boyfriend, Terry Palm, disappeared Dec. 10, 2002, the day after they went to a party in honor of Walsh's 34th birthday.
"The night she went missing. I had told her not to leave," Forech said. "She told me not to be silly."
When Spokane police detectives spoke with Inez Williams about her son's disappearance, she told them he was in the water.
"I just had a feeling," she said. "I've never liked the river."
Walsh's daughter Brittney, now 20, also had a dream: Her mother came to her and told her she was dead, and that she could be found under water and ice. Her dream was not far from reality, either.
Walsh was found three months and six days after her birthday near the Seven Mile Bridge. Palm, 40, was found in September 2003, a mile farther up the river.
Thinking they were murdered and dumped, investigators have followed hundreds of leads.
"I have no doubt I've probably talked to the killers, I just don't know who it is," said Detective Kip Hollenbeck, who thinks more than one person was involved.
Walsh and Palm had methamphetamine addictions that were spiraling. Their friends were on the same path or heading the way at a time when the meth epidemic was raging in Spokane County, authorities say.
Police say the couple had angered the people they were hanging out with because they were selling bad meth as well as a fake ingredient that looked like red phosphorus.
"There are so many bad people involved in this, violent people," Hollenbeck said.
Signs of trouble
Walsh met Palm when she was 25 or 26, her mother said. "He had a nice home. He made a lot of money, but then one by one things started to happen," Forech said.
Less than a month before they were killed, the couple – who had been together eight years – and her children, Brittney and Ryan, moved into the vacant second floor of Forech's home.
"Someone had broken into their apartment and tried to kill her," Forech said of Walsh. She knew her daughter was mixed up with drugs and unsavory people.
"I really thought I was helping her," Forech said. "When she wanted to move back home, I thought everyone would be good."
The couple's location was kept secret from friends until the night April Yarnell picked them up for the birthday party, authorities said.
For Walsh's mother, that was a bad sign.
"She never went anywhere without her car," Forech said.
Walsh, who had a bubbly personality, apparently had many constants. She always painted her fingernails in a cherry hue. She followed no one's fashion advice but her own. And she always wore perfume.
Tears rolled down Forech's face as she considered the irony of her daughter's favorite fragrance, Ghost.
Ups and downs
Palm grew up in an east Spokane home where his mother and brother, Jerry, still live.
Palm and his brother were close. "They did all the brotherly things, like getting drunk and wrecking mom's car," said their mother, Inez Williams. Jerry Palm is still angry over the loss of his brother.
"I don't go a lot of places; too many memories," Jerry Palm, 45, said. "My life is empty as hell."
A picture of Palm atop Mount Spokane helps Williams remember her son during his happier days. He skied and was an avid hunter.
Palm also trained hunting dogs – Chesapeake Bay retrievers – for competition at the Spokane Retriever Club.
Sgt. Joe Peterson, of the Spokane Police Department's major crimes unit, knew Palm from the club years before the case crossed his desk.
"Sometimes we trained at the same time or competed against each other. He had a good demeanor. Never mean to his dogs," Peterson said, adding that Palm seemed like someone who could take care of himself.
After his wife divorced him to be with another man, "he just never recovered," Williams said.
A few years after Palm began dating Walsh, he went downhill, his mother said. His family saw him less and less. When they did, it was because he needed a ride or money or something else.
Palm had used drugs before, but this was more extensive, his mother and brother said.
The party ended
Friends told police Walsh and Palm were involved with violent meth users.
The night of Walsh's birthday party, Yarnell took them to a mutual friend's home, police said. Palm told Yarnell that Walsh's gift was meth.
Witnesses said the two were acting unusual that night. "Walsh was being quiet. Palm was being odd and bitter," Hollenbeck said. Palm was apparently jealous because Walsh had cheated on him a few weeks earlier.
At some point in the evening, the couple and Yarnell left for a motel, police said.
At 7:40 a.m. Dec. 10, 2002, Walsh called her mother saying she was at her old apartment, and the couple would be home later in the day. But Caller ID indicated she was at the Boulevard Motel, 2905 W. Sunset Blvd.
The last trace of Walsh and Palm were two sets of footprints in the snow that led away from room No. 7.
The couple was reported missing Dec. 15; Hollenbeck got the case four days later.
Yarnell – thought to be the last person to see the couple – was questioned four times, Hollenbeck said. She claims not to know what happened and passed a polygraph test.
"(The partygoers) say they don't know anything, but they cry when they talk to you," Forech said. "They say they are afraid to talk because they are afraid for their lives."
For a while, police sent Jerry Palm to places where his brother used to hang out. "But it didn't do any good because I wasn't getting high, and they knew I was only there for one reason," he said.
After Walsh and Palm's bodies were found in the river, autopsy results confirmed the couple died of homicidal violence, police said. The cause of death remains undetermined.
Hollenbeck has vowed to solve the case.
Despite the meth addiction, Walsh and Palm had families who hadn't given up on them. As heartbreaking as it was to watch them get deeper into meth, their families still hoped to help them climb back.
Their deaths stole that, their family members say.
"It's your child no matter how old they are," Forech said of her daughter, who once loved rainbows and unicorns. "It's just a missing hole. Somebody's going to say something sometime. I just hope it's soon. If I don't find out in my lifetime, I want her kids to have an answer."
Jerry Palm, remembering the older brother who liked to country dance, said, "I'd just like whoever did it to just stand up. We'd like to bring this thing to an end."
---