News > Features
Staying loose stylistically
Robert Cray Band stops for Spokane concert
Fri., April 3, 2009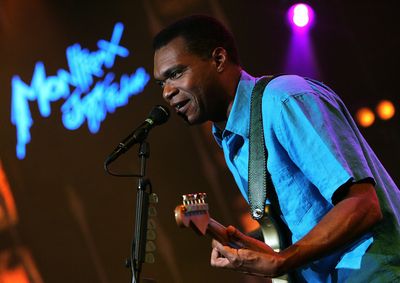 Five Grammys, 17 albums and thousands of gigs into his career and Robert Cray still gets freaked out about the idea of recording a live album.
You wouldn't guess it considering the last two releases by the blues-soul-pop singer/songwriter/guitarist.
In 2006, Cray released "The Robert Cray Band: Live From Across the Pond." It was the first live record in his three-decade career, the first release on his own Nozzle Records, and it earned his 13th Grammy nomination.
"Recording a live album is such a huge deal to us," Cray said in a telephone interview. "We get psyched up because we try to make it perfect and that's not really what it's about. It's about capturing the moment."
Cray, a familiar face around Spokane in the late 1970s and '80s after forming his original band in Eugene, Ore., returns for a show Saturday at the Knitting Factory – his first local gig since a Festival at Sandpoint appearance in 1998.
To get in the zone for "Live From Across the Pond," he and his band recorded the album during a week of opening slots for his longtime friend Eric Clapton in a familiar venue: London's Royal Albert Hall.
"We had seven shows in seven nights in one spot, so I had the opportunity to have options and change the setlist and have more than one night to nail it," Cray said.
"We play the same song a different way every night, so there are tempo changes and changes in the feel. (Keyboardist Jim Pugh) would play a song on piano one night and play it on organ the next and that creates a whole new way of looking at something. We had that option. We like to keep it loose."
Playing support slots for Clapton at a venue they've shared more than a few times over the years also helped keep the pressure off.
"Because we were opening for Eric Clapton, it wasn't about us," Cray said. "We were a part of this overall bigger night, so by the time we got on stage we completely forgot about being recorded."
"Live From Across the Pond" contains songs from Cray's sprawling career, including classics such as "Phone Booth," more recent highlights like "Poor Johnny," love songs like "The Things You Do To Me" and more socially conscious material such as "Twenty."
Cray said listening to the album in hindsight puts him outside of himself, like, "Wow! These guys are great!"
He wasn't the only one who thought so. As the buzz continued to spread for the album, Island/Mercury Records jumped on the opportunity to release "Robert Cray: Live at the BBC," a collection of Cray performances recorded between 1988 and 1991 during his tours promoting the "Don't Be Afraid of the Dark" and "Midnight Stroll" albums.
Cray already is hard at work readying the release of a new batch of studio material on Nozzle. The yet-to-be-titled album, slotted for a July release, features some changes in the lineup, including the addition of drummer Tony Braunagel and the return of original bassist Richard Cousins, replacing Kevin Hayes and Karl Sevareid, respectively.
Cray, who's playing the new material on his current tour, said the album is all over the place stylistically.
"It's blues, it's R&B, it's uptempo – it's what the band is about."
Local journalism is essential.
Give directly to The Spokesman-Review's Northwest Passages community forums series -- which helps to offset the costs of several reporter and editor positions at the newspaper -- by using the easy options below. Gifts processed in this system are not tax deductible, but are predominately used to help meet the local financial requirements needed to receive national matching-grant funds.
Subscribe to the Coronavirus newsletter
Get the day's latest Coronavirus news delivered to your inbox by subscribing to our newsletter.
---