After 96 years, message received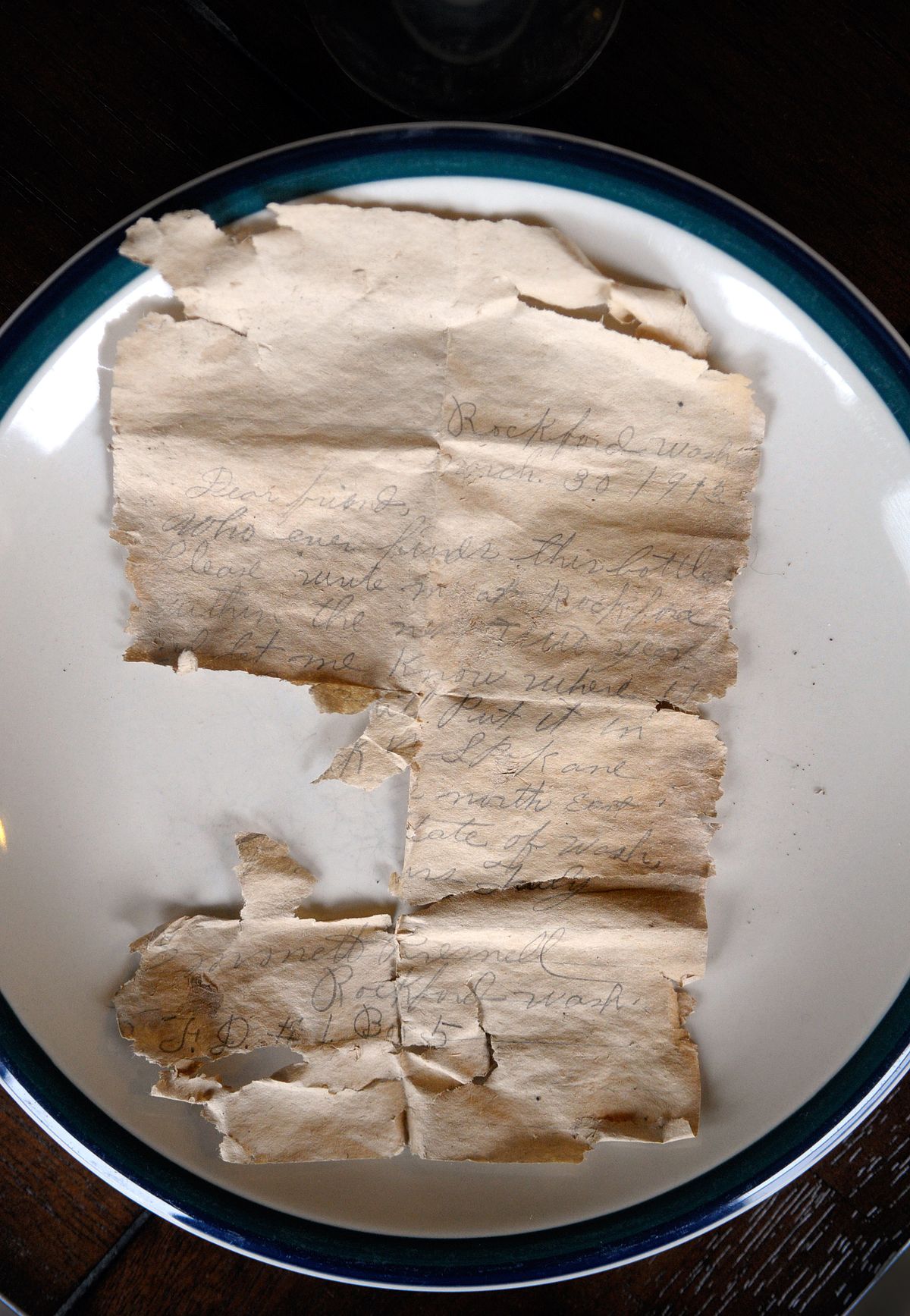 Darin Winkler was out walking the banks of the Spokane River with his kids last weekend when he saw something that looked …
Well, let me put it this way: After you hear this story, the song "Message in a Bottle" may be stuck in your head for days.
"Spring and high water brings up various kinds of things on shore," said Winkler, who lives in the River Run subdivision on the Spokane River, just south of Spokane Falls Community College. "We saw an old flattened basketball and a bunch of bottles. Mostly they were whiskey bottles, Mad Dog 20-20 bottles, things like that. But this one stood out."
It looked like an antique bottle, with an old-fashioned cork stopper.
So Winkler and his kids, Evan and Iris, walked up and took a closer look. That's when they saw it.
A message in a bottle.
Winkler grabbed the bottle and took it back to his house. He carefully teased the note out of the bottle. The paper was a little damp, flaking in places, but mostly intact. The first thing he saw took his breath away: "March 30, 1913."
Some parts of the note had deteriorated, but large portions of the pencil-written note remained decipherable.
Here's what it says, with missing parts noted with ellipses:
March 30, 1913
Dear friend,
Who ever finds this bottle, please write in …. at Rockford, within the next two years … and let me know it …. Will put it in … Spokane … North East … state of Wa …
Yours truly,
Emmett Presnell
Rockford, Wash.
RFD #1 Box 5
Admittedly, this is not one of those storybook messages in a bottle. No map showed the buried treasure. No damsel in distress wrote it from a desert island. It contained no SOS to the world. Yet this message has its own modest story to tell.
After some sleuthing on the Internet and in the Spokesman-Review archives, Winkler was able to find out plenty about that long-ago bottle-tosser.
Emmett Presnell was born in 1892 in Missouri and came with his parents Edwin and Sarah Presnell to the Lind, Wash., area in 1900, where they homesteaded. They moved to the Rockford area around 1912 and had a farm on Rural Free Delivery Route No. 1, where they raised wheat and cattle.
Emmett then went on to join his brother Karl in a big cattle and wheat operation about eight miles southwest of Cheney. He farmed there for the next 60 years. He never married and never had children of his own. He lived on the farm with his brother's family, according to nephew Tom Presnell, 86, now retired in Spokane.
When Tom was asked this week to describe his late uncle, he said, "Emmett was a real dependable person. He lived a pretty clean life."
Emmett would have been about 20 when he got the notion to send out a message in a bottle. We can surmise that he was out tending cattle on the banks of Rock Creek or Hangman Creek when he decided to launch that bottle downstream (those two creeks are feeders of the Spokane River). Or maybe he was having a weekend picnic somewhere on the Spokane River itself.
Winkler's theory is that the bottle got washed up on a bank or into a tangle of logs, and stayed high and dry for most of the next nine decades, thus explaining its relatively good condition. Recently, possibly even last year, high water may have refloated the bottle and sent it down the river to where Winkler found it, directly across from the old Natatorium Park.
When Emmett died at age 85, on May 13, 1978, in a local nursing home, that bottle was probably still stuck in a riverbank somewhere. We doubt if Emmett would have even remembered launching that bottle.
Yet, on behalf of Winkler and his kids, we would like to send our own message out into the unknown:
Emmett, we finally found your bottle.
---