News > Features
More plugged in
And because of that, we're more wasteful than ever
Sun., April 5, 2009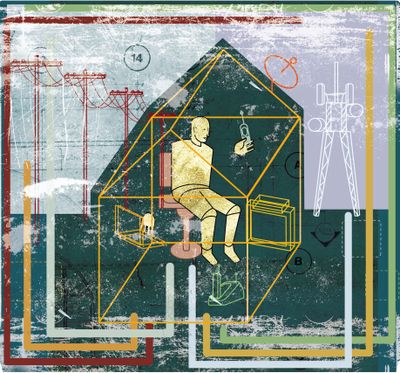 The Obama administration has put a greener, more energy-conscious America on its priority list: Clean-coal technology. Alternative energy sources. Plug-in hybrid cars that get up to 150 miles a gallon.
But what about the ugly little fact that the American home is teched-up like never before, with shiny toys that suck electricity in huge amounts?
Today's average American home now has three televisions, two DVD players or recorders, a digital camera, a desktop computer and two cell phones, among other gadgets, according to the Consumer Electronics Association.
The fallout: Consumer electronics is one of the fastest-growing categories of electricity use in the home – up from 5 percent in 1980 to nearly 15 percent of a home's total electricity consumption today. By 2015, it's estimated to be closer to 20 percent for many homes.
All by itself, the TV (swollen to a size of 40 inches or larger for the "main" TV in the house) represented a stunning 8 percent of residential electricity consumption in the U.S. in 2007, nearly doubling in just three years.
And America's video game console habit consumes as much electricity on an annual basis as the entire city of San Diego.
"I think for a long time most of us thought about the major energy consumers in our home as being our appliances and our heating and cooling and hot water heating," says Kathy Kaplan, Environmental Protection Agency team lead for Energy Star product development.
But back then, Americans didn't have three TVs per household.
"We didn't watch them as many hours, didn't use them for gaming, didn't use them to show our photographs, didn't have TiVo, didn't have sophisticated content options that make watching so desirable," Kaplan continues. "And we certainly didn't have all these miscellaneous products that we plug in."
The good news: A little awareness goes a long way.
There are simple adjustments that consumers can make in the use of their technology equipment and toys to make them notably more efficient.
Reducing the brightness of a TV set can cut its energy use by as much as 25 percent. Getting rid of the screen saver on a computer can save $50 to $100 in electricity costs over a year.
Among the energy-saving suggestions:
Televisions
In general, the amount of power a TV uses increases with screen size. A 52-inch, high-definition TV can use as much energy annually as a new refrigerator.
"The typical 42-inch plasma TV uses approximately 100 more watts than a similar-sized LCD," according to Noah Horowitz, senior scientist at the Natural Resources Defense Council. That amounts to at least $200 more in electricity, over the life of the product.
To do: Turn down the brightness of your existing TV and cut your energy use as much as 25 percent, depending on the TV. Most TVs ship at an overly bright level, meant for display in retail stores. The "standard" or "home" mode is recommended; go to the TV setup menu.
When shopping for a new set, look for TVs bearing the ENERGY STAR mark; they are up to 30 percent more energy efficient than other models. To find a list of qualified TVs, go to www.energystar.gov/televisions
Also look for a TV with automatic brightness control. It's a sensor that automatically adjusts the picture level according to the light levels in the room.
Set-top boxes
Cable, satellite and TiVo/DVR boxes are big-time power suckers. Unlike the TV (which goes into a standby or low-power mode when it's turned "off") these boxes run at near full power 24/7.
Some of the fuller-featured ones (those with TiVo-like capability) can consume more than 250 kWh a year. That's roughly equal to half the annual energy use of a new refrigerator.
To do: Ask your service provider for one of the new ENERGY STAR-qualified set top boxes, which became available Jan. 1.
Power strips/surge protectors
One of the most useful tools for eco-conscious consumers with lots of techno toys, these make it easy to completely "power off" electronics that go into a standby or low-power mode when you think you're turning them "off."
U.S. households spend about $100 a year on such vampire power. Consumer electronics account for about $40 of those $100.
To do: In the home office, computer, computer speakers, printer and scanner could be plugged into a single power strip/surge protector – which could be powered off at the end of the day (after first powering down each device).
Modems for AT&T DSL (high-speed Internet) also could be plugged into the power strip and powered off. Cable connections to the Internet (i.e. Comcast) should be plugged into a separate outlet and left "on" at all times, as Comcast updates during the night.
In the living room: The TV, DVD player and surround-sound system are good candidates for a power strip/surge protector that could be powered off at the end of each day. Set top boxes are not; they need to be running 24/7 to receive updates, video downloads, etc. from the service provider.
External power supplies
These little black boxes, used to charge everything from cell phones and BlackBerrys to computer printers and digital cameras, may be small but they're not insignificant.
The average American has five or more of them and they're often left plugged in 24/7 – and that's a big no-no, or at least it has been in the past. These boxes typically were very inefficient, as they converted a lot of incoming power into waste heat.
To do: Unplug power supplies when they're not charging something up.
And thank the state of California, which enacted a law that went into effect in 2007, inspiring a national efficiency standard: New power supplies now must use a mere 0.5 watts when left plugged into the wall with nothing charging on the other side.
Video game consoles
More than 40 percent of all U.S. homes have at least one of these, according to a recent study by the Natural Resources Defense Council.
You're wasting $100 or more a year in electricity if you leave some of these consoles on 24/7. (Microsoft Xbox 360 and Sony PlayStation 3 are particularly power hungry, consuming an average of more than 100 watts when "on.")
To do: Save your game and power-down the system when you're done. And enable the auto-shutdown, power-saving mode if you've got it. It's up to the gamer to enable this feature; go to www.nrdc.org/energy/ consoles/contents.asp for instructions
Computers
The annual electricity usage of a computer that's used sloppily (left on and not power managed) can account for up to one-tenth of a car's carbon dioxide emissions.
To do: Leave the power management feature enabled (most of today's computers ship that way). It tells the monitor/computer when to go sleep (after a preset period of inactivity) and when to go into a deeper, power-saving mode, called standby. Change/check the settings by clicking on your Start button, then click Control panel, then Power options.
Get rid of your screen saver. Unlike 10 years ago, it serves no useful purpose and does not extend the life of your monitor. Killing it could save you $50 to $100 on your electric bill over a year, depending on your equipment.
Plug your computer into a power strip/surge protector and power that off completely at the end of the day – after first powering down the computer. If you're worried about getting updates from Microsoft, download them yourself on Tuesday, Microsoft's send day. (If you have Windows XP, it's an option in Internet Explorer under the Tools drop down menu. In Windows Vista, find Windows Update in the Start menu.)
Consider a laptop. A new laptop could use up to four times less power than your old computer and LCD monitor.
And wait until July to buy a new computer – if you're uber-green. That's when some of the industry's most energy-efficient computers hit the market, thanks to a new specification from ENERGY STAR.
Tribune correspondent Eric Gwinn contributed to this report.
Local journalism is essential.
Give directly to The Spokesman-Review's Northwest Passages community forums series -- which helps to offset the costs of several reporter and editor positions at the newspaper -- by using the easy options below. Gifts processed in this system are not tax deductible, but are predominately used to help meet the local financial requirements needed to receive national matching-grant funds.
Subscribe to the Coronavirus newsletter
Get the day's latest Coronavirus news delivered to your inbox by subscribing to our newsletter.
---
Subscribe and log in to the Spokesman-Review to read and comment on this story