News > Features
New York's bravest return for fifth run of 'Rescue Me'
Tue., April 7, 2009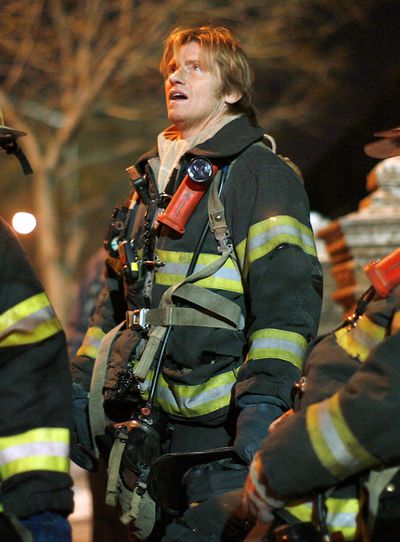 "Rescue Me" has been playing with fire since the start.
This FX drama has dared to picture New York City firefighters as loutish, madcap and self-destructive – not just heroic.
At its core is Denis Leary, whose titles on the show include co-creator, co-executive producer and writer, plus his starring role as Tommy Gavin, a flawed champion among New York's Bravest.
After taking 2008 off in the wake of the Hollywood writers' strike, "Rescue Me" returns for its fifth season tonight, kicking off an extra-long run of 22 episodes.
As always, it's a volatile mix of action, heart, raciness and dark humor.
While the series has a raw topicality, it's rooted in the ruins of 9/11. Among Tommy's fellow firefighters who lost their lives that day, a cousin (and Tommy's best friend) died at ground zero, later haunting him in visions.
This season, Tommy's wounds are reopened (and his hackles raised) when a sexy French journalist arrives at the firehouse, researching the tragedy for a coffee table book to mark the 10th anniversary of the terrorist attacks.
Guest stars have always sparked "Rescue Me," and this season is no different. First up: Michael J. Fox in a multi-episode arc gets under Tommy's skin as the obnoxious guy dating Tommy's estranged wife.
But there are also fires to put out, of course. This explains why production crew, equipment and firefighters (some real, some make-believe) have descended on a block of Manhattan's West 121st Street on a frigid January night.
This sequence, from an episode to air late this season, will show the men of 62 Truck responding to a call at a blazing brownstone.
It will also introduce a character played by guest star Maura Tierney, who pulls up in a cab to find her home on fire, then defies Tommy's efforts to bar her entry with a swift kick to his privates. (Can romance be far behind?)
"We haven't even gone in the building yet," says Leary, clomping around in his full firefighting outfit, "and we've been here half the evening already."
The street is barricaded so the firefighters can rush to their destination unimpeded. Meanwhile, a real, on-duty NYFD truck is parked out of sight around the corner. Every step of this fire scene has been authorized and is now being supervised by the department.
"Even though it's fake fires that we're creating, it's real flame and smoke, with safety issues," Leary notes.
The guy in charge of playing with fire is the show's special effects coordinator, Conrad ("Connie") Brink.
"My responsibility is to make sure this house doesn't burn down," he says. "My second responsibility is to make fire."
With 48 years in the business, Brink has had a hand in many of New York's best cinematic pyrotechnics, including the films "American Gangster" and "War of the Worlds," and the HBO series "The Sopranos."
As Brink oversees from the icy sidewalk outside the brownstone, smoke from a smoke machine is issuing from a window, and raging flames (which are actually a row of propane-fueled jets) erupt from a couple of other windows.
In postproduction, the blaze will be further enhanced digitally, then copied-and-pasted into the brownstone's unignited windows.
"This is a simple job," Brink says. "We've done warehouses with 30 windows all burning at the same time."
Later, after the exterior shots are done, Gavin and his fellow firefighters will be filmed bursting in from the street to face the smoke-clogged front hall. But the rest of the action inside the apartment will be shot a few days later under more controlled conditions: on a set in a studio across town.
By then, the only evidence of the made-to-order inferno on West 121st Street will exist on film. But that seems far away as the shoot drags on.
"It's starting to get old now," Leary declares. "After 10, 11, midnight, it gets really old. You really want to go home and go to sleep."
Local journalism is essential.
Give directly to The Spokesman-Review's Northwest Passages community forums series -- which helps to offset the costs of several reporter and editor positions at the newspaper -- by using the easy options below. Gifts processed in this system are not tax deductible, but are predominately used to help meet the local financial requirements needed to receive national matching-grant funds.
Subscribe to the Coronavirus newsletter
Get the day's latest Coronavirus news delivered to your inbox by subscribing to our newsletter.
---