Sports
Williams the man
2nd title at UNC ties his mentor
Tue., April 7, 2009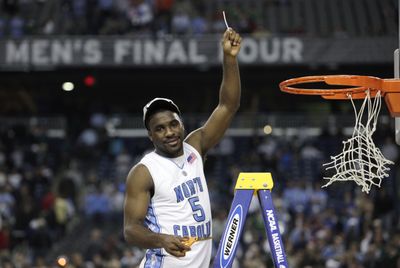 DETROIT – It's his program now, the one that Roy Williams loved since he was little, played his heart out for as a young man, but could only admire from a distance for most of his career. Even after he was handed the keys, Williams still didn't dare believe it would ever belong to anyone but Dean Smith.
A second national championship in four years changed all that. Williams is not just the caretaker anymore. He IS Carolina basketball – no matter how many times he says otherwise.
"Coach," Williams said, setting down the trophy, and looking straight into the camera to address his mentor, "I hope you're watching. I hope you're enjoying it at home."
And really, what was there not to love?
When the final buzzer went off Monday night to seal North Carolina's 89-72 win over Michigan State, there were a few flaws you could point to. The Tar Heels shot just 37 percent in the second half. They surrendered the slim rebounding edge they held at halftime, even took their foot off the gas for a stretch late in the game to let the Spartans climb back to within 13 points with just under five minutes left.
But if being the man at Carolina means collecting the most talented players from every corner of the country, bringing them to Chapel Hill, and then grooming them to be at their best in the biggest games, Williams is all that – and more. Plus, he's getting better at keeping them there.
The team that got clobbered by Kansas in the Final Four only a year ago, like the one that nabbed Williams his first championship in 2005, could have been busted up by NBA dreams. But senior Tyler Hansbrough never wavered in his decision to return. Ty Lawson, Wayne Ellington and Danny Green followed suit, convinced their chances of giving themselves a title and Williams his second was a better bet than their prospects as pros. Now, they can have both.
"Hard work pays off," said Ellington, who scored 17 of his 19 points in the opening period as Carolina effectively put the game out of reach.
Williams learned to work not just hard, but efficiently the moment he set foot on the Carolina campus as a hotshot freshman. Smith ran the most structured practices in basketball, each drill detailed down to the minute and every player, no matter how good, required to perform like cogs in a machine.
Once he became Smith's assistant, Williams learned how to bring those plans to life. When he struck out on his own at Kansas in 1988, he adapted them to fit his own philosophy, though he never strayed far from his teacher's principles. The more he succeeded – the Jayhawks reached the Final Four twice in his first five years and twice more after that – the more he acknowledged his debt to Smith.
He wasn't about to stop Monday night, even though he now has as many as the master himself.
"Somebody told me if I win, I'd be the 13th coach to have more than one," Williams said. "I have a hard time believing that. … Roy Williams and Dean Smith don't fit in the same sentence. I really believe that."
No matter how hard a selling job Williams was doing, Michigan State coach Tom Izzo, a pretty good coach himself, wasn't sure he was buying.
"Maybe when I watch the film, I'll realize it was 90 percent Carolina and not 60 like I think," Izzo said. "If it was 90 percent Carolina, maybe I'll go fishing or golf or something, and feel good about it."
Local journalism is essential.
Give directly to The Spokesman-Review's Northwest Passages community forums series -- which helps to offset the costs of several reporter and editor positions at the newspaper -- by using the easy options below. Gifts processed in this system are not tax deductible, but are predominately used to help meet the local financial requirements needed to receive national matching-grant funds.
Subscribe to the sports newsletter
Get the day's top sports headlines and breaking news delivered to your inbox by subscribing here.
---
Subscribe and log in to the Spokesman-Review to read and comment on this story