News > Features
Messing with the wrong hawk
Wed., April 8, 2009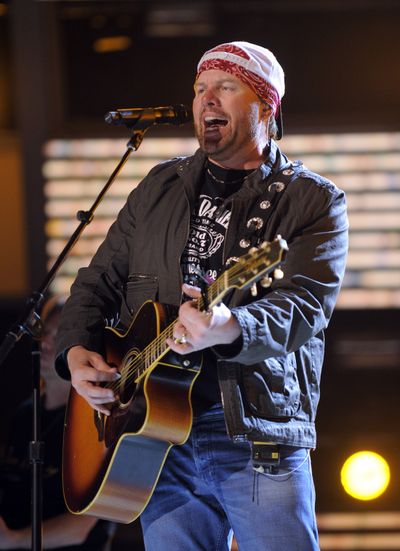 Country star Toby Keith's feathers are ruffled over an article actor Ethan Hawke wrote for Rolling Stone magazine.
Hawke tells of Kris Kristofferson's 2003 confrontation with an unnamed country singer who "had a monster hit about bombing America's enemies back into the stone age."
Keith's 2002 "Courtesy of the Red, White & Blue (The Angry American)" threatened retribution for the 9/11 attacks.
According to Hawke, Kristofferson said: "Have you ever killed another man? Huh? Have you ever taken another man's life and then cashed the check your country gave you for doing it? No, you have not, so shut the (expletive) up."
Backstage at Sunday's Academy of Country Music Awards, Keith fumed: "(Hawke) did everything he could to make his story the greatest story ever in Rolling Stone. And it was a fictitious (expletive) lie. O.K?"
For his part, Kristofferson says: "I would like to state for the record that I am friends with (both) Ethan Hawke (and) Toby Keith … Although I do not remember the events … as reported in Rolling Stone, what does it matter?"
Can Phish be rained out?
Boston fans may have seen the Red Sox' home opener postponed Monday because of wet weather, but they have plenty to look forward to – baseball and beyond.
Reunited jam band Phish has announced a May 31 concert at Fenway Park. The venerable stadium was first used as a concert venue by Bruce Springsteen in 2003, followed by Jimmy Buffett, the Rolling Stones and the Police.
We all have feet of clay
Former "American Idol" runner-up Clay Aiken says that experience helped him serve as a guest judge on "America's Top Model" for an episode airing tonight.
"I think the girls kind of appreciated that, the fact that I had been in a similar position," Aiken says. "I was going to be a judge, yes, but be a judge who understood a little bit about what they're going through."
Here comes the star
George Harrison may have been sadly absent from last weekend's Paul McCartney-Ringo Starr reunion, but he'll receive a star on the Hollywood Walk of Fame next week.
Harrison, who died of cancer in 2001, already shares a Walk of Fame star with the other Beatles, but only he and the late John Lennon will have their own stars.
One wild and Opry guy
Steve Martin is coming to the Grand Ole Opry, and he's bringing his banjo.
Martin, who recently released his first musical album, "The Crow: New Songs for the Five-String Banjo," will make his debut May 30 on the long-running country music program.
Performing with him will be friends including Vince Gill, Amy Grant and John McEuen of the Nitty Gritty Dirt Band.
The birthday bunch
Comedian Shecky Greene is 83. Original Mouseketeer Darlene Gillespie is 68. Singer Peggy Lennon (the Lennon Sisters) is 68. Singer-actor John Schneider is 49. Singer Julian Lennon is 46. Rapper Biz Markie is 45. Actress Robin Wright Penn is 43. Actress Patricia Arquette is 41. Actor Taran Noah Smith ("Home Improvement") is 25.
Local journalism is essential.
Give directly to The Spokesman-Review's Northwest Passages community forums series -- which helps to offset the costs of several reporter and editor positions at the newspaper -- by using the easy options below. Gifts processed in this system are not tax deductible, but are predominately used to help meet the local financial requirements needed to receive national matching-grant funds.
Subscribe to the Coronavirus newsletter
Get the day's latest Coronavirus news delivered to your inbox by subscribing to our newsletter.
---