News > Features
Doomed by Disney?
If history is any guide, Miley Cyrus may face a tough road after 'Hannah Montana'
Fri., April 10, 2009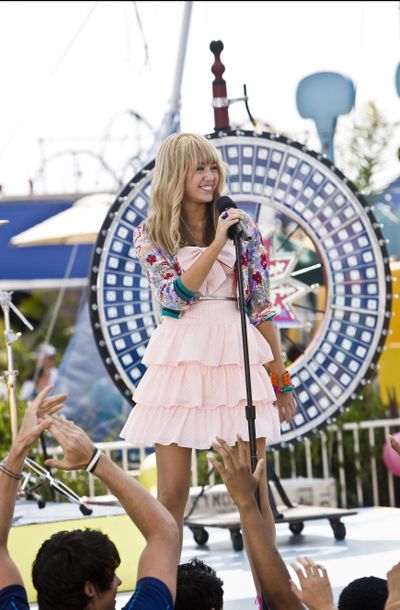 Hannah Montana, meet Hayley Mills. Once upon a time, before Disney World, Mills was Disney's biggest attraction.
After "Pollyanna" (1960) won her stardom and a special Oscar, the young Mills appeared in five Disney films in four years: "The Parent Trap," "In Search of the Castaways," "Summer Magic," "The Moon-Spinners" and "That Darn Cat!"
But no one stays 12 forever (or 13, 14 or 15). Disney nixed the no-longer-juvenile actress' casting in "Lolita," but when her contract expired, Mills made "The Trouble With Angels," and then, more notoriously, "The Family Way," a light British sex comedy in which she bared her bottom and buried her career.
At 20, she married 53-year-old director Roy Boulting, and Pollyanna was officially pronounced dead.
There are certainly lessons in the Mills story for 16-year-old Miley Cyrus, whose "Hannah Montana: The Movie," opening today, will test the commercial resilience of Cyrus' TV character – the student by day/rock star by night who propels the hugely successful Disney Channel sitcom.
Her signature tune is "The Best of Both Worlds," and in "Hannah Montana: The Movie," we get both of everything: There are two villains, two maternal figures for Miley to model herself after (bad Vanessa Williams, good Margo Martindale) and two time-tested plot lines.
One involves the bigheaded star who needs a dose of rural America/real people to get her priorities in order. The other involves the saving of a local institution through a fundraising extravaganza.
In "Pollyanna," it was a carnival. In "Hannah" it's a concert by Hannah – and Miley.
"Hollywood is littered with the careers of the people who tried to grow up into adult fame," says J.D. Heyman, assistant managing editor at People magazine, which put out a special Miley issue last year as a prelude to the release of Cyrus' album "Breakout" (an unfortunate title for an adolescent audience).
"It's not easy to manage it, but she's done a good job," Heyman says. "I think it would be a different thing if she were starring in some risque teen comedy rather than a Hannah Montana movie.
"She has the boyfriend who's 21 years old, but he seems to be a devout Christian and very much accepted by her family, so it's not like she's trying to shatter her wholesome image."
The image took a knock when pictures taken by Annie Leibovitz for Vanity Fair hit the Web last year. Far from salacious, but certainly suggestive, the photo shoot seemed aimed at accelerating Cyrus' public maturation.
But as Heyman notes, "There was some tempest among parents and some fans – but then again, her fans don't read Vanity Fair."
And in the full orchestration of Cyrus' career, those pictures have been the only hiccup.
"You can call it a hiccup," says Miley's real-life father and TV co-star, Billy Ray ("Achy-Breaky Heart") Cyrus. "I thought it was stupid.
"I looked at it and thought, 'Boy, I guess some of those shows out there are really hungry for ratings if they have to make a story out of this.' "
While things may be changing for Miley, for Dad, they haven't changed.
"It's the same now for us as it's always been," he says. "It starts with the fact that we love what we do. We love making music and we knew from the start 'Hannah Montana' was the perfect vehicle for us because it encompasses all the things we love creatively.
"She and I both love acting, we love making music, and on this show we get to do both. And as a daddy, I get to see my little girl pursuing her dream."
Especially if she's no Pollyanna.
Local journalism is essential.
Give directly to The Spokesman-Review's Northwest Passages community forums series -- which helps to offset the costs of several reporter and editor positions at the newspaper -- by using the easy options below. Gifts processed in this system are not tax deductible, but are predominately used to help meet the local financial requirements needed to receive national matching-grant funds.
Subscribe to the Coronavirus newsletter
Get the day's latest Coronavirus news delivered to your inbox by subscribing to our newsletter.
---