News > Washington Voices
Freeman students triumph at state Knowledge Bowl
Sat., April 11, 2009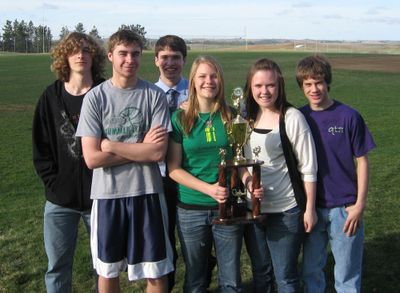 Six students at Freeman High School took the top prize at the recent Washington State Knowledge Bowl held at West Valley High School. The group had previously been named the 1A regional champions, which qualified them for state competition.
The students had to complete a test with 50 written questions and then complete four preliminary oral rounds, said adviser John Hays. "The tests are ridiculously hard," Hays said. "It's kind of like 'Jeopardy.' "
The team had to answer questions in a variety of subjects, including science, geography, math and history. There were 40 teams in the competitions. In the finals the team competed against students from Port Townsend, Wash., which had beaten them in the preliminary rounds. "We got a good start in the finals and ended up beating them 12 to 10," Hays said. "It was a bit of a surprise. We were kind of an underdog to win it."
The students on the team are Abby Vander Linden, John Peters, Daniel James, Anthony Emtman, Felicity Weathers and Ben Mega.
Spokane Scholars
The Spokane Scholars Foundation has announced the names of 134 area seniors who are being named Spokane Scholars in English, social studies, math, science, world language and fine arts. Students must be nominated for the recognition by school staff. The awards are based on grade-point average, class grades, test scores and awards. The top four students in each category will receive scholarships ranging from $1,000 to $4,000. Students from Spokane Valley schools are:
English: Lauren Bergam, East Valley High School; Kaleena Dobson, Central Valley High School; Madeline Fuchs, University High School; Ryan Miller, Valley Christian; Kelly Schlect, The Oaks; Taylor Shillam, West Valley High School; Danielle Shull, Upper Columbia Academy; and Abby Vander Linden, Freeman High School.
World Language: Andrew Belisle, The Oaks; Olga Chernetskiy, WVHS; James Dorr, EVHS; Emily Ferguson, Freeman; Bekah Holloway, U-Hi; Tess Lubke, Upper Columbia Academy; and Lingbo Tong, CVHS.
Fine Arts: Ellen Dexter, EVHS; Courtney Hammond, U-Hi; Casey Jarvis, Valley Christian; Laura Larson, WVHS; Jared Mola, CVHS; Margaretta Underhill, Freeman; and Michael Woodruff, Upper Columbia Academy.
Math: Nicholas Boyer, CVHS; Anthony Emtman, Freeman; Rob Jopson, EVHS; Rene Maura, Upper Columbia Academy; Craig Norman, WVHS; Jacob Olsufka, U-Hi; Janelle Wagnild, Valley Christian; and Laura Walker, The Oaks.
Social Studies: Natalie Block, CVHS; Brittany Croft, Valley Christian; Spencer Cutting, Upper Columbia Academy; Alexandra Deane, WVHS; Garrett Evenson, U-Hi; Nick Marquiss, EVHS; Felicity Weathers, Freeman; and Emily Woodroof, The Oaks.
Science: Kyle Brown, CVHS; Daniel James, Freeman; Morgan Manchester, EVHS; Alison Roy-Ting, The Oaks; Clinton Slovarp, WVHS; Rachel Snook, Valley Christian; Logan Villareal, Upper Columbia Academy; and Cynthia Wu, U-Hi.
Science Olympiad
Teams from Central Valley High School and Greenacres Middle School recently competed in the regional Science Olympiad and will advance to the state competition later in the month.
The CV team took third overall out of 13 teams. Individual winners include: Sean Kinard, first place, ecology and fossils; Justin Hoff and Kyle Staples, second place, physics labs; Jack Lukes and Cody Riggs, third place, trajectory, and fourth place, junkyard challenge; Hilary Weisbeck and Sam Martinez, third place, cell biology, and fourth place, forensics; Dallan Wagner and Brandon Blackburn, first place, tech trek, and fourth place, chemistry lab; Ann Tong and Helen Yuan, second place, disease detectives; Ruthie Winkler and Natasha Saric, second place, remote sensing; Alisha Goss and Ruthie Winkler, third place, herpetology; and Lizzy Winkler and Brian Moore, third place, experimental design.
The Greenacres Middle School team took sixth place overall out of 16 teams and also won the Team Spirit Award. Individual winners include: Alex Wende and Robbie Duggan, first place, road scholar, and fourth place, environmental chemistry; Alex Wende and Abby Mansoor, first place, compute this; Bryan Wilson and Jameson Lake, third place, robo-cross; Abby Mansoor, third place, dynamic planet; Robbie Duggan and Kyile LeBlanc, fourth place, bio-process; Beth Hotchkiss and Kyile LeBlanc, fourth place, anatomy.
Mystery theater
The Central Valley Activities Foundation will host "An Evening of Wine, Food and Mystery" Friday beginning at 6 p.m. at the Mirabeau Park Hotel, 1100 N. Sullivan Road. The evening will begin with wine tasting, and the mystery performance, with more than 20 characters, will begin at 7 p.m. Guests are invited to interact with the characters to solve the mystery.
Tickets are $50 and must be purchased in advance. Call (509) 921-6443 for reservations.
Empty Bowls
Central Valley High School pottery students are teaming up with the Spokane Valley Food Bank to raise money to provide food to the needy.
Students have created ceramic bowls that will be filled with soup during an Empty Bowls event April 20, at the high school, 821 S. Sullivan Road. Guests will be able to keep the bowls after the meal of soup, salad, bread and dessert. The suggested donation is $10.
If you have news about Spokane Valley schools, call Nina Culver at 927-2158 or e-mail
ninac@spokesman.com
.
Local journalism is essential.
Give directly to The Spokesman-Review's Northwest Passages community forums series -- which helps to offset the costs of several reporter and editor positions at the newspaper -- by using the easy options below. Gifts processed in this system are not tax deductible, but are predominately used to help meet the local financial requirements needed to receive national matching-grant funds.
Subscribe to the Coronavirus newsletter
Get the day's latest Coronavirus news delivered to your inbox by subscribing to our newsletter.
---
Subscribe and log in to the Spokesman-Review to read and comment on this story