News > Features
Funny, fair and balanced?
Wed., April 15, 2009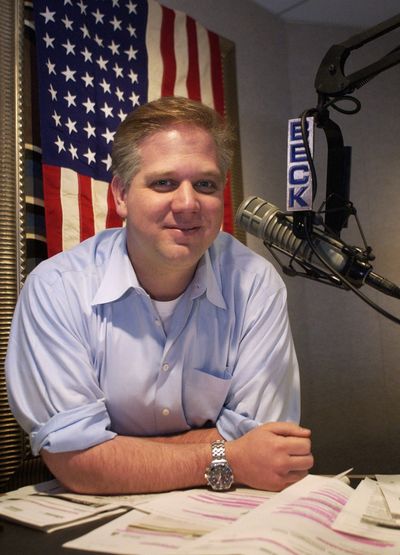 Glenn Beck, Fox News Channel's latest sensation, is taking a comedy show on the road.
Beck, who calls his act a "poor man's Seinfeld," intends to mix topical humor with his modern-day reimagining of Thomas Paine's 1776 pamphlet "Common Sense" during six performances in early June.
The radio and TV talk show host will start June 1 in Denver, then perform in theaters in Phoenix, San Diego, Kansas City, Houston and Richmond, Va..
The Kansas City show on June 4 will air as a live simulcast in select theaters across the country, and as a recorded broadcast in theaters a week later.
Beck has done such live performances in the past, most recently during the downtime between his departure from CNN's HLN network and joining Fox in January.
His profile has increased exponentially since then, with his 5 p.m. show nearly doubling Fox's ratings in the time slot.
He's become a favorite target for Comedy Central's Stephen Colbert to lampoon, and been criticized by liberals for over-the-top criticisms of President Barack Obama.
New April-Decemberist romance
Stephen Colbert will again face off with his musical nemesis, the Decemberists.
The Portland band will perform on Comedy Central's "The Colbert Report" on April 27.
Colbert and the band engaged in a mock feud in 2006 after he accused them of copying his idea of a fan-created "green screen challenge."
That culminated in a much ballyhooed "ShredDown" in which the Decemberists' Chris Funk took on Colbert in a guitar solo contest.
The passion of the past
Mel Gibson's wife of 28 years filed for divorce Monday.
The couple have seven children, but only one under 18. Robyn Gibson has requested joint custody of their son, who turns 10 today, as well as spousal support.
Sheen is off the punk rocker
The executor of Dee Dee Ramone's estate has gone to court to stop publication of a book about the late punk bassist by his first wife.
Ira Herzog says Vera Davie violated an agreement to let him review and edit "Poisoned Heart: I Married Dee Dee Ramone."
Dee Dee (real name Douglas Glenn Colvin) was with the band from its creation in 1974 until 1989. He died in June 2002 at age 50.
Just consider it a loan
Madonna has told a newspaper in Malawi that she still wants to adopt a girl from the poor African nation despite being turned down by a judge because she hadn't lived there.
The pop star, who previously adopted a Malawian boy, David Banda, seeks to adopt 3-year-old orphan Chifundo "Mercy" James.
"I want to provide Mercy with a home, a loving family environment and the best education and health care possible," she said.
"And it's my hope that she, like David, will one day return to Malawi and help the people of their country."
The birthday bunch
Actor Michael Ansara is 87. Country musician Roy Clark is 76. Actress Emma Thompson is 50. Singer Samantha Fox is 43. Actor Danny Pino ("Cold Case") is 35. Actor Seth Rogen is 27. Actress Emma Watson is 19.
Local journalism is essential.
Give directly to The Spokesman-Review's Northwest Passages community forums series -- which helps to offset the costs of several reporter and editor positions at the newspaper -- by using the easy options below. Gifts processed in this system are not tax deductible, but are predominately used to help meet the local financial requirements needed to receive national matching-grant funds.
Subscribe to the Coronavirus newsletter
Get the day's latest Coronavirus news delivered to your inbox by subscribing to our newsletter.
---
Subscribe and log in to the Spokesman-Review to read and comment on this story