News > Features
Gallery listings
Thu., April 16, 2009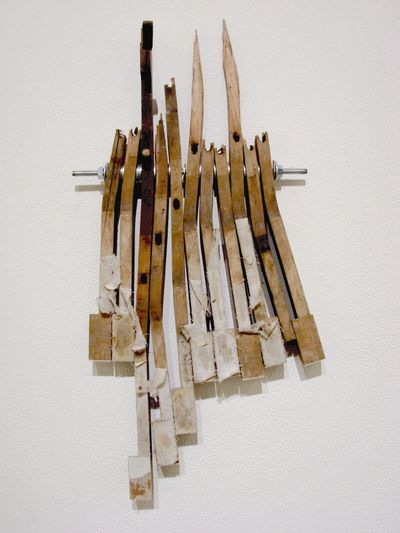 For complete listings, see www.spokane7.com. Please send information about upcoming exhibits to rickb@spokesman.com.
Spokane
Arbor Crest Wine Cellars - Photography by Lisa Dittmar. River Park Square, third level, 808 W. Main Ave. (509) 747-3903
Area 58 - High-fired stoneware by Tom Pickett, accented with kiln-melted glass. 3036 N. Monroe St. (509) 327-0427
Artisans' Wares - Asian-influenced acrylic paintings by Pat Condron; fine crafts, art and jewelry by more than 150 local and national artists. River Park Square, 808 W. Main Ave., second level. (509) 456-6030
Artist's Tree - Works by Melissa Carpenter and Katelyn. 828 W. Sprague Ave. (509) 456-2300
ArtStyle Northwest - Works by Jill Smith, Mike Neiman, Gay Waldman, Peter Jagoda and Jan Moulder. 901 W. Garland Ave. (509) 325-4070
Avenue West Gallery - "Inner Gardens," impressionistic water media by Loretta West. Also Patti Osebold's Japanese dolls and origami earrings. 122 S. Monroe St. (509) 838-4999
Barrister Winery - Works by Jeannine Marx Frucci and Ned Fox. 1213 W. Railroad Ave. (509) 993-9310
Bing Crosby Theater - Figurative and botanical paintings by Jennifer Zurlini on exhibit in the lobby, on view during events and by appointment. 901 W. Sprague Ave. (509) 599-3210
Brick Wall Gallery - Historic photographs by Cal Crook. 530 W. Main Ave., skywalk level. (509) 928-7721
Center Place - Works by West Valley School District students and Spokane Valley Arts Council members. 2426 N Discovery Place, Spokane Valley. (509) 924-6560
Chase Gallery - Explorations XI, group student art exhibition from regional colleges and universities. City Hall, 808 W. Spokane Falls Blvd., lower level. (509) 625-6050
Clearstory Gallery at Life Center - "Broke," works by Whitworth University faculty and students. 1202 N. Government Way. (509) 499-2678
Gallery of Thum' - Works by Patti MacDonald, Jo Simpson and Judy Foust. Steam Plant Square, 159 S. Lincoln St., Suite 151. (509) 294-9234
Grande Ronde Cellars - Fusion glass by John Stokesberry. 906 W. Second Ave. (509) 455-8161
Ink to Media - "Mindful Navigation," watercolors by Robert Karr and works by John Estes. 523 N. Pines Road, Spokane Valley. (509) 863-9125
Japan Week Exhibit - By the Spokane-Nishinomiya Sister City Society. Saturday through April 24, Spokane Falls Community College, library lobby, 3410 W. Fort George Wright Drive. Free. (509) 536-4480
Jundt Art Museum/Arcade Gallery - "Jacob Lawrence: Genesis," featuring the print portfolio "Eight Studies From the Book of Genesis." Gonzaga University, 202 E. Cataldo Ave. (509) 313-6611
Kizuri - Weaving collection by Maria Gonzalez, master weaver from Guatemala, through April 30. Community Building, 35 W. Main Ave. (509) 464-7677.
Kolva Sullivan Gallery - "Pleasant Places," watercolors by Sandy Ayars. 115 S. Adams St., Suite A. (509) 458-5517
Kress Gallery - "Bokuseki (Ink Traces)," exhibit by several local artists in conjunction with Japan Week. Opening reception Saturday, noon to 4 p.m. River Park Square, 808 W. Main Ave., level three. (509) 363-5317
Lorinda Knight Gallery - "Continuous Field," paintings by Ryan Hardesty. 523 W. Sprague Ave. (509) 838-3740
Missing Piece Tattoo Lounge - "Dissonance," by John Kuhn; also SFCC's Fine Arts Portfolio Winners. 410 W. Sprague Ave. (509) 998-5521
Northwest Museum of Arts and Culture - "In Iraq: Spokane Soldiers of the 1st Battalion, 1-161 Infantry Regiment, 81st Brigade Combat Team": Photographs by Jed Conklin. "Quiltscapes": Dozens of quilts from the MAC collection. "Stories from Within: Selections from the Permanent Collection," narrative works representing diverse cultures, various media and multiple time periods. "River Pigs and Timber Beasts": Explores multiple facets of the logging industry. "Living Legacy: the American Indian Collection," displays all of the Manning American Indian Collection acquired in 1916, the founding collection of the MAC. Tuesdays-Sundays, 11 a.m.-5 p.m. 2316 W. First Ave. $7/adults, $5/seniors and students with ID, free/age 5 and younger. (509) 456-3931
On Sacred Grounds - "Angels on the Palouse," oils and acrylics by Ellen Blaschke. 12212 E. Palouse Highway, Valleyford. (509) 747-6294
Pottery Place Plus Gallery - Collage/watercolors, found objects, and handmade and marbleized papers by Orla Colvin. Liberty Building, 203 N. Washington St. (509) 481-0981
Sante Restaurant - Mixed-media works by Steph Sammons. 404 W. Main Ave. (509) 315-4613
Saranac Art Projects - Works by Scott Kolbo, Meagan Stirling, Jenny Hyde, Greg Dumontheir and Lance Sinnema. 25 W. Main Ave. (509) 363-5325
SFCC Fine Arts Gallery - RayZone 3-D Posters. Spokane Falls Community College, Building 6, 3410 W. Fort George Wright Drive. (509) 533-3746
Spokane Downtown Library - Sexual Assault Awareness Month Clothesline Project and Book Display, T-shirts with stories from survivors of sexual assault, and book and poster display highlighting awareness of sexual violence. 906 W. Main Ave. (509) 343-5039
Spokane Transit Authority - Artwork from downtown child care centers and Audubon and Homes Elementary fourth-graders. 701 W. Riverside Ave., level two. (509) 456-7277
Spokane Valley Heritage Museum - "Apollo 11, One Small Step," artifacts and photos from Neil Armstrong's historic walk on the moon 40 years ago. 12114 E. Sprague Ave. $5/adults, $4/seniors, $3/age 18 and younger. (509) 922-4570
Tinman Gallery - "Other Dimensions," acrylic wildlife paintings by Melissa Cole and underwater photography by husband Brandon Cole. 811 W. Garland Ave. (509) 325-1500
Trackside Studio - Handmade pottery and ceramic sculpture by Chris Kelsey and Mark Moore. 115 S. Adams St. (509) 462-5653
Whitworth University/Bryan Oliver Gallery - "Melange Beginnings: The Junior Exhibition Show," through Friday. Senior exhibit, "Something Better Than Free Beer," Tuesday through May 16; reception Tuesday, 5-7 p.m. Lied Arts Center, 300 W. Hawthorne Road. (509) 777-3258
Coeur d'Alene/Post Falls
Angel Gallery - Works by several regional artists. 423 Sherman Ave. (208) 665-7232
Art Spirit Gallery - New works by 12 leading regional artists. 415 Sherman Ave. (208) 765-6006
Cheryl Burchell Art and Design - "Sass and Sparkle," paintings that shimmer and papier mache with attitude. 413 1/2 E. Sherman Ave. (208) 687-3059
Jacklin Arts and Cultural Center - Contemporary fiber art by nine quilt and doll-marking artists, through May 8; reception Friday, 5:30-7 p.m. The Old Church, 405 William St., Post Falls. Free, donations accepted. (208) 457-8950
Museum of North Idaho - "Observing North Idaho's Forest Dynamics," exploring the role of Western white pine in bringing timber companies to our region. 115 Northwest Blvd. $3/adults, $1/ages 6-16, free/age 5 and younger, $7/two adults and children under age 16. (208) 664-3448
NIC/ Boswell Hall Corner Gallery - Original student artwork. North Idaho College, 1000 W. Garden Ave. (208) 769-3276
Northwest Artists' Co-op - Batik and fiber art by Toni Spencer and raku blooms and stoneware baskets by Hilda Bradshaw. 217 Sherman Ave. (208) 667-1464
Painter's Chair Gallery - Works by Stephen Shortridge and other regional artists. 223 Sherman Ave. (208) 667-3606
Studio 107 - Works by regional artists and locally designed jewelry. 107 N. Fourth St. (208) 659-0889
Sum of Six - This working studio gallery features local artists. 321 E. Front Ave. (208) 661-3926
Sandpoint
Pend Oreille Arts Council Gallery - "One if by Land, Two if by Sea: A Celebration of Lost in the 50's and the Wooden Boat Show." Old Power House, 120 Lake St. (208) 263-6139.
Redtail Gallery - Figure drawings from the Artists Salon, an Arts Alliance group; also ceramics, stained glass, photography, jewelry, watercolor and more. Oak Street and Sixth Avenue. (208) 265-4303
Moscow/Pullman
Appaloosa Museum - "Appaloosas and Scenes of the Palouse," Friday through May 16. 2720 W. Pullman Road, Moscow. (208) 882-5578, ext. 279.
Moscow Food Co-op - Moscow Renaissance Fair posters dating from 1974-2009. 121 E. Fifth St., Moscow. (208) 882-8537
The Silos - "The Palouse," oil paintings, watercolors and cartoons by Anna Brewer. 693 Styner Ave., off Travois Way, Moscow.
University of Idaho/Prichard Art Gallery - MFA Thesis Exhibit with paintings and sculptures by Goran Fazil and paintings by Ellen Vieth, Friday through May 5. 414/416 S. Main St., Moscow. (208) 885-3586
University of Idaho/Ridenbaugh Galleries - Annual Bachelor of Fine Arts Thesis Exhibition, student works by Jason DiGiammarco, Melinda Hirning, Teva Hopper, Yolanda Taylor, Jenn Burdin, Josh Fletcher and Jess Sanden. Reception Friday, 4-6 p.m. University of Idaho, Blake Avenue and Campus Drive, Moscow. (208) 885-6043
WSU Museum of Art - "Graduate MFA Exhibits," works by Brad Dinsmore, Lauren McCleary, Heather Losey McGeachy, Dustin Price and Tobias Walther; "First Year MFA Exhibits," works by Michael Baum, Holly Campbell, Karri Dieken, Colby Jennings, Amber Kovac, Louis Krampien, Scott Phillips, Benjamin Sandness and Garric Simonsen Washington State University, Fine Arts Center, 100 Wilson Road, Pullman. (509) 335-1910
Eastern Washington
Artisans at the Dahmen Barn - "Mixed Bag," paintings, drawings and collage by Katherine Clancy. Highway 195, Uniontown. (509) 229-3414
Bank Left Gallery - "Perspectives," works by Kara Michael, Ainsley Nix, Jerry Petersen, Meg Branlund and Tarin Hurst, Saturday through April 30; reception Saturday, 5-6 p.m. Also "The Green Component," ecodesign exhibit showcasing works with low environmental impact by regional artists. 100 S. Bridge, Palouse. (509) 878-8425
EWU Gallery of Art - "Recycled: An Exploration in Found and Recycled Thoughts and Materials," by Bernadette Vielbig. Eastern Washington University, Art Building, Cheney. (509) 359-7070
Moses Lake Museum and Art Center - "Columbia Basin Disasters," examining events that have shaped the Basin. 228 W. Third Ave., Moses Lake. (509) 766-9395
Local journalism is essential.
Give directly to The Spokesman-Review's Northwest Passages community forums series -- which helps to offset the costs of several reporter and editor positions at the newspaper -- by using the easy options below. Gifts processed in this system are not tax deductible, but are predominately used to help meet the local financial requirements needed to receive national matching-grant funds.
Subscribe to the Coronavirus newsletter
Get the day's latest Coronavirus news delivered to your inbox by subscribing to our newsletter.
---
Subscribe and log in to the Spokesman-Review to read and comment on this story