News > Features
Preventive bilateral mastectomies becoming more common
But it's a decision that can either reassure or haunt a patient for years
Tue., April 21, 2009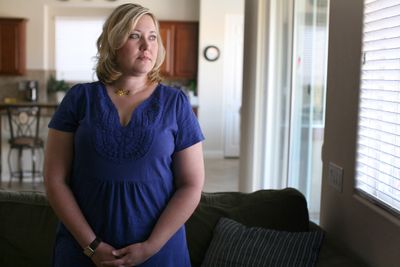 Karen Aulner, 36, has never been diagnosed with cancer. She has, however, watched her older sister fight the disease since 2000. So when Aulner tested positive in 2004 for a gene mutation that put her at high risk of breast cancer, she asked her doctor to remove both of her healthy breasts.
"My sister was the healthiest person I ever knew," Aulner says. "She's slender, she worked out all the time, she loved fruits and vegetables – and she's dying.
"If I could not have that happen to me? Heck, yeah."
Preventive bilateral mastectomy – surgery to remove both breasts – has become more common not only among women with cancer in only one breast, but also for women with no cancer at all.
The choice has been driven partly by the availability of tests that can identify mutations of the BRCA1 and BRCA2 genes, which increase a woman's risk of breast cancer, and partly by increasingly sophisticated surgical options, including breast reconstruction from a woman's own tissue.
But to remove both breasts remains a difficult, emotional decision that can reassure or haunt the patient for years.
Lumpectomies, a less invasive procedure, are still far more common. But a 2007 University of Minnesota study found that the percentage of U.S. women with cancer in one breast who chose a double mastectomy more than doubled over five years, from 4.2 percent in 1998 to 11 percent in 2003.
In March, Rep. Debbie Wasserman Schultz, D-Fla., revealed that she had had a double mastectomy last year. She'd had a lumpectomy after being diagnosed with early-stage cancer in her right breast in December 2007. After testing positive for the BRCA2 mutation, she had both breasts removed.
She's had seven surgeries in all, including the insertion of silicone implants and the removal of her ovaries.
"The doctors said I had a 65 percent chance of a recurrence of cancer in the other breast," Wasserman Schultz, 42, said in a telephone interview. "Those odds were too high for me."
Her decision paid off immediately, she said: In tissue removed from her right breast, doctors found a second cancer, a type called ductal carcinoma in situ.
Actress Christina Applegate had a double mastectomy last summer, inspiring a wave of articles and talk-show discussions. The 37-year-old star of TV's "Samantha Who?" had early-stage cancer in one breast and tested BRCA1-positive.
"I'm definitely not going to die of breast cancer," she said defiantly in a television interview. And as for the benefits of reconstructive surgery, she added: "I'm going to have cute boobs till I'm 90."
Many women describe bilateral mastectomy as the lifting of a great burden because they no longer have the stress of mammograms or the panic of finding a small lump during a self-exam.
Others have regrets, saying the psychological effects were worse than expected.
At 32, Susan Dunn, a Baltimore-based writer with a two-centimeter tumor in her right breast, chose a double mastectomy because she had two little kids and wanted to be as aggressive as possible.
Fourteen years later, she has mixed feelings, looking back on the experience as a six-month cancer whirlwind. Only three weeks after her diagnosis, she was in the operating room. Everything noncancer in her life was put on hold. She lost all her hair during chemotherapy.
Eventually her life returned to normal. Her hair grew back. But her breasts were gone forever.
"If I had to do it again, I would do just one," she says. "I don't think I understood the permanence of it. … On the other side, I'm alive and I don't worry about dying."
•
For Karen Aulner, having a double mastectomy never felt like a choice.
Aulner learned that her older sister, Kristine Hansen, had found a lump in her right breast in fall 2000. Hansen's doctor wasn't concerned, but in a second opinion 3 1/2 months later, her new doctor said she had inflammatory breast cancer, the aggressive, fast-growing kind. She was given a 40 percent chance of surviving for five years.
After six rounds of chemotherapy to shrink the cancer, Hansen asked for a double mastectomy.
"I just thought, 'This is stupid; so many times I've heard that it comes back in the other breast,' " Hansen, 38, recalled in a telephone interview from her home in McPherson, Kan. "I was very small-chested, so it was pointless to keep one tiny little boobie."
Statistics to help women such as Hansen make the decision can be complicated.
A woman who has no cancer but has a BRCA mutation has a 65 to 80 percent risk of developing breast cancer in her lifetime, according to Lillie Shockney, administrative director of the Johns Hopkins Breast Center. That risk falls to 5 percent after a preventive double mastectomy.
A woman who has early-stage breast cancer but no BRCA mutation has a 5 to 20 percent risk of a local recurrence after a lumpectomy and radiation. That goes down to 1 percent with a double mastectomy.
Why does any chance remain at all? Shockney explains it is virtually impossible to remove every breast cell, and "just a few remaining cells is enough to give breast cancer a place to grow."
The risk remains even after a rare "radical" mastectomy, which involves removing pectoral muscles and lymph nodes.
Women who have had cancer in one breast and have a BRCA mutation, such as Hansen, have a risk of 3 percent per year of developing cancer in the opposite breast, says Todd Tuttle, the lead researcher on the 2007 University of Minnesota study, and the risk is cumulative.
That may help explain why younger women are more likely to choose the bilateral procedure than older women: They're looking ahead to 30 or 40 more years of life, and the calculations begin to stack up against them.
However, the risk of developing cancer is a separate question from whether the surgery can extend a patient's life.
Tuttle says that in most cases, a woman receiving a diagnosis of breast cancer has the same chance of "survival" – defined as living another five years – whether she has a lumpectomy with radiation or a double mastectomy.
After Tuttle's 2007 study was published, he heard from lots of women about the reasons they had had the surgery and the psychological aftermath.
The e-mails ranged from "I did this five years ago and I regret it" to "I knew it wasn't going to affect my breast cancer survival rate, but I wanted my breasts to look symmetrical." Others expressed relief at not expecting to face mammograms or biopsies again.
Cynthia Gilman, a lawyer in Alexandria, Va., initially considered having a lumpectomy after her 2003 breast cancer diagnosis at age 43.
Gilman had calcifications in both breasts (mineral deposits that may or may not indicate cancer) and dense breast tissue, making detection of new tumors more difficult. Her surgeon told her, "I don't know how I'm going to monitor you."
"I didn't want to live my life not knowing if every little lump or bump was cancer," Gilman says. "I chose not to do that."
Six years later, she says she is 100 percent happy with her decision.
At the Johns Hopkins Breast Center, Lillie Shockney has counseled many women with dense breast tissue who opt for a double mastectomy. Despite regular mammograms, some of them had found on their own a lump that turned out to be cancerous.
"The breast tissue is white, the tumors are white, and we can't find a polar bear in a snowstorm," Shockney says.
•
During Kristine Hansen's double mastectomy, doctors removed seven lymph nodes under her right arm; one tested positive for cancer. Though the cancer appeared to be gone for 2 1/2 years, she says she never deluded herself into thinking she was safe, partly because of that one lymph node.
In 2003, her doctors saw a shadow on a CT scan of one lung – it was the beginning of another tumor.
Aulner, a nursing student in Las Vegas, watched her sister battle cancer a second time. And in 2004 she made an appointment for a BRCA test.
She picked up the test results at her OB-GYN's office and, outside in her car, opened it: Positive. She was facing up to an 80 percent chance of developing breast cancer during her lifetime.
Aulner asked her OB-GYN what to do. "He basically said, 'I've never had anyone like you before,' and that was it," she recalls. "I had no guidance."
She called several surgeons in Las Vegas, none of whom would consider preventive mastectomy. She ended up having the surgery in New Orleans, at a practice she found online.
Aulner's sister had tried implants, but they became infected and she opted for prosthetic breasts. Aulner chose a DIEP (deep inferior epigastric perforator) flap reconstruction, in which breasts are reconstructed from the patient's own abdominal skin and fat.
It took three operations, including one that took 12 hours and a five-day hospital recovery, but Aulner says it was worth it for what she hopes is "a permanent solution."
Those closest to Aulner were "totally on board" with her choice, she says. Some acquaintances, however, were perplexed.
A friend of a friend asked her, "Women don't die of breast cancer anymore, do they?"
They do. Hansen is almost certainly going to die of breast cancer.
In the past eight years, besides the double mastectomy, she has had her ovaries and uterus removed. When breast cancer spreads, it usually goes to the lungs, bones and liver: Hansen has three tumors in her liver and seven in her brain.
She undergoes "maintenance chemotherapy" every other Monday, which will extend her life but not cure her disease. She has half of her eyelashes and eyebrows and no hair on her head.
But usually she stays upbeat and describes a rich life. Since her diagnosis, she and her husband have visited France and Italy; she hopes to go to Spain and Portugal.
For her birthday two years ago, her family gave her a Volkswagen Beetle. "I don't want to die driving a minivan," Hansen says.
Aulner, three years after her genetic testing, decided there was one more cancer risk she could eliminate: She had learned that, according to the National Cancer Institute, a women with an altered BRCA1 or BRCA2 gene has a 16 to 60 percent lifetime risk of getting ovarian cancer, compared with 1.7 percent for the general population.
Aulner asked her doctor to remove her ovaries. She had the operation in December 2007.
Local journalism is essential.
Give directly to The Spokesman-Review's Northwest Passages community forums series -- which helps to offset the costs of several reporter and editor positions at the newspaper -- by using the easy options below. Gifts processed in this system are not tax deductible, but are predominately used to help meet the local financial requirements needed to receive national matching-grant funds.
Subscribe to the Coronavirus newsletter
Get the day's latest Coronavirus news delivered to your inbox by subscribing to our newsletter.
---
Subscribe and log in to the Spokesman-Review to read and comment on this story