News > Features
People: Thorne is still playing prickly
Tue., April 21, 2009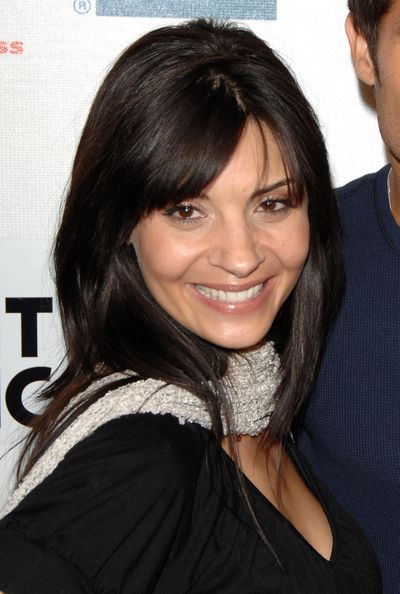 If Sheila Keefe had a theme song, it would be Johnny Cash's "Ring of Fire."
The ode to flaming desire animates Callie Thorne's TV character, who's back for her fifth season of FX's "Rescue Me," the testosterone-fueled dramedy about New York firefighters (Tuesdays, 10 p.m., cable channel 53 in Spokane, 65 in Coeur d'Alene).
As always, Sheila, the perpetually high-strung widow of a firefighter killed in the terrorist attacks of Sept. 11, 2001, is carrying a torch for her deceased husband's cousin, firefighter Tommy Gavin (Denis Leary).
Although much of the action surrounds Gavin and his colleagues, Thorne, 39, has proved to be a reliable touchstone, often stealing scenes from Leary and others.
Her character once raped an unconscious Tommy after slipping him a potion containing a knockout drug and Viagra.
In another instance, she took on a lesbian lover – in hopes of making Tommy jealous – but wound up in an abusive relationship in which she was battered and beaten.
This season, she seeks help from a drama coach-therapist who tries to free her of her obsession with Tommy.
"Sheila is really my alter ego," Thorne says. "She does everything I wish I could do but can't. I don't want to go to jail."
Peter Tolan, who co-created "Rescue Me" with Leary, said that even though the series is man-centric (Andrea Roth, who plays Tommy's estranged wife, is the only other female in the core cast), Thorne is a central part of its vibe.
"There's nothing we've thrown at Callie that she can't handle," he says. "Her character is our Lady Macbeth, the constant troublemaker."
Adds Leary: "We just shot for 15 months making 22 new episodes, and at one point I turned to Peter and said, 'Callie is the greatest actress I have ever worked with.' She's this great dramatic actress, and she's also a great comedic actress."
Although a vein of wackiness will continue to course through "Rescue Me" this season, Thorne's role will get a dramatic boost by the discovery of 9/11 footage that unearths new information about Sheila's husband that sends her into an emotional tailspin.
"There's an entire episode named after her," Leary says.
Thorne's distinctive girl-next-door beauty has led to a string of diverse roles that bear little resemblance to the hyperkinetic Sheila.
She was featured in "Prison Break," "Homicide: Life on the Street" and on HBO's "The Wire," as Elena, the former wife of Detective James McNulty (Dominic West).
"Rescue Me" has been particularly fulfilling.
"Sheila's really trying to be a better person," Thorne says said. "I feel more in her skin, feel a lot more comfortable being her."
Still, some uneasiness does creep in at times, since much of her on-screen interactions involve intense screaming matches with Leary.
"He's my scene partner, but also my boss," she says, "so it can be a little daunting."
The birthday bunch
Actor Charles Grodin is 74. Singer Iggy Pop is 62. Actress Patti LuPone is 60. Actor Tony Danza is 58. Actress Andie MacDowell is 51. Singer Robert Smith (The Cure) is 50. Actor-director John Cameron Mitchell ("Hedwig and the Angry Inch") is 46. Actress/comedian Nicole Sullivan is 39. Actor James McAvoy is 30.
Local journalism is essential.
Give directly to The Spokesman-Review's Northwest Passages community forums series -- which helps to offset the costs of several reporter and editor positions at the newspaper -- by using the easy options below. Gifts processed in this system are not tax deductible, but are predominately used to help meet the local financial requirements needed to receive national matching-grant funds.
Subscribe to the Coronavirus newsletter
Get the day's latest Coronavirus news delivered to your inbox by subscribing to our newsletter.
---
Subscribe and log in to the Spokesman-Review to read and comment on this story