Sports
Sports in brief: Trail Blazers edge Rockets
Wed., April 22, 2009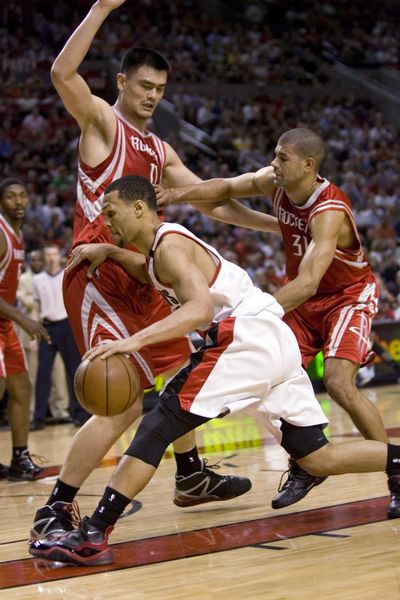 Brandon Roy scored 42 points and the Portland Trail Blazers beat the Houston Rockets 107-103 on Tuesday night in Portland to even their playoff series at one game apiece.
Aaron Brooks led a late charge and finished with 23 points for Houston, which has not made it out of the first round since 1997. Von Wafer came off the bench to add 21.
LaMarcus Aldridge had 27 points and 12 rebounds for Portland.
•Lakers up 2-0: Kobe Bryant scored 26 points and handed out nine assists and Pau Gasol scored 22 on 9-of-11 shooting from the floor as the Los Angeles Lakers rolled to a 119-109 win over the visiting Utah Jazz and a 2-0 lead in the series.
•Cavaliers win again: LeBron James, showing no regard for a defensive plan Detroit spent three days preparing for him, scored 29 points and Mo Williams added 21 as the Cleveland Cavaliers rolled to a 94-82 win to open a 2-0 lead over the visiting Pistons in the Eastern Conference first-round playoffs.
Richard Hamilton scored 17 and Rodney Stuckey 14 for the Pistons.
•Spanish teen enters draft: Spanish teenager Ricky Rubio has decided to enter the NBA draft.
The 18-year-old point guard, who is under contract with Spanish club DKV Joventut through 2011, has been rated as one of the top picks for the June 25 draft.
NHL
Hurricanes get even
Jussi Jokinen deflected in Dennis Seidenberg's slap shot with 0.2 seconds remaining and the Carolina Hurricanes evened their first-round series with New Jersey at two games apiece by beating the Devils 4-3 in Raleigh, N.C.
Eric Staal, Ryan Bayda and Chad LaRose also scored for the Hurricanes, who blew a 3-0 lead but regrouped just in time to avoid a third straight overtime game.
•Penguins in command: A sliding Sidney Crosby scored a goal that ricocheted off his stick, his midsection and into the back of the net to spark Pittsburgh to a 3-1 win over host Philadelphia.
Pittsburgh goalie Marc-Andre Fleury was sensational with 45 saves and the Penguins grabbed a 3-1 lead in the series.
•Red Wings eye sweep: Henrik Zetterberg scored two goals and the Detroit Red Wings dominated from start to finish to beat the Columbus Blue Jackets 4-1 in Columbus, Ohio, and grab a 3-0 lead in their first-round series.
•Canucks oust Blues: Alex Burrows scored his second goal of the game with 18.9 seconds to go in overtime and Roberto Luongo made 47 saves to help the visiting Vancouver Canucks complete a four-game, first-round sweep of St. Louis with a 3-2 victory.
•Sharks close gap: Patrick Marleau scored the go-ahead goal on a power play with 9:27 left, and the San Jose Sharks earned a 4-3 win over Anaheim at Anaheim, Calif., trimming the Ducks' series lead to 2-1.
Football
Corp gets USC nod
Southern California coach Pete Carroll said sophomore Aaron Corp will be the Trojans' starting quarterback through the summer and into fall camp. Corp will start Saturday's scrimmage at the Los Angeles Memorial Coliseum.
Carroll said Corp's starting status isn't final. Freshman Matt Barkley will be Corp's backup Saturday.
•MWC wants playoff: Mountain West Conference commissioner Craig Thompson made his league's case for sweeping changes to the Bowl Championship Series, including a move to an eight-team playoff, in a 90-minute presentation to other conference leaders at the BCS meetings in Pasadena, Calif.
The 11 major college football conference commissioners will take the MWC proposal to their end-of-year league meetings and return June 15-19 in Colorado Springs, Colo., with their responses.
•Perry hospitalized: Former Chicago Bears defensive lineman William "The Refrigerator" Perry is in serious condition at a South Carolina hospital.
Perry, 46, was hospitalized to deal with complications from Guillain-Barre Syndrome, a chronic inflammation disorder of the peripheral nerves.
•Vick must show remorse: NFL commissioner Roger Goodell says Michael Vick has paid a significant price for doing an "egregious thing" and will have to show genuine remorse and that the experience has changed him to get a chance at resuming his career in the league.
Miscellany
Turnberry lengthened
Organizers of the British Open at Turnberry have lengthened the course by 247 yards since it was last played there 15 years ago.
The course on the west coast of Scotland, which held the tournament in 1977, '86 and '94, now has an overall length of 7,204 yards, up from 6,957. The new layout features six new tees.
•NCAA approves beach volleyball: The NCAA approved "sand" volleyball as an emerging sport for women and cleared the way for varsity competition in the 2010-11 academic year. The organization will spend the next year developing rules that will govern intercollegiate play, including regulations on financial aid, playing dates and recruiting.
•Cricketers set sights high: Two teams of British cricketers played at the foot of Mount Everest in an attempt to set a high-altitude record for field sports.
The teams played the match at Gorakshep, located 16,940 feet above sea level on the south side of the world's highest mountain in Nepal. Guinness World Records needs to ratify the record.
•Twilight matches possible: The new retractable roof over Wimbledon's Centre Court could mean the first matches past twilight for players and fans at the All England Club.
All England Club chairman Tim Phillips said any match started on Centre Court will be played to completion on the same day.
Local journalism is essential.
Give directly to The Spokesman-Review's Northwest Passages community forums series -- which helps to offset the costs of several reporter and editor positions at the newspaper -- by using the easy options below. Gifts processed in this system are not tax deductible, but are predominately used to help meet the local financial requirements needed to receive national matching-grant funds.
Subscribe to the sports newsletter
Get the day's top sports headlines and breaking news delivered to your inbox by subscribing here.
---
Subscribe and log in to the Spokesman-Review to read and comment on this story