News > Features
Mrs. Robinson, Benjamin to take the stage at Interplayers
Thu., April 23, 2009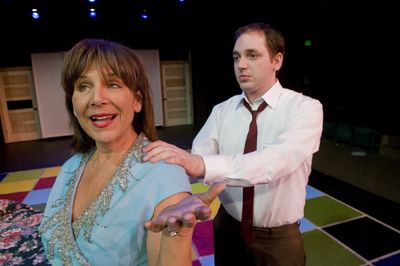 Mrs. Robinson was voted the "hottest cougar of all time" in a recent poll. Now, she'll be live and onstage at Interplayers Theatre in a stage adaptation of "The Graduate."
And she'll still be raising eyebrows and pulses, just as she did in the 1967 movie, the 2000 London stage production and the 2002 Broadway production.
However, don't forget: "The Graduate" is not about Mrs. Robinson.
"The story is really more about Benjamin Braddock (the Dustin Hoffman character in the movie) and his disconnect from his parents' world," said Maria Caprile, the director of the Interplayers production.
"There's a line in the play where Benjamin tells Elaine, 'This is not about our parents, it's about us.' That's true not only of their relationship, but of the play."
The Interplayers version features Carter J. Davis, a Seattle theater veteran, as Benjamin, a confused college graduate who's seduced by the older Mrs. Robinson, then falls in love with her daughter, Elaine.
Spokane audiences might also recognize him from "Humble Boy" at the Actor's Repertory Theatre.
Still, Mrs. Robinson is a character who has lived on in both popular memory and in song, by Simon and Garfunkel. Anne Bancroft caused a sensation in the movie version when she arched a shapely leg at poor naïve Benjamin.
Not to mention the more recent sensation that Kathleen Turner caused at London's West End and Broadway when she doffed her clothes and stood facing the audience – and not just for a millisecond.
New York Times theater critic Ben Brantley timed it at 20 seconds. He devoted the first 15 paragraphs of his review to Turner's glorious nakedness.
Karen Kalensky, who will play Mrs. Robinson, will be doing no such scene in the Interplayers version.
"It's really not necessary," said Caprile. "Frankly, that scene was gratuitous. I think they used it in London and New York to sell tickets.
"This is Spokane. It probably would have the opposite effect."
That scene certainly did sell tickets in London and New York. "The Graduate," despite lukewarm and downright hostile reviews, had long runs in both cities.
The 2000 London run lasted two years, originally starring Turner as Mrs. Robinson. She was later replaced by Jerry Hall, Amanda Donohoe, Anne Archer and Linda Gray.
The 2002 Broadway run lasted nearly a year, also originally starring Turner. She was later replaced by Lorraine Bracco and Gray. The cast also included Alicia Silverstone as Elaine and Jason Biggs as Benjamin.
The stage version is based on the 1963 cult novel by Charles Webb. So was the movie, but according to Caprile, the stage version departs in some significant ways from the movie version.
First of all, there is no scene of Benjamin shouting "Elaine!" while pounding on a church window. Terry Johnson, who adapted the story for the stage, also added several scenes neither in the book nor the movie.
"It's not as dark as the movie, and quite a bit funnier," said Caprile.
It's fitting that the aforementioned "cougar" poll was conducted by a brand of liquor, since Mrs. Robinson was usually marinated in copious amounts of bourbon. As she famously asked Benjamin in the movie, "Did you know I was an alcoholic?"
However, you might see a different kind of Mrs. Robinson in Kalensky's portrayal.
"The Mrs. Robinson in the play is not so much of an ice queen," said Caprile. "She's much more human."
The cast also features Emily Cleveland, Tony Caprile, Tamara Schupman, John Oswald, Dan Anderson, Angela Dierdorff, Dave Rideout and David McCallum.
Local journalism is essential.
Give directly to The Spokesman-Review's Northwest Passages community forums series -- which helps to offset the costs of several reporter and editor positions at the newspaper -- by using the easy options below. Gifts processed in this system are not tax deductible, but are predominately used to help meet the local financial requirements needed to receive national matching-grant funds.
Subscribe to the Coronavirus newsletter
Get the day's latest Coronavirus news delivered to your inbox by subscribing to our newsletter.
---