News > Features
Focused creatively
Death Cab for Cutie performs tonight at Gonzaga
Fri., April 24, 2009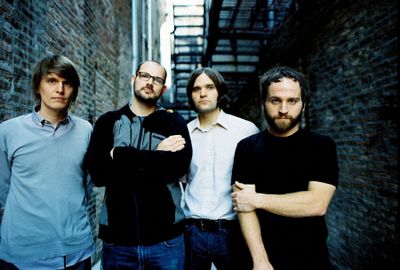 When the drummer for Death Cab for Cutie was building his Two Sticks music studio, he had one thing in mind: recording the band's new album.
That, and all the things he loved and hated about recording studios.
"This was my chance to have everything I want in a studio," Jason McGerr said during a telephone interview. "And what I wanted was the most comfortable creative environment possible."
Last year's chart-topping "Narrow Stairs" was shaped by the dynamic of the group creating it while facing each other, rather than the aquarium view of a sound engineer.
"I don't like to be in a studio where all you've got to look at is this pane of glass between the control and the tracking room," said McGerr.
"You're giving it your all and you look up and there is someone on the other side laughing or talking on a cell phone. That can be very distracting."
Six albums in, this is a Death Cab for Cutie fully focused and showing teeth.
"Narrow Stairs," released last May, was a creative upwelling – the most aggressive and ambitious outing yet for Bellingham's indie-pop princes, who come to Spokane for a concert tonight at Gonzaga University.
The group's second major-label offering took abrasive jumps and darker descents into forlorn love and wayward hopes – a lot of them.
When it came time to pick songs for "Narrow Stairs," there were so many keepers, they were either going to have a really long album, or they were going to have to find something to do with all the extra gold.
The end result was a five-song balancing act, "The Open Door EP," released last week.
It's like "Narrow Stairs 1.5," giving just a little more information from the session without falling victim to overexposure.
"We could have done 'Narrow Stairs' as a 15-song album, but in the traditional sense, we like to make shorter albums so that people can make it all the way through," McGerr said.
"Sure, everyone is selling singles these days, but I think you get to know a band better through a whole album. It's a truer experience from start to finish."
"The Open Door" has similar boiling points to "Narrow Stairs," but counterpunches with moments of contrast – like the decision to include the demo version of "Talking Bird," one of the standout cuts off "Narrow Stairs."
"The 'Talking Bird' demo was recorded at the same time as the others, and it's about as far from the album version as you can get," McGerr said.
"We left that in to show how (lead singer and chief songwriter Ben Gibbard) writes demos. He's not so attached that they can't be rewritten, even when they are great to begin with."
McGerr, who first appeared on 2007's platinum-selling "Plans," is Death Cab's longest-running drummer and the first to appear on consecutive albums. But he isn't as new to the band as his resume might suggest.
The former drum teacher and Bellingham native played music with Death Cab bassist Nick Harner before the band's inception.
Said McGerr: "I had to let three records go by and wait for the band to get out of the van and into the tour before I joined."
Local journalism is essential.
Give directly to The Spokesman-Review's Northwest Passages community forums series -- which helps to offset the costs of several reporter and editor positions at the newspaper -- by using the easy options below. Gifts processed in this system are not tax deductible, but are predominately used to help meet the local financial requirements needed to receive national matching-grant funds.
Subscribe to the Coronavirus newsletter
Get the day's latest Coronavirus news delivered to your inbox by subscribing to our newsletter.
---