News > Idaho
It's a GOP vs. GOP showdown in Idaho
Mon., April 27, 2009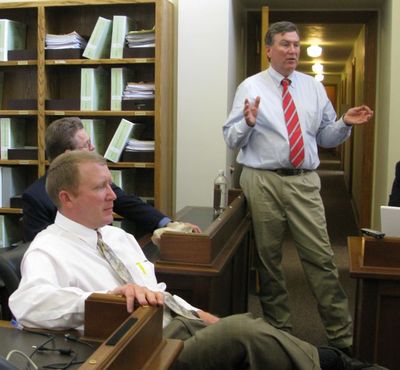 BOISE - It's Republican vs. Republican in an Idaho political showdown: House GOP leaders say they'll adjourn for the session on Wednesday without passing GOP Gov. Butch Otter's transportation plan, likely forcing the GOP-dominated Senate to force the House back into session against its will. "We can adjourn for three days, and then they would have to call us back," said House Majority Caucus Chairman Ken Roberts, R-Donnelly. The governor's office had no immediate comment; press secretary Jon Hanian pointed to the veto letter Otter sent lawmakers last week in which he wrote, "I am not going to let this session end until this legitimate and proper role of government is addressed in the manner it deserves." Senate Majority Leader Bart Davis, R-Idaho Falls, called Monday's developments "bizarre." The Idaho Constitution states, "Neither house shall, without the concurrence of the other, adjourn for more than three days." Lawmakers on Monday were in the 106th day of this year's legislative session - the state's second-longest session ever. Rep. Bill Killen, D-Boise, the House minority caucus chairman, said, "We certainly want to get the job done. I'm not sure leaving on Wednesday is a good idea, since my sense is the Senate will call us back. I think there's some work we could do. … I do think it's a little bit of a power struggle, that's my sense - some pretty big egos involved. I just hope the Senate hangs in there." Otter met with both House and Senate GOP leaders at day's end, and sent a clear message that he wants transportation funding increased - to the tune of $75 million to $80 million a year - before this year's legislative session ends. "The governor restated his commitment to a solution to the transportation funding issue this session," said Senate Assistant Majority Leader Joe Stegner, R-Lewiston. "We spent a little time talking about registration, but he came right back to a gas tax." He added, "I think the purpose of the meeting was to deliver a unified message to both House and Senate, which apparently earlier today was confused." Early Monday morning, Otter sent a letter to every lawmaker highlighting other issues on which he and the Legislature have worked successfully this year, and thanking them. House Republican leaders interpreted the letter as a sign that Otter had given in on transportation funding, but the governor's office said it was nothing of the sort. The House has voted six times this year against raising the gas tax, a key piece of Otter's plan to boost the state's lagging road maintenance. Also on Monday, at a hastily convened Ways and Means Committee meeting, House GOP leaders pushed through, on a 4-3 party-line vote, a new version of legislation making several changes in public school funding, including retroactively ending an early teacher retirement program. Legislation to phase out that program passed the House, but the Senate amended it out of the bill, in what was hailed as a compromise with educators. Rep. Bob Nonini, R-Coeur d'Alene, sponsored the new bill, saying he wanted to keep public school money going to the classroom in tight budget times. But Davis, the Senate majority leader, said, "I don't know what they're up to." This morning, the Joint Finance-Appropriations Committee is meeting to restore the funding for the early teacher retirement program, based on passage of the earlier bill. Roberts said in his view, some progress was made Monday. "I think we clearly defined our positions today, and that needed to happen," he said. House GOP leadership is opposing any gas tax hike this year, he said. "We're in this economic environment where everybody's hurting." Roberts said House leaders told Otter they'd back removal of the ethanol exemption from the gas tax, and increasing some Department of Motor Vehicle fees, which together raise less than $30 million a year for roads. "I asked him specifically if that was enough, and he said no," Roberts said. House Assistant Majority Leader Scott Bedke, R-Oakley, said, "We can be done - there's no business that should keep us here past Wednesday." The House GOP leaders said if the Senate won't send them key budget bills, they'll convene the House half of the Joint Finance-Appropriations Committee and introduce new versions, pass them and send them to the Senate. "If the Senate or governor want to call us back, that will be something that they will have to answer to the citizens of Idaho for, as to why they want us to come back," Roberts declared.
Local journalism is essential.
Give directly to The Spokesman-Review's Northwest Passages community forums series -- which helps to offset the costs of several reporter and editor positions at the newspaper -- by using the easy options below. Gifts processed in this system are not tax deductible, but are predominately used to help meet the local financial requirements needed to receive national matching-grant funds.
Subscribe now to get breaking news alerts in your email inbox
Get breaking news delivered to your inbox as it happens.
---