News > Features
People: She spells it s-u-c-c-e-s-s
Mon., April 27, 2009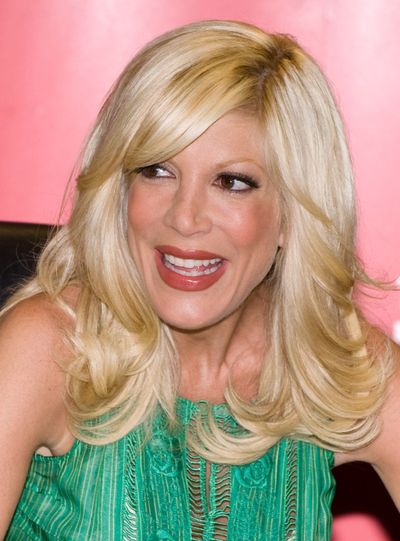 On "Beverly Hills 90210," Tori Spelling's character Donna Martin wasn't as pretty or as cool as the characters played by co-stars Jennie Garth or Shannon Doherty.
Many people thought she got the job because of her dad, the late TV producer Aaron Spelling, not because of her acting skills.
Nine years later, the 35-year-old actress – who just guest-starred as the grown-up Donna on the CW's "90210" – is one of the most popular, successful and visible former alumni of the original Fox show.
Spelling and her husband, actor Dean McDermott, co-star in the reality show "Tori & Dean: Home Sweet Hollywood" on Oxygen. They will also executive produce and star in a makeover show and a movie of the week for the cable channel.
She sells jewelry on HSN, and her second book, the recently released "Mommywood," chronicles her life as a mother of two in Hollywood.
Spelling talked recently about her busy career and why her life is an open book.
Q: You share stories in your book that some people might not reveal, such as not being able to fold up your daughter's stroller so you left it in a parking garage. Why are you so open?
A: If you're going to write a memoir and going to do a reality show, you have to put yourself out there. … I want to know that someone's able to share the bad and the good about themselves. I think it's funny. It makes me laugh so I share it with moms everywhere.
Q: Not all Hollywood couples want to work together. Why do you choose to do that?
A: I said to Dean, 'You know about the celebrity couple reality curse, right? Every celebrity couple that does reality TV splits up.' I think we're the one surviving couple because what's different between us and other couples is we love being together 24/7.
Q: Do you like having a reality show?
A: I used to have this perception just like everyone else: If you go to reality TV your acting career is over. And it's funny because doing a reality show actually helped my career in so many different ways. (It) keeps my family together. It's the best job in the whole world.
Q: The media has been focusing on your weight lately, saying you're too thin.
A: For some reason people think, like, if you tell someone they're too thin that's OK. But if you tell someone they're too heavy that's insulting. … It hurts either way. I'm the same weight I was before I was pregnant. … I'm the same weight I was on "90210." I'm the same weight I was before I met Dean and we got married. It's the same.
The birthday bunch
Actor Jack Klugman is 87. Announcer Casey Kasem is 77. Actress Judy Carne is 70. Singer Kate Pierson (The B-52's) is 61. Actor Douglas Sheehan ("Knots Landing") is 60. Guitarist Ace Frehley (KISS) is 58. Singer Sheena Easton is 50. Actress Ari Graynor ("Nick and Norah's Infinite Playlist") is 26. Actor William Moseley ("The Chronicles of Narnia") is 22.
Local journalism is essential.
Give directly to The Spokesman-Review's Northwest Passages community forums series -- which helps to offset the costs of several reporter and editor positions at the newspaper -- by using the easy options below. Gifts processed in this system are not tax deductible, but are predominately used to help meet the local financial requirements needed to receive national matching-grant funds.
Subscribe to the Coronavirus newsletter
Get the day's latest Coronavirus news delivered to your inbox by subscribing to our newsletter.
---
Subscribe and log in to the Spokesman-Review to read and comment on this story