News > Features
Symphony solves Mozart puzzle
Thu., April 30, 2009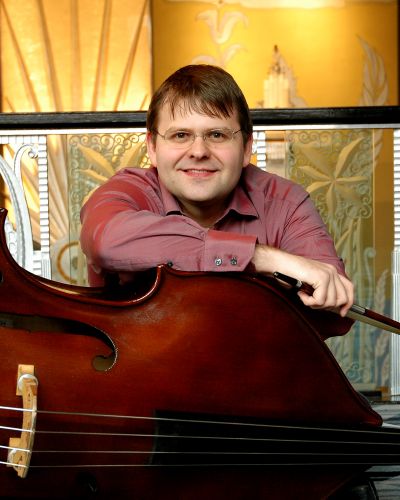 Classical concertgoers nowadays know their Mozart.
Most people think of Wolfgang Amadeus Mozart as the greatest composer of 18th-century classicism. Some consider him the greatest composer of any period.
Was that always so? No.
Mozart was not the most famous composer in his time. Nor the most widely traveled. And certainly not the richest.
Well, why not, and who was?
That is the question the Spokane Symphony will try to answer in its Casual Classics program Friday at the Martin Woldson Theater at The Fox.
Conductor Eckart Preu will lead Mozart's Overture to "Cosi fan tutte" and his "Haffner" Symphony in a concert that also features works by Mozart's friends and rivals Joseph Haydn, Antonio Salieri, Carl Dittersdorf and Domenico Cimarosa.
Double bassist Patrick McNally will perform Dittersdorf's Concerto No. 2.
McNally is in his second season as the symphony's principal double bass. He holds degrees in bass performance from DePaul University in Chicago and Indiana University, where he is completing a doctoral degree.
He grew up in northern Illinois and has performed with a number of orchestras in the Midwest and at such musical festivals as those at Aspen and at Germany's Schleswig-Holstein.
Dittersdorf was a friend and quartet partner of Mozart and Haydn. But when it came to recognition, he exceeded them both. Not only was he hugely successful with his operas and symphonic work, he was made a baron and spent the last years of his life in a castle in what is now the southern part of the Czech Republic.
If today's audiences know Dittersdorf at all, it is through the not very frequent performances of his two concertos for double bass or his harp concerto.
Mozart traveled all over Europe as a child prodigy, but the composer who was far more cosmopolitan was Domenico Cimarosa.
Born near Naples, he worked all of Italy before being invited to come to Russia by Catherine the Great and then to Vienna by Emperor Joseph II. Cimarosa composed more than 60 operas which were performed throughout Europe.
His "Il matrimonio segreto" was the most famous comic opera of its time. Preu will conduct the overture to "Il matrimonio" on Friday's concert.
Mozart's most notorious rival was – as everybody knows who has seen F. Murray Abraham in the movie "Amadeus" – Antonio Salieri.
The Italian composer was given a whole series of jobs Mozart wanted, from being music teacher to the children of a Viennese family to the position of imperial court composer and later master of the imperial court's whole musical establishment.
Historically, though, Salieri took a bad rap. Gossip, fiction and even "The Simpsons" on television have claimed that Salieri poisoned Mozart. Not so; Salieri's success as a composer and as the teacher of composers like Beethoven, Schubert and Liszt has restored his great reputation.
The overture to his exotic 1788 opera "Cublai, gran kan de' Tatari" will be heard in Friday's concert.
Of all Mozart's contemporaries, Haydn is the one whose reputation survives. He and Mozart became great friends.
Haydn wrote to Mozart's father, "Your son is the greatest composer I have known either in person or by reputation." Mozart dedicated six of his greatest string quartets to his old friend.
Not every work of Haydn is heard so often as his "London" Symphonies or his great chamber music. Few listeners now know that Haydn spent much of his professional life writing and conducting opera for the Esterhazy court.
For his representation on Friday's program, Preu selected the overture to an unfinished operatic project Haydn intended for English audiences during one of his two visits to London.
As usual with Casual Classics concerts, Preu will provide spoken program notes illustrated with excerpts played by members of the orchestra.
Local journalism is essential.
Give directly to The Spokesman-Review's Northwest Passages community forums series -- which helps to offset the costs of several reporter and editor positions at the newspaper -- by using the easy options below. Gifts processed in this system are not tax deductible, but are predominately used to help meet the local financial requirements needed to receive national matching-grant funds.
Subscribe to the Coronavirus newsletter
Get the day's latest Coronavirus news delivered to your inbox by subscribing to our newsletter.
---
Subscribe and log in to the Spokesman-Review to read and comment on this story