News > Features
LC grad, 19, lands lead in 'Miss Saigon'
Fri., Aug. 7, 2009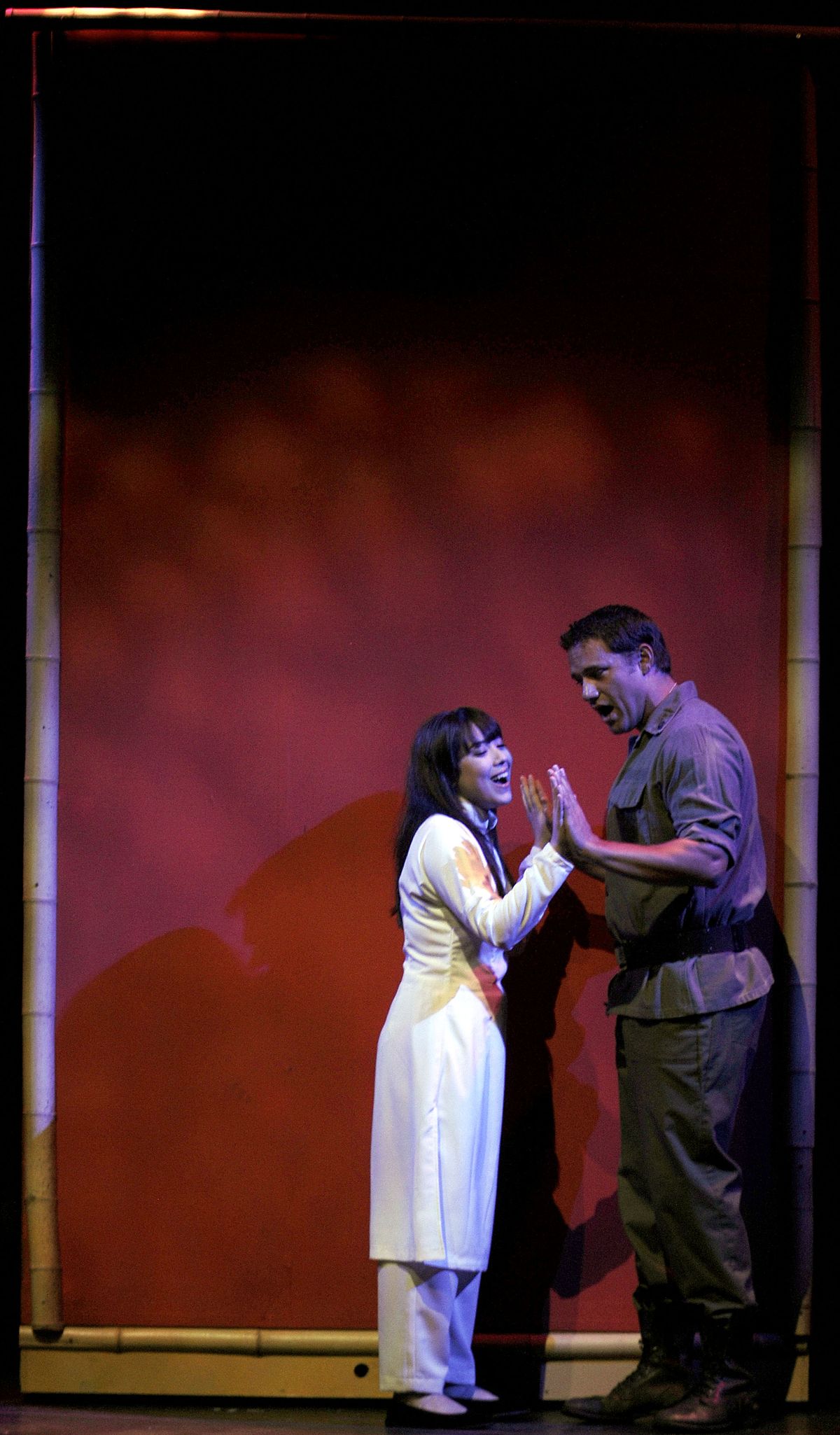 Mia Yoshida and Dane Stokinger star in the Coeur d'Alene Summer Theatre's production. (Kathy Plonka / The Spokesman-Review)
More than 300 people showed up in New York to audition for the Coeur d'Alene Summer Theatre's production of "Miss Saigon," according to producing artistic director Roger Welch.
Imagine his surprise when he found his lead actress, Mia Yoshida, 19, right here in his own backyard.
This mega-musical, from the same team who wrote "Les Miserables," requires a huge, mostly Asian cast. Welch said he held auditions "all over the place."
In the midst of this complicated casting process, an audition tape plopped onto his desk from Yoshida, a freshman at Washington State University.
"She did 'Miss Saigon' at Lewis and Clark High School in 2008," said Welch. "So she sent me this tape, and she was fantastic."
More than fantastic – she was ideal. At LC, she had won the best actress award for her "Miss Saigon" role at the statewide Fifth Avenue High School Musical Theatre Awards.
So Welch hired her, and not just for the chorus. He hired Yoshida for the most important and demanding role in the entire musical, the lead role of Kim, the same role she did in high school.
"It's cool on so many levels: She's the right age for the role, she's local and she's going to be working with all of those professionals," said Welch. "And she's going to hold her own."
What does Yoshida think of this development?
"I absolutely love it," she said. "I'm very excited. This is my first professional show."
Right now, however, she's majoring in digital technology and culture. WSU recently announced that it's phasing out its department of theater and dance due to budget woes, so if Yoshida wants to study theater, she may have a decision to make.
"I'd absolutely love to do this as a career," she said. "That would be a dream come true."
In "Miss Saigon," she'll be surrounded by a cast that includes several actors from those New York auditions. Welch said he was able to cast a number of people who were in the show's national tour.
"It's kind of a reunion for people who were on that tour," he said.
The key role of Chris will be played by Dane Stokinger, who played the part on the national tour. Stokinger is also a veteran of the CdA Summer Theatre, having had a number of major roles in the last three seasons.
The other big role, the Engineer, is played by Brian Jose, who played both the Engineer and Thuy on the national tour. Jose was in the CdA Summer Theatre's "Thoroughly Modern Millie" two seasons ago.
Kirk Mouser, who directed "Les Miserables" in Coeur d'Alene last season, is back to direct "Miss Saigon," which is also by the renowned team of Alain Boublil and Claud-Michel Schonberg. It's about the tragic romance between an American soldier, Chris, and a young, orphaned Vietnamese bar girl, Kim.
This gritty and powerful story is set against the backdrop of the evacuation of Saigon in 1975. The show famously features a scene in which a copter appears to fly off of the stage.
How will they do it?
"I can't give it away," said Welch.
Local journalism is essential.
Give directly to The Spokesman-Review's Northwest Passages community forums series -- which helps to offset the costs of several reporter and editor positions at the newspaper -- by using the easy options below. Gifts processed in this system are not tax deductible, but are predominately used to help meet the local financial requirements needed to receive national matching-grant funds.
Subscribe now to get breaking news alerts in your email inbox
Get breaking news delivered to your inbox as it happens.
---