News > Features
She's got nothing to hide
Tue., Aug. 11, 2009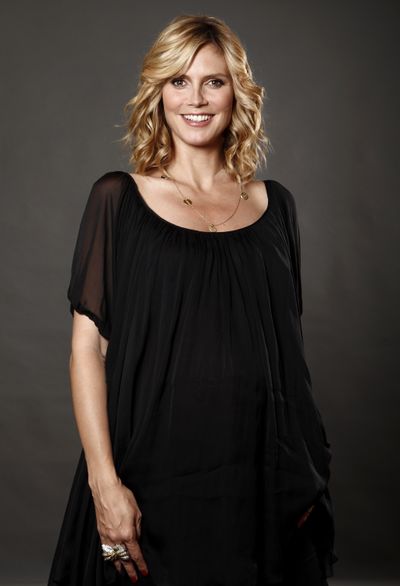 When Heidi Klum famously walked the runway in lingerie for Victoria's Secret less than two months after giving birth to son Henry, she became the envy of moms everywhere still struggling to lose post-baby pounds.
But there's no trick to it, she insists.
"I've never really had any special girdle machines or anything like that," Klum says. "For me, it's, you know, really healthy foods, exercising, playing with the children, going to the park. Normal things."
No crazy strict diets, either.
"I've never done diets," she says. "But I also do not sit on the couch with my feet up and eat one potato chip bag after the next and one burger after the other."
Klum, 36, is expecting a baby girl in the fall with her husband, singer Seal. The couple have two sons together and she has a daughter from a previous relationship.
Her greatest challenge now is dressing stylishly while her belly continues to grow. While promoting the sixth season of "Project Runway," which premieres Aug. 20 on Lifetime, Klum dazzled in a flowing chiffon blouse, black skinny jeans and stilettos.
"Don't ask me what's fashionable right now. I'm happy I can find something I can fit in," she says with a laugh.
"I try to go off the beaten track and find things that aren't maternity lines. … I try to find things that are a little more fun and not so basic, since I do a show about fashion."
Accessories are her latest indulgence, since they always fit and big baubles offset the belly.
"Lately I've been buying a lot of things at flea markets," Klum says. "I would buy big earrings, big necklaces, chunky things, big bracelets and stuff like that."
The birthday bunch
Actress Arlene Dahl is 81. Wrestler Hulk Hogan is 56. Actor Joe Rogan ("Fear Factor," "NewsRadio") is 42. Actress Ashley Jensen ("Ugly Betty") is 41. Actor Will Friedle ("Boy Meets World") is 33. Rapper Chris Kelly (Kris Kross) is 31. Rapper Asher Roth is 24.
Local journalism is essential.
Give directly to The Spokesman-Review's Northwest Passages community forums series -- which helps to offset the costs of several reporter and editor positions at the newspaper -- by using the easy options below. Gifts processed in this system are not tax deductible, but are predominately used to help meet the local financial requirements needed to receive national matching-grant funds.
Subscribe to the Coronavirus newsletter
Get the day's latest Coronavirus news delivered to your inbox by subscribing to our newsletter.
---