Sports > Seattle Mariners
Late homer sinks Mariners
Ramirez's ninth-inning homer spoils Fister's first Seattle start
Wed., Aug. 12, 2009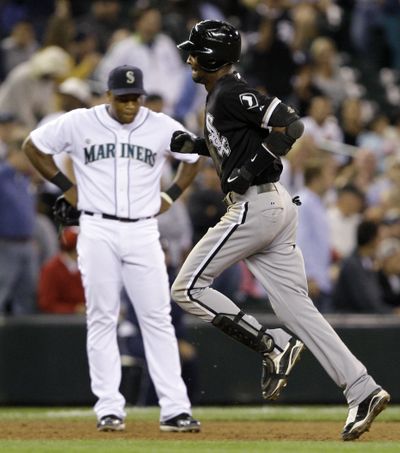 SEATTLE – Alexi Ramirez went more than a month without a home run. The drought wasn't long enough for Doug Fister.
Ramirez hit a three-run homer with one out in the top of the ninth off Seattle closer David Aardsma and the White Sox rallied for a stunning 3-1 victory over the Mariners on Tuesday night.
Fister allowed one hit in six scoreless innings in his major league debut, and he turned a one-run lead over to the bullpen.
But with Seattle on the verge of its 28th win this season in a one-run game, Ramirez jumped on a 2-2 fastball up in the strike zone from Aardsma and lined it 370 feet into the White Sox bullpen in left field.
"These games can go either way. I think if we lost this game it could really hurt our ball club, the way we were playing early, the way we were swinging the bat," Chicago manager Ozzie Guillen said. "Seeing Danks, the way he was throwing the ball and not giving him anything, there was a little bit of frustration."
It was the first time this season the White Sox won when trailing after eight innings.
After a single by Carlos Quentin, Ramirez hit his 13th homer of the season off Aardsma (3-4), who suffered his third blown save.
"No loss is easy but obviously when you give it up in the ninth it stings a little bit more," said Seattle manager Don Wakamatsu, who saw his club fall 5 1/2 games behind Boston in the A.L. wild card. "It hurts quite a bit."
The stunning turn made a deserving winner out of Danks, who tied his career high with eight innings pitched. He scattered seven hits, struck out eight and threw just 98 pitches.
Chicago closer Bobby Jenks pitched a perfect ninth for his 23rd save in 27 attempts. It was the first save since July 20 for Jenks, who had blown his last two save opportunities.
Seattle's only run came on Russell Branyan's RBI single in the fourth after Adrian Beltre ripped a ground-rule double over the wall in right-center field.
Before the ninth, the only Chicago hits failed to leave the infield. Jim Thome had an infield single in the first, when Chicago threatened for the only time against Fister. And Gordon Beckham chopped an infield single in the eighth off reliever Mark Lowe, but was erased by a double play.
Chicago passed its hit total for the game in the ninth with the three hits off Aardsma, whose last blown save was July 8 in a 5-3 loss to Baltimore.
The meltdown ruined what appeared to be a perfect starting-debut for Fister. He walked four batters and hit another, but kept the White Sox off the scoreboard and never found himself in major trouble. The lanky 6-foot-8 right-hander went 6-4 with a 3.81 ERA at Triple-A Tacoma, and the Mariners took a chance in calling up Fister and demoting lefty Jason Vargas.
With a lot of family in attendance, Fister left after the sixth inning to a standing ovation after striking out Thome and Konerko.
"There is always one or two pitches that determine a game a lot of times and it didn't bounce our way this time," Fister said.
Local journalism is essential.
Give directly to The Spokesman-Review's Northwest Passages community forums series -- which helps to offset the costs of several reporter and editor positions at the newspaper -- by using the easy options below. Gifts processed in this system are not tax deductible, but are predominately used to help meet the local financial requirements needed to receive national matching-grant funds.
Subscribe to the sports newsletter
Get the day's top sports headlines and breaking news delivered to your inbox by subscribing here.
---
Subscribe and log in to the Spokesman-Review to read and comment on this story