Sports > Seattle Mariners
M's miss chances, fall to Yankees
Sat., Aug. 15, 2009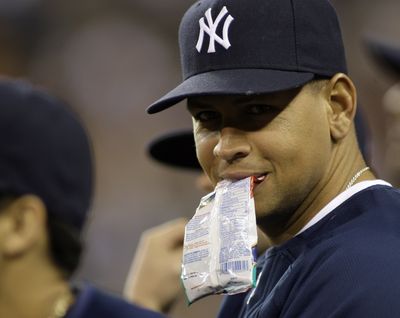 SEATTLE – Once upon a time, Lou Piniella unleashed a postseason rant about New York Yankee mystique and how it wasn't going to be the reason the Seattle Mariners couldn't beat them. Then the Yankees used talent, mystique and anything else the Mariners might have believed in to keep them from reaching the World Series in 2000 and 2001.
Maybe it wasn't mystique that beat the Mariners again Friday night, although the bloops and seeing-eye hits that led to three runs made it seem something was at work in a 4-2 loss at Safeco Field.
The Yankees managed seven hits off Mariners pitching, only one that created a real thud. It was a biggie, however, when Mark Teixeira crushed an off-speed pitch that reliever Mark Lowe hung over the middle of the plate for a tie-breaking home run to lead off the ninth inning.
Otherwise, the Yankees' offense was hardly powerful, especially against Mariners starter Ryan Rowland-Smith, who held them to three hits and two runs in seven innings.
Besides Teixeira's big blast, the Yankees' other three runs scored when:
•Second baseman Jose Lopez double-clutched when he tried to make the transfer on what appeared like a double play to end the Yankees in the second inning. Instead, Jerry Hairston reached first safely and a run scored.
•Derek Jeter grounded an RBI single with two outs in the fifth that eluded third baseman Jack Hannahan and shortstop Josh Wilson like a golf ball missing the windmill blades on a miniature golf course. That scored Melky Cabrera, who'd looped a two-out single to center and reached second on a wild pitch.
"You couldn't place a ball better than that," Mariners manager Don Wakamatsu said.
The Mariners scored twice in the first inning when Ichiro Suzuki and Franklin Gutierrez led off with back-to-back singles off Andy Pettitte, followed by Lopez's RBI single and Ken Griffey Jr.'s RBI ground out. However, Pettitte struck out Russell Branyan and Hannahan, leaving Lopez at second.
In the eighth, with the score tied 2-2, Griffey and Branyan drew two-out walks and Hannahan worked reliever Phil Hughes into a full count. Hannahan then swung through a 95 mph fastball for the third out.
"Offensively, it came down to two innings," Wakamatsu said. "The first inning we scored twice but stranded the third run with one out. In the eighth, we had a chance to go up one run and get (closer) David Aardsma into the ballgame."
Instead, it was Yankees closer Mariano Rivera on the mound in the bottom of the ninth, and the Mariners had no chance.
Bedard done for year; Beltre recovering
Oft-injured left-hander Erik Bedard's season is over. Adrian Beltre's might resume sooner than expected.
Arthroscopic surgery on Bedard's pitching shoulder Friday repaired a torn labrum and cleaned up other fraying in the joint, Wakamatsu said. Dr. Lewis Yocum, who performed the surgery in Los Angeles, estimates Bedard will be able to throw again in four to six months.
Beltre severely bruised his right testicle when he was hit by a ground ball Wednesday. He has been told he does not need surgery. Doctors have told him to rest completely for at least five days before he resumes baseball activities.
The first day Beltre is eligible to come off the 15-day disabled list is Aug. 28.
•Boxscore/C8
Local journalism is essential.
Give directly to The Spokesman-Review's Northwest Passages community forums series -- which helps to offset the costs of several reporter and editor positions at the newspaper -- by using the easy options below. Gifts processed in this system are not tax deductible, but are predominately used to help meet the local financial requirements needed to receive national matching-grant funds.
Subscribe to the sports newsletter
Get the day's top sports headlines and breaking news delivered to your inbox by subscribing here.
---
Subscribe and log in to the Spokesman-Review to read and comment on this story