Sports
Roster choices comes next as Chiefs close fall camp
Mon., Aug. 31, 2009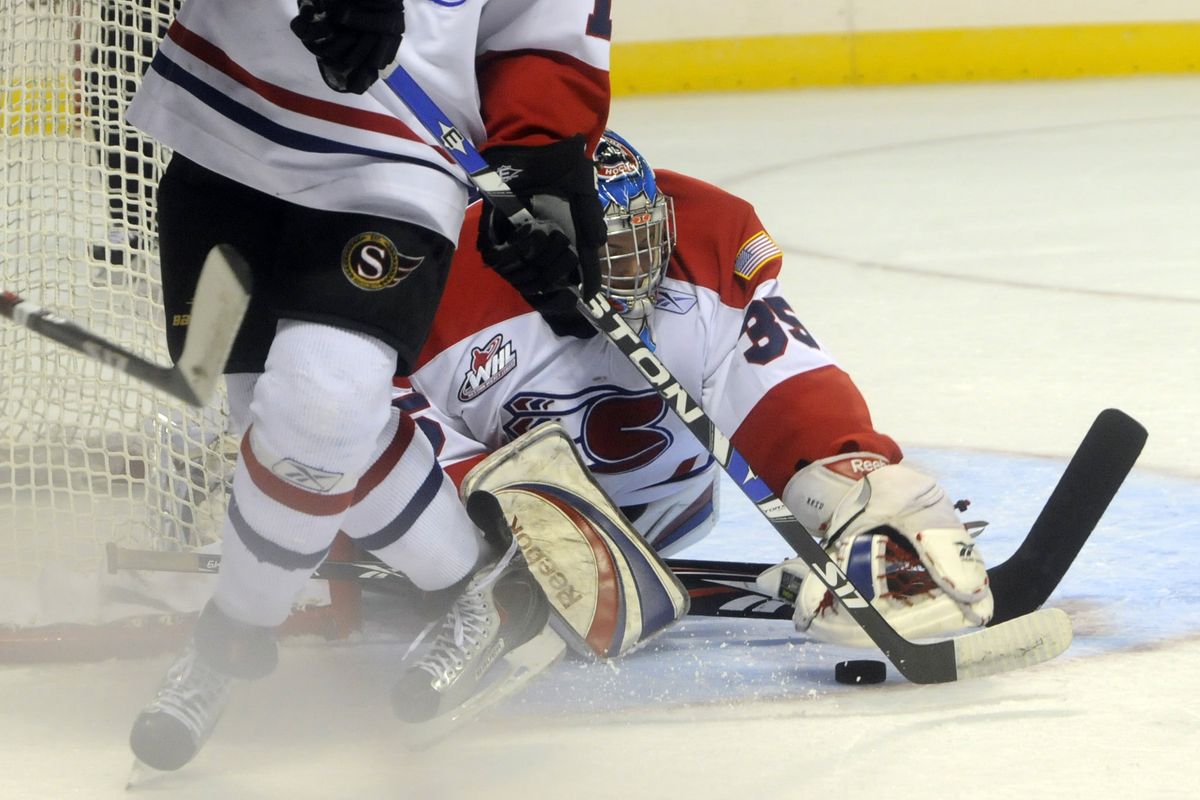 White Team netminder James Reid dives on the puck during the first period of Sunday's scrimmage.bartr@spokesman.com (J. BART RAYNIAK / The Spokesman-Review)
The Spokane Chiefs closed their fall camp Sunday afternoon with the Red-White scrimmage, which left a lot of people smiling.
Well, at least the adults.
After the Red Team, led by veterans Mitch Wahl (two goals, one assist) and Levko Koper (one goal, two assists), beat the White Team 5-3 before 2,113 fans at the Arena, second-year coach Hardy Sauter was pleased.
"The scrimmage today was great," he said. "I liked everything about it, the intensity, the speed. These kids are tired … and still we got very, very good effort. We're looking for ability but we're also looking for heart and desire and I think we got all those things."
The one thing he didn't get was a clear picture of what the final roster will look like for the Western Hockey League opener in less than three weeks.
"The great news is nobody played themselves out," he said. "No now we're just dealing with straight-up competition. The next 2½ weeks is going to determine who is in the lineup opening night and who isn't."
The Chiefs play three exhibition games in Everett next weekend and two in Tri-Cities the following week before heading to Prince George to open the season.
"We're probably going to have 16, 17 forwards in camp and up to 12 (defensemen and maybe four goalies)," Sauter said. "This is just step one for a lot of those kids. You hate to keep telling them they're still playing for a spot, but they're still playing for a spot."
Some of the cuts are easy – the seven 15-year olds in the scrimmage aren't eligible to play in the WHL this season. That is good news for some of the older players, because the line of Liam Stewart, David Pope and Connor Chartier was one of the more effective on Sunday and was often on the ice with a 15-year old defenseman, Reid Gow or Cole Wedman.
There are opportunities for the remaining players because four are leaving in the next week for National Hockey League camps: Wahl (Calgary), Koper (Atlanta), Tyler Johnson (Minnesota), and James Reid (Vancouver). First-round draft pick Jared Cowen is finishing his rehab for a knee injury at Ottawa and Jared Spurgeon (New York Islanders) is still recovering from shoulder surgery.
"They are way better players when they come back from that," Sauter said. "Just about the same in very sport, the better the competition, you raise your level of play, the better you become. When those guys come back, if those guys come back, they will be a much better player."
The other two goals for the Red Team were scored by Mitch Holmberg and rookie import Dominik Uher.
The White Team got two goals from Chartier – one on a penalty shot, which was used instead of putting teams on the power play after a penalty – and another from Mike Betz.
It capped off a good weekend.
"We had a very productive camp," Sauter said. "We could really gauge the ability of our list of players we invited to camp. It's been really, really good from the hockey standpoint of it.
"The scouts are doing a great, great job and ultimately giving the coaches a chance. We're deep in a lot of positions, we have a starting goalie (Reid), we've got players going to NHL camps. There are a lot of positives and a lot of positives to build off going to the regular season."
Local journalism is essential.
Give directly to The Spokesman-Review's Northwest Passages community forums series -- which helps to offset the costs of several reporter and editor positions at the newspaper -- by using the easy options below. Gifts processed in this system are not tax deductible, but are predominately used to help meet the local financial requirements needed to receive national matching-grant funds.
Subscribe to the sports newsletter
Get the day's top sports headlines and breaking news delivered to your inbox by subscribing here.
---