News > Spokane
Paralyzed in Air Force fall, Sean Halsted is now a Paralympian
Fri., Dec. 25, 2009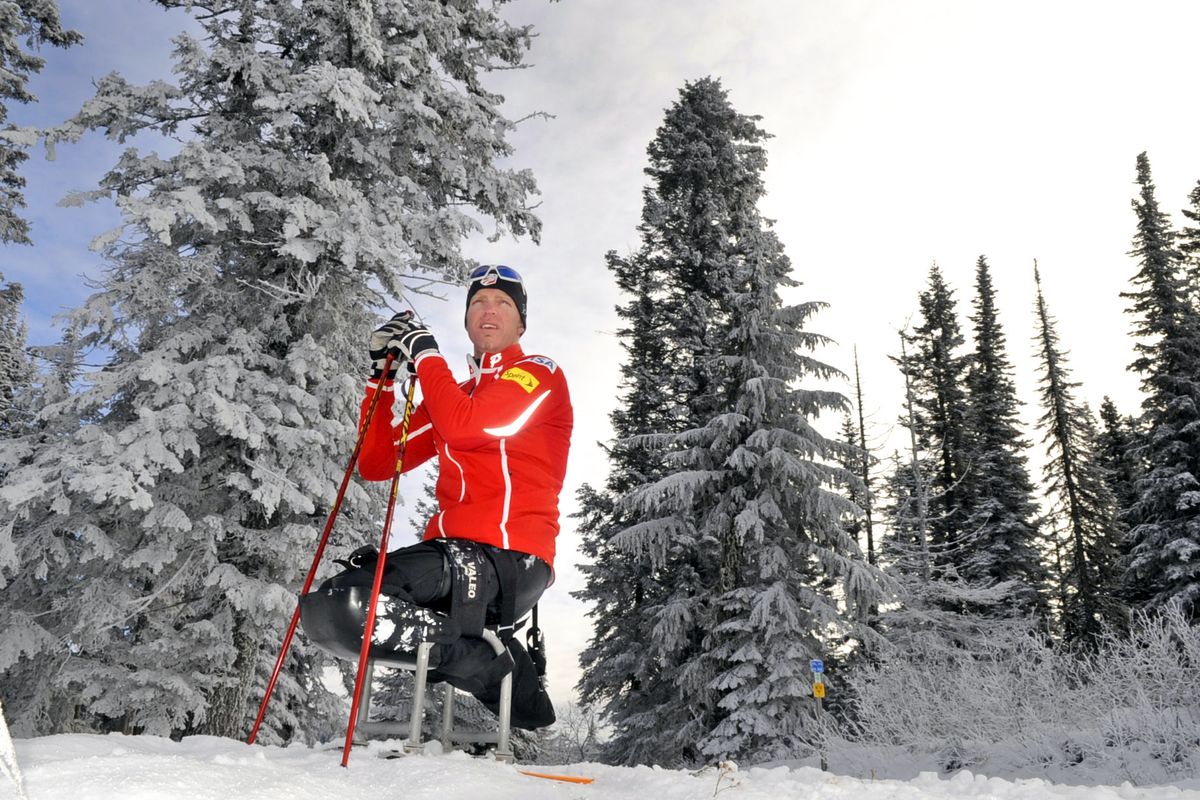 Sean Halsted, of Rathdrum, takes a short break during a training session at the Nordic Ski area of Mt. Spokane on Monday. Halsted will be competing in his first Paralympics in March in Vancouver, B.C. (CHRISTOPHER ANDERSON)
Sean Halsted, of Rathdrum, will compete on an international stage this winter as a member of the U.S. Ski Team. Halsted, an adaptive cross-country skier, is training for the 2010 Paralympic Winter Games in Vancouver, B.C.
The 39-year-old father of three has come a long way since the accident 11 years ago that paralyzed him from the waist down. During a U.S. Air Force training exercise in 1998, he fell 40 feet from a hovering helicopter and shattered his L1 vertebra.
Now his face is on two Spokane County billboards as part of Comcast's "Local Heroes" campaign. Two weeks ago, he was in Los Angeles shooting a McDonald's commercial. He said when he enters a sporting goods store wearing his U.S. Ski Team jacket adorned with sponsorship patches, "They're like, 'Whoa, you're on the team? Wow.' "
Halsted believes he'll do well in the Paralympics, possibly placing among the top 10 or 15 finishers. His coach ranks him among the top 10 adaptive cross-country skiers in the world. The Spokesman-Review profiled him in July when he participated in the 29th National Veterans Wheelchair Games in Spokane.
All of it is a bit much to take for the guy nicknamed "Phantom" during his Air Force training due to his tendency to blend in and not make waves. He's never sought or enjoyed the spotlight, much to the chagrin of his wife, Sarah, his biggest supporter and most persistent cheerleader.
"He needs to learn how to be that elite athlete," she said.
For one important reason, Sean Halsted said, he has embraced the new role.
Halsted has a goal that could have a more lasting impact than winning gold. He's hoping other injured veterans and civilians will see him and realize that they could be him.
"Hopefully I can be a shining example," he said. "I want to be that guy that blows somebody away. I want people to see that's possible. That's my job there."
Halsted was born in Spokane, when his father was stationed at Fairchild Air Force Base. Military life took the family as far away as Germany, but they returned to Spokane following his father's retirement. Halsted graduated from Mead High School and Washington State University before joining the Air Force. He and Sarah moved to Rathdrum last year from Western Washington to be closer to his parents, who live in Twin Lakes. The Halsteds have 5-year-old twins and an infant daughter.
Halsted thanks the Seattle VA Medical Center staff for pushing him toward sports in the years following his injury, when he sometimes felt his life would be spent on a couch, popping pills and watching television. He attended the VA's winter sports clinic in Aspen in 2001. Watching athletes with injuries more severe than his do things he wouldn't have thought possible changed his life, he said.
"You can't put a value on how much it helped me to see somebody else do that," he said. "I was like, that's gonna be me."
After training and working with instructors for several years, Halsted qualified for the adaptive cross-country ski team shortly after the 2006 Olympics in Torino, Italy. The Paralympics are held shortly after the Olympics. He began to compete on the World Cup circuit, competition which this year will take him to Alaska, France and Germany prior to the Paralympics.
Greg Rawlings, adaptive cross-country coach for the U.S. Ski Team, said Halsted is fastest on the team behind Chris Klebl, a 2006 Paralympian and regular World Cup medalist.
"He's a good, consistent racer," Rawlings said of Halsted. "He can throw it down with the best of them."
Local journalism is essential.
Give directly to The Spokesman-Review's Northwest Passages community forums series -- which helps to offset the costs of several reporter and editor positions at the newspaper -- by using the easy options below. Gifts processed in this system are not tax deductible, but are predominately used to help meet the local financial requirements needed to receive national matching-grant funds.
Subscribe now to get breaking news alerts in your email inbox
Get breaking news delivered to your inbox as it happens.
---