News > Spokane
Sports open one athlete's eyes to post-injury possibility
Wed., July 15, 2009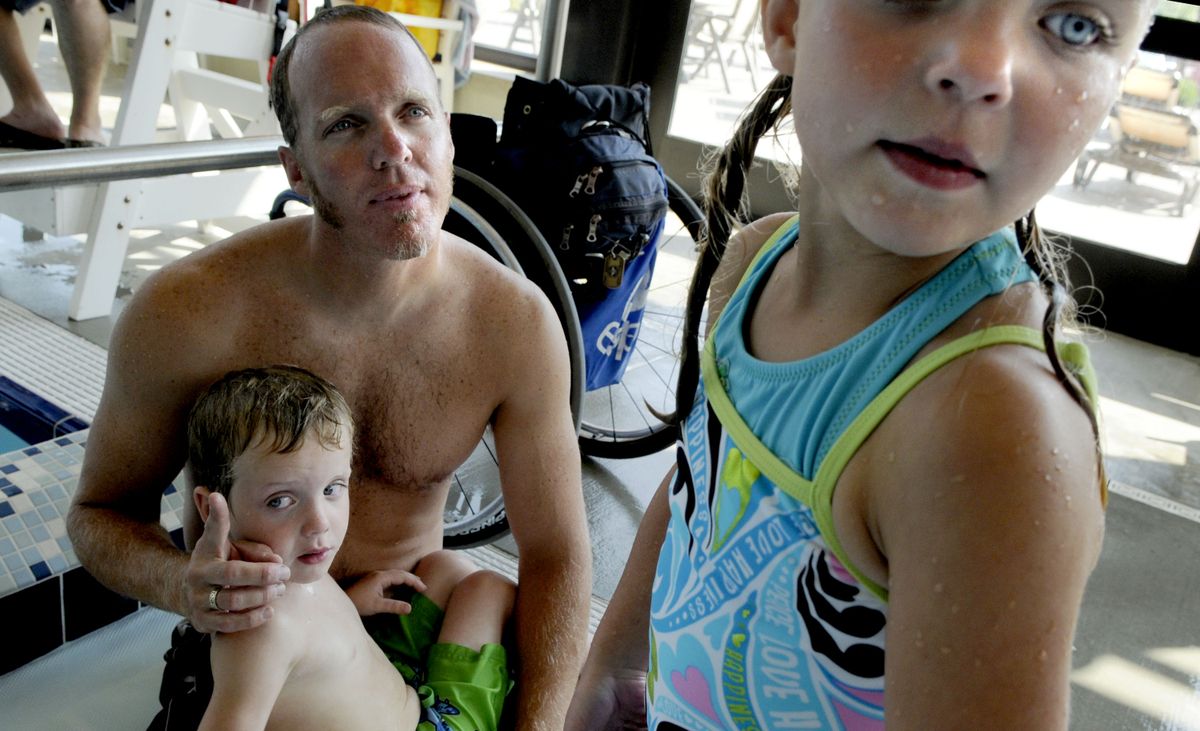 Sean Halsted, of Rathdrum, here with his 5-year-old twins, Ethan and Rileigh, started training for the Paralympics after a helicopter training accident in 1998 caused him to lose most of the use of his legs. (Kathy Plonka / The Spokesman-Review)
Sean Halsted, of Rathdrum, was in a U.S. Air Force special operations unit in 1998 when he fell 40 feet from a hovering helicopter. He shattered the L1 vertebrae in his lower back and lost most of the use of his legs.
But it hasn't slowed him down much.
The 38-year-old and his wife, Sarah, have blue-eyed 5-year-old twins and are expecting a third child. They're building a house near Twin Lakes. And next year, Halsted will compete in the 2010 Vancouver Paralympics as part of the Nordic ski team. He finished second in the U.S. national competition in Anchorage earlier this year.
Halsted is among the 620 athletes competing this week at the 29th National Veterans Wheelchair Games, participating in swimming, hand-cycling and slalom. He said the Games have provided him more than an adrenalin boost and spirit of competition over the years. Through the example and camaraderie of friends, he has seen that he, too, could be a father, could be an athlete, could achieve anything he wanted to.
"It took me awhile, watching people at the Games with their children. I have a friend who's a quad(riplegic) and he's got twins. I said, 'How in the world do you do this?' and he said, 'Oh, it's easy,' " Halsted said. Spectators at the Games will see many sets of twins in the stands, he said, because paralyzed men and women frequently conceive using in vitro fertilization, which can lead to multiple births.
"Competition is what brings you there, (but) it's everything else on top and intangible, too. How do you put … a value on those things?" Halsted asked, adding that he could "very well be the guy who is satisfied with the VA (Medical Center) giving him pain meds and sitting on the couch. It's like, no, no, there's more to it than that. I just hope that what we do is a good example. I just hope that the civilian community gets to see it, not just the disabled community, but also the able-bodied. Just to see that limitations are not what you think they are."
Watching other athletes at the Games whose injuries are more severe than his has been inspiring and motivating, Halsted said. "Here was this guy with a higher spinal cord injury than mine," he said. "I'm watching him play basketball or softball and I'm going, 'Whoa … he could've kicked my butt.' "
Halsted was born into an Air Force family who lived at Fairchild Air Force Base, where his father was stationed years ago. A love for the Inland Northwest brought his parents back to retire to Twin Lakes Village, north of Rathdrum. Now Sean and Sarah Halsted are building a home near there after moving to this area from Western Washington last year.
The couple met on the rowing team at Washington State University and married in May 1997. Halsted was injured in October 1998 during search-and-rescue training in Florida as a combat controller. That's the special operations unit that controls the air zone during a war, Sarah Halsted said.
After her husband's injury, Sarah Halsted said, recreational therapists at Seattle's VA medical center gave him back his life by showing him what was possible. She's proud that he now returns the favor on the regular trips to Washington, D.C., to meet with newly injured veterans and encourage them to participate in sports.
"I just want people to be able to visualize life beyond that moment," she said. "It's opening up again that sport is available, that it is enjoyable and that there is hope."
Local journalism is essential.
Give directly to The Spokesman-Review's Northwest Passages community forums series -- which helps to offset the costs of several reporter and editor positions at the newspaper -- by using the easy options below. Gifts processed in this system are not tax deductible, but are predominately used to help meet the local financial requirements needed to receive national matching-grant funds.
Subscribe now to get breaking news alerts in your email inbox
Get breaking news delivered to your inbox as it happens.
---