News > Features
Bet that they win some, too
Sat., Dec. 26, 2009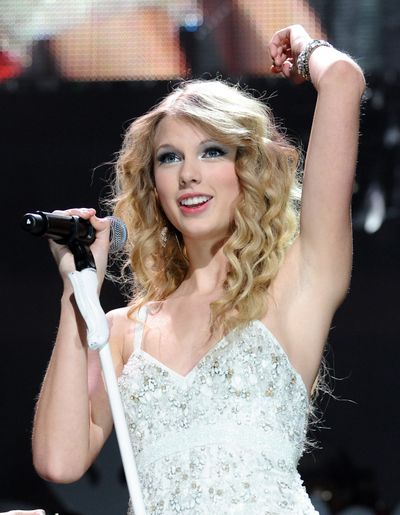 Taylor Swift and Beyonce are among the artists set to perform next month at the 52nd annual Grammy Awards in Los Angeles.
Other performers include the Black Eyed Peas, Maxwell and country trio Lady Antebellum. More performers will be announced later.
Beyonce, a 10-time Grammy winner, has 10 nominations, including record of the year for "Halo," album of the year for "I Am … Sasha Fierce" and song of the year for "Single Ladies (Put a Ring on It)."
Country singer Swift has eight nominations, including record and song of the year for "You Belong With Me," and album of the year for "Fearless."
Swift, 20, is no stranger to the Grammy stage. She performed a duet of her song "Fifteen" with Miley Cyrus at last year's ceremony.
Driving a new cartoon
Ricky Gervais, who hosts NBC's broadcast of the Golden Globes Awards next month, will be a star voice in a 13-episode animated comedy series on HBO.
"The Ricky Gervais Show," debuting Feb. 19, will be based on his wildly popular podcasts.
Voices will include Gervais, longtime collaborator Stephen Merchant and their friend Karl Pilkington. Pilkington's musings often inspire the series' offbeat storylines.
No 'Bro' for the Boy
A British court has blocked an attempt by former Culture Club singer Boy George to appear on a reality television show.
The 48-year-old had hoped to appear on "Celebrity Big Brother" despite being on probation for assaulting a male escort.
The birthday bunch
Actor Donald Moffat ("Clear and Present Danger") is 79. Actor Caroll Spinney (Big Bird on "Sesame Street") is 76. Record producer Phil Spector is 70. "America's Most Wanted" host John Walsh is 64. Humorist David Sedaris is 53. Drummer Lars Ulrich (Metallica) is 46. Singer James Mercer (The Shins) is 39. Actor Jared Leto is 38. Singer Chris Daughtry is 30.
Local journalism is essential.
Give directly to The Spokesman-Review's Northwest Passages community forums series -- which helps to offset the costs of several reporter and editor positions at the newspaper -- by using the easy options below. Gifts processed in this system are not tax deductible, but are predominately used to help meet the local financial requirements needed to receive national matching-grant funds.
Subscribe to the Coronavirus newsletter
Get the day's latest Coronavirus news delivered to your inbox by subscribing to our newsletter.
---