News > Features
Couric finally making her mark as anchor
Sun., Feb. 1, 2009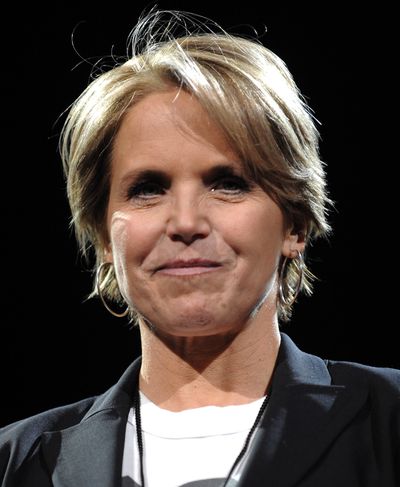 For nearly two years, Katie Couric has been also-running and suffering a merciless press pummeling for her anchorship of "The CBS Evening News." Signs now show an uptick in viewers for a newscast that had a lock on third place long before Couric took it over.
"I was beginning to think only my parents and my brother were watching," Couric joked.
Lately, Couric is almost as inescapable in the media as Rod Blagojevich – hosting a Grammy special on Wednesday and securing the first interview with hero pilot Chesley Sullenberger for "60 Minutes" on Feb. 8, in addition to her one-time prime-time newscast.
If Couric stands a chance of elevating the newscast to second or first place in the nightly ratings, one reason may be that she's finally the right anchor for the times.
Perhaps viewers find bad news less discomforting and sleep-depriving when Couric gives it to them. "The CBS Evening News" may be a more hospitable, welcoming sort of place than its competitors.
NBC's Brian Williams continues to score an emphatic first place in the Nielsens (about 10.1 million viewers), followed by ABC's Charles Gibson (9.1 million) and Couric/CBS (7.2 million).
But Couric's numbers are up about 5 percent over the same period as last year, CBS says.
Couric's interview with Republican vice presidential candidate Sarah Palin was probably the best of the campaign – the most revealing, the most quoted.
"I am cognizant of it," she says of the recent rash of pro-Couric reports. "I think if it's true, the reason is partially that people are getting used to me in this role. And I've become increasingly comfortable in it."
Couric has never done as bad a job in the anchor chair as boisterous detractors commonly claimed, though she has sometimes seemed constrained by it. Now more than ever, the newscast is smart, solid and imaginatively produced – and Couric finally appears in her role as she needs to be.
Executive Producer Rick Kaplan says Couric is more comfortable not only on-camera but behind the scenes.
"I think her political coverage was terrific, and not just Palin," Kaplan says. "They'll be talking about the interview in 25 years, like they talk about Roger Mudd's interview with Teddy Kennedy" in 1979.
Couric concedes that at times the hostile press has gotten to her.
"I've always been a pretty happy person, but there have been days when it's been somewhat discouraging to me professionally," she says. "I just put on blinders and do my job and try not to let it bother me.
The birthday bunch
Actor Stuart Whitman is 81. Actor-comedian Garrett Morris is 72. Singer Don Everly is 72. Actor Sherman Hemsley is 71. Actor-writer-director Terry Jones (Monty Python) is 67. Actor-writer-producer Billy Mumy is 55. Actress Sherilyn Fenn is 44. Singer Lisa Marie Presley is 41. Comedian Pauly Shore is 41. Drummer Patrick Wilson of Weezer is 40. Reality-show star Lauren Conrad is 23.
Local journalism is essential.
Give directly to The Spokesman-Review's Northwest Passages community forums series -- which helps to offset the costs of several reporter and editor positions at the newspaper -- by using the easy options below. Gifts processed in this system are not tax deductible, but are predominately used to help meet the local financial requirements needed to receive national matching-grant funds.
Subscribe to the Coronavirus newsletter
Get the day's latest Coronavirus news delivered to your inbox by subscribing to our newsletter.
---
Subscribe and log in to the Spokesman-Review to read and comment on this story