News > Features
No poison for rocker reality
Tue., Feb. 3, 2009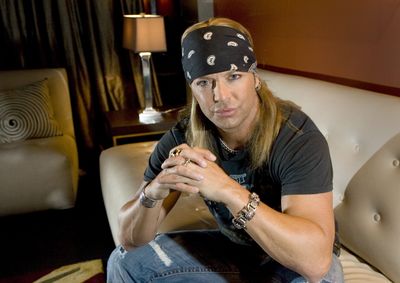 One woman stood at the altar with Bret Michaels, offering a blow-up doll as a gift. Another showed up in a hot-pink veil, fish-net stockings and not much else. The Poison frontman had challenged his dates to come up with vows for a mock wedding, and many of the kisses to seal the deal involved tongue.
Welcome to the implants, tattoos and thongs of "Rock of Love Bus," the latest reality saga to help find lust, er, love for the 45-year-old glam metal rocker. This time, the VH1 show takes the crushing gals on the road with Michaels and the band. Week by week, as the formula goes, one unfortunate babe gets dropped.
Or, as Michaels intones: "Your tour ends here."
Michaels talks about his latest show that follows "Rock of Love" one and two, where his hookups with women were far from everlasting, in an interview.
Question: This season on "Rock of Love," contestants travel on two tour buses – one pink, one blue. Why take the show on the road?
Answer: "If you want to find out the true person somebody is, take them on a family vacation or a road trip and you will find out really quick."
Q: Your relationships from the first two seasons haven't worked out. Do these women think they'll settle down with you?
A: "I tell the girls, 'Look, this is not going to be a marriage with a white picket fence. I'm looking for someone hopefully I can find love with, but in the meantime this is a dating show and let's have a lot of fun doing it.' It's pretty entertaining. There's some pretty crazy stuff that happens."
Q: The women often fight over you! What do you think of that?
A: "It's not usually about me. I said, 'Listen, if you girls are going fight, try to mention my name at least once,' so I can pretend they're arguing over me. Usually, it has nothing to do with me but … as a man, I have to think that they're fighting over me."
Q: What happened to Ambre (season two's winner who was thought of as more conservative than her competition)?
A: "The truth is nothing at all bad happened. … It's hard to even say we had a breakup. We just both came to the realization being on the road is tough. Ambre's very intelligent, an extremely great kisser, very smart and she's driven."
Q: What does she think of your doing a third season?
A: "She wasn't like, 'Great! This is awesome.' When you like somebody it's tough especially to physically watch them date on TV – that's tough to do – but at the same time she's been my best cheerleader as well."
Q: How long will the show go?
A: "It's highly doubtful for me I would do a 'Rock of Love' four. I just think it's time to pass the torch. … I would like a real life show like a 'Family Jewels' meets 'Entourage' meets 'Curb Your Enthusiasm.' "
The birthday bunch
Comedian Shelley Berman is 83. Actress Blythe Danner is 66. Guitarist Dave Davies of The Kinks is 62. Singer Melanie is 62. Actress Morgan Fairchild is 59. Actor Nathan Lane is 53. Guitarist Lee Ranaldo of Sonic Youth is 53. Actor Thomas Calabro is 50. Actress Michele Greene is 47. Actress Maura Tierney is 44. Singer Jessica Harp (The Wreckers) is 27. Rapper Sean Kingston is 29.
Local journalism is essential.
Give directly to The Spokesman-Review's Northwest Passages community forums series -- which helps to offset the costs of several reporter and editor positions at the newspaper -- by using the easy options below. Gifts processed in this system are not tax deductible, but are predominately used to help meet the local financial requirements needed to receive national matching-grant funds.
Subscribe to the Coronavirus newsletter
Get the day's latest Coronavirus news delivered to your inbox by subscribing to our newsletter.
---