News > Features
'Anytime' a quick online talk show
Wed., Feb. 4, 2009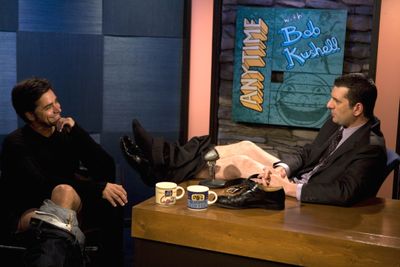 Bob Kushell has a monologue, a band and a guest list.
Put it together and it adds up to a traditional TV talk show – one that's online and lasts five minutes from start to finish.
The microwave approach of "Anytime with Bob Kushell," with a sole guest and a joke and comedy bit each episode, manages to gently tweak one of TV's most traditional genres while offering the complete, if condensed, viewing experience.
Kushell, a veteran writer-producer whose credits include "Samantha Who?" and "3rd Rock From the Sun," said hosts such as the late Johnny Carson or David Letterman deserve viewers' attention for a full hour.
"For those people who desperately need to watch a talk show while they're going to the bathroom, this is it," he joked.
Last year's Hollywood writers strike prompted Kushell to dabble online just to burn off creative energy.
Then his agent suggested he keep his Internet presence going and "Anytime with Bob Kushell" was born. It's a homegrown enterprise, filmed in the garage of his brother-in-law's suburban house but with the support of Kushell's industry friends and colleagues.
Guests on the show, which debuted in December, have included John Stamos, Neil Patrick Harris, Howie Mandel and "Samantha Who?" star Christina Applegate.
Upcoming visitors on the 13-episode season include Jenna Elfman and Jon Cryer.
"You walk into this single-car garage and there's this beautiful set …. and it's so ridiculous and off-putting you just sort of wind up saying things you wouldn't normally say on a regular talk show," Applegate said by e-mail.
"Anytime" is a small enterprise resting on a big corporate foundation. The show is part of the lineup for Sony Pictures Entertainment's online video network, Crackle, which distributes film and TV shows from Sony's library and other content.
The talk show represents a "cornerstone of our programming. We view Crackle as a next-generation network that we are creating" based on short-form content, said Eric Berger, senior vice president, digital networks for Sony Pictures Television.
"Every network needs a great talk show," he added.
What sparks "Anytime" is Kushell's quick wit. The target audience for the show's racy, occasionally frat-boy humor is men age 18 to 34.
For Kushell, it's a lark that allows him to use the acting skills he developed as a theater major at the University of California, Irvine.
Web producer Russell Arch, the brother-in-law who generously turned his garage over to "Anytime," is an executive producer on the show.
Filming is done in a "modular" way, with the monologue, the guest and the band all filmed separately to help accommodate everyone's schedule, Kushell said. It's then edited together.
"Anytime" has generated enthusiasm among guests that belies its size, he said.
Actors "see it as a new gateway to a bigger audience," Kushell said. "It's fun; it's so low-pressure. They get to do whatever they want to do."
Local journalism is essential.
Give directly to The Spokesman-Review's Northwest Passages community forums series -- which helps to offset the costs of several reporter and editor positions at the newspaper -- by using the easy options below. Gifts processed in this system are not tax deductible, but are predominately used to help meet the local financial requirements needed to receive national matching-grant funds.
Subscribe to the Coronavirus newsletter
Get the day's latest Coronavirus news delivered to your inbox by subscribing to our newsletter.
---
Subscribe and log in to the Spokesman-Review to read and comment on this story