News > Features
Budget cookbooks from the past offer timeless tips
Wed., Feb. 4, 2009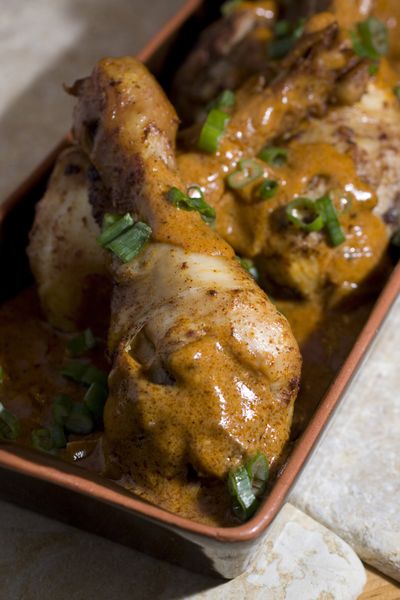 Times may be tough, but are they tough enough to tempt you with roasted veal's head?
It may seem small consolation in these rough economic times, but our country has been through this before. And each time, food writers and cooks have offered up their wisdom for keeping food affordable.
To see how many of those lessons still apply today, we peeked at some famous – and not so famous – budget cookbooks from years past for timeless tips on how to stretch a dollar.
You can thank the great food writer MFK Fisher for the veal's head idea. In her 1942 book, "How to Cook a Wolf," she navigated the tricky culinary territory that marked the end of the Great Depression and the start of World War II.
She even suggests saving the starchy water left over from cooking pasta. Simmer it with onions and stock to make a "nutritious broth that would shame nobody," she says.
Fisher's recipes use cheap, available ingredients, yet still have a culinary dignity to them. She reminds us of the value of slowly savoring what she calls simple, honest foods, such as her Parisian Onion Soup and Chinese Consomme.
Many of us, however, probably would skip the chance to savor her two ways with veal head (simmered with carrots, celery, onion and lemon, or cooked with lemon and white wine, then formed into a loaf).
Food legend James Beard and his friend Sam Aaron filled their 1953 book "How to Eat Better for Less Money" with practical tips for eating well without spending a lot. And much of the advice holds today.
Buy in bulk, but only if you'll actually use everything you buy. Put your competitive side to work and do plenty of comparison shopping. And buy store brands whenever possible.
The two also praise what then was still a novel concept at home: the freezer. They called it a "food bank" for making creative meals from leftovers, saving money by cooking in large batches, and saving time by cooking in advance.
Not all their advice was quite so timeless. Thankfully, we no longer need to wonder whether grocers will butcher chickens for us (buying them whole is cheaper). And their view that frozen produce is pricey and of poor quality is dated.
And since the book hearkens back to the days of women mostly staying at home, some of the recipes tend to be a bit more involved than we are used to tackling on a weeknight, such as Oiseaux Sans Tetes – a mock stuffed bird made with inexpensive chuck rolled with a pork stuffing.
But most cooks today would find the sections on making gourmet hamburgers and "instant meals" – such as quick tamale pie with canned chili, beans, olives, a box of corn bread mix, an egg and some tomato juice – entirely approachable.
Beard and Aaron also are fans of a cost-saving technique that really should come back in vogue: using whole birds.
They have a guide for stretching a 16-pound turkey into six meals, including scalloped turkey, curried turkey wings, turkey divan and turkey Reuben sandwiches.
The economic slowdown of the early 1960s gave us Sylvia Vaughn Thompson's "Economy Gastronomy" and Ann Rogers' "A Cookbook for Poor Poets and Others."
In this case, the poets fare better than the gastronomes.
Thompson, the daughter of a screenwriter and actress, grew up in Hollywood and had a privileged sense of what it means to economize. According to the jacket copy, she uses "wit, flair and enthusiasm" instead of costly cuts of meat.
Entertaining, perhaps, but probably not particularly filling.
But she does include an economical recipe for pot-roasted brisket from her friend Groucho Marx, and has lots of good advice for dressing up humble food with simple garnishes, such as pimientos, capers, citrus slices and jellies.
Which brings back that old adage that we eat as much with our eyes as our mouths. A little effort spent gussying up a plate can go a long way to making affordable food feel like an indulgence.
Rogers focuses on creating elegant, satisfying meals from inexpensive foods, while always striving to keep enough of the budget left over for good bread and wine.
One tip that still holds true: If you don't already have a pantry stocked with seasonings, it can be cheaper to buy pre-seasoned ingredients, such as many canned beans, soup bases and sauces.
Rogers' recipes – such as the red flannel hamburgers made with mashed potatoes and pickled beets – are humble, appealing and feel right as our nation once again veers toward comfort foods.
Paprika Chicken
Adapted from James Beard and Sam Aaron's "How to Eat Better for Less Money," this is a variation on the classic dish Chicken Paprikash. To take full advantage of the tangy sauce, serve the chicken over steaming long-grain rice or a heap of buttered egg noodles.
4 pounds chicken parts, bone-in, skin-on
2 teaspoons salt
3 tablespoons butter
3 tablespoons canola oil
2 tablespoons sweet paprika
2 large yellow onions, finely chopped
1/2 cup tomato juice (or 3 tablespoons tomato paste mixed with 1/4 cup water)
1 cup sour cream
3 tablespoons all-purpose flour
Season the chicken with the salt. Set aside.
In a large saute pan with a lid, over medium heat combine the butter and oil. When the butter has melted, add the paprika and cook, stirring constantly, for 1 minute.
Add the chicken and brown for 3 to 4 minutes per side. Transfer the chicken to a plate and set aside.
Add the onion and saute until softened, about 4 minutes. Stir in the tomato juice, then return the chicken to the pan. Reduce heat to low, cover and simmer until the chicken is cooked through, about 40 to 50 minutes.
Transfer the chicken to a serving platter and cover with foil to keep warm.
In a small bowl, mix together the sour cream and flour, then add the mixture to the liquid in the pan. Cook, stirring constantly, until the sauce thickens slightly, about 5 minutes. Spoon the sauce over the chicken to serve.
Yield: 6 to 8 servings
Turkish Hash
Adapted from MFK Fisher's "How to Cook a Wolf." Hash is a time-honored way of using leftover meat; this variation adds rice and chopped tomato, which gives the dish the feel of hearty Turkish casserole. If you, like substitute canned tuna or sardines, or even tofu.
2 tablespoons butter
1 medium yellow onion, chopped
1/2 cup uncooked white rice
1 cup water or broth
1 1/2 cups diced cooked meat (beef, pork or chicken)
1 cup diced tomatoes
1 clove garlic, chopped
1 tablespoon horseradish (optional)
1/2 teaspoon salt
3/4 teaspoon ground black pepper
In a medium skillet with a cover, over medium-high heat melt the butter. Add the onion and saute until softened, about 3 minutes. Add the rice and cook, stirring often, until the mixture is lightly browned, about 5 minutes.
Add the water or broth, diced meat, tomatoes, garlic, horseradish (if using), salt and pepper. Mix thoroughly, then bring to a simmer. Reduce heat to low, cover and cook for 20 minutes, or until the rice is tender.
Yield: 3 to 4 servings
Local journalism is essential.
Give directly to The Spokesman-Review's Northwest Passages community forums series -- which helps to offset the costs of several reporter and editor positions at the newspaper -- by using the easy options below. Gifts processed in this system are not tax deductible, but are predominately used to help meet the local financial requirements needed to receive national matching-grant funds.
Subscribe to the Coronavirus newsletter
Get the day's latest Coronavirus news delivered to your inbox by subscribing to our newsletter.
---