News > Features
Roberts survives 'trailer-park' life
Wed., Feb. 4, 2009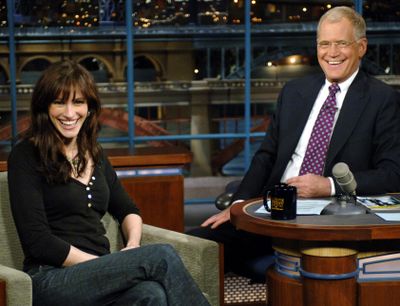 The world of celebrity is every bit as manufactured as you might imagine, claims author Cooper Lawrence in his new book "The Cult of Celebrity."
And in the midst of star-making, mistakes are sometimes made.
Consider the case of Julia Roberts, an A-list movie star if ever there was one. But, according the Lawrence's book, Roberts' career nearly never got started.
According to the New York Post, celebrity agent Robert Attermann told Lawrence his Abrams Artists Agency made the mistake of not signing Roberts.
"Julia Roberts came in years ago, and the commercial agent who met with her at the time said, 'Nah, she's too trailer park,' " Attermann said. "As a matter of fact, when we moved offices, we were going through old rejection files, and in there was Annette Bening, Robin Givens, Julia Roberts and a couple of others."
One ambitious singer did his own aggressive marketing when he first hit New York.
"When (David) Bowie and his manager came to New York, they were riding around in a limo wearing furs, staying at the Waldorf, creating the image that he was a star, even though they were flat broke," singer-songwriter Edwin McCain told Lawrence. "It was a 'fake-it-till-you-make-it' mentality."
Garden State greets greats
Rocker Jon Bon Jovi and 12 others were named to the New Jersey Hall of Fame on Monday. Winners were chosen by New Jersey residents online and by the hall's voting academy, made up of 100 state organizations.
Other inductees include NBA star Shaquille O'Neal, civil rights activist Paul Robeson, funnymen Bud Abbott and Lou Costello, astronomer Carl Sagan, Yankee shortstop Phil Rizzuto, novelist F. Scott Fitzgerald, poet Walt Whitman, comedian Jerry Lewis, tennis star Althea Gibson, inventor Guglielmo Marconi and writer William Carlos Williams.
Working on an apology
Bruce Springsteen told the New York Times he shouldn't have made a deal with Wal-Mart to exclusively sell a greatest-hits CD. Fans were critical because Springsteen is a longtime supporter of worker's rights, and Wal-Mart has faced criticism for its labor practices.
"It was a mistake," Springsteen said. "Our batting average is usually very good, but we missed that one. Fans will call you on that stuff, as it should be."
Tabs endure hard day's night
Heather Mills, Paul McCartney's ex, scored a quintiple when five British tabloid newspapers published apologies for printing "inaccurate and hurtful" stories about her. For the record, the tabs are Daily Express, The Sun, London Lite, Daily Mirror and Sunday Mirror.
Quotable quote
"Call me crazy, but when I saw the picture, I was like, 'Oh my God, Jessica looks hot!' ": Celebrity Kim Kardashian, commenting on photos of a fuller-bodied Jessica Simpson.
The birthday bunch
Actor Conrad Bain is 86. Actor Gary Conway is 73. Drummer John Steel of The Animals is 68. Singer Florence LaRue of the Fifth Dimension is 65. Singer Alice Cooper is 61. Actor Michael Beck is 60. Actress Lisa Eichhorn is 57. Country singer Clint Black is 47. Actor/comic Rob Corddry is 38.
Local journalism is essential.
Give directly to The Spokesman-Review's Northwest Passages community forums series -- which helps to offset the costs of several reporter and editor positions at the newspaper -- by using the easy options below. Gifts processed in this system are not tax deductible, but are predominately used to help meet the local financial requirements needed to receive national matching-grant funds.
Subscribe to the Coronavirus newsletter
Get the day's latest Coronavirus news delivered to your inbox by subscribing to our newsletter.
---