News > Washington Voices
EWU fan makes it his work to inspire athletes to greatness
Superfan Terry Stratton finds home on the sidelines
Thu., Feb. 5, 2009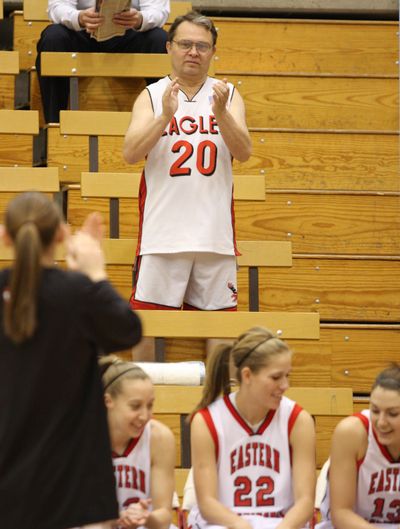 Since 1994, Eastern Washington University alumnus Terry Stratton has rarely missed an Eagles game.
Usually it's just the players who suit up for contests, but that's not the case for the devoted fan. Clipboard in hand and Eagle uniform on, Stratton is hard to miss at any given EWU sporting event in Cheney.
He has unconventional style, but Stratton has been a valued part of the EWU community for 14 years. Beginning as an undergraduate student in urban and regional planning in 1974, Stratton later decided to seek a master's degree in physical education, which is when the aficionado began to emerge.
"It all started in 1994 when I had a small filler class about the Gospel of Matthew. Two of the 13 students were women's basketball players, another was the announcer for the games, and the professor played basketball, too," Stratton said.
Stratton started regularly attending games that quarter.
"At one time I was giving each player a velvet rose for each game, but financially I had to stop that," he said.
Stratton says he's been guided by God. "I was spiritually guided to be here," he said. "I'm being put in a position to inspire others who are in (a) greater position to inspire others." He hopes to help Eastern athletes play inspired ball, which in turn, he said, could inspire other people to achieve greatness. Stratton devotes a lot of his time to making statistical notes and writing poetry and short stories to hand out to players before Eastern men's and women's sporting events, especially women's basketball.
He said small jobs, such as delivering groceries in Spokane, get him by happily. This season, the women's soccer team threw him a birthday party, giving him a chair, umbrella, backpack and T-shirts. "I was surprised they did all that for me," he said.
Stratton said he receives government aid but hopes to do work for the EWU athletic department some day as a "performance specialist" employee. For now, his work is unpaid, but by no means unappreciated.
"He's our superfan, that's for sure," said women's basketball coach Wendy Schuller. "He is greatly appreciated by our team. He even meets us at the bus to wish us luck before away games."
Stratton, 59, is writing a biography of Antoinette Dustin, a late Eastern basketball player who Stratton feels is "an unsung hero who deserves to be recognized."
To many who know him, Stratton, too, is an unsung hero of sorts, whose inspired work is likely to remain secure in the Eastern community for years to come.
Local journalism is essential.
Give directly to The Spokesman-Review's Northwest Passages community forums series -- which helps to offset the costs of several reporter and editor positions at the newspaper -- by using the easy options below. Gifts processed in this system are not tax deductible, but are predominately used to help meet the local financial requirements needed to receive national matching-grant funds.
Subscribe to the Coronavirus newsletter
Get the day's latest Coronavirus news delivered to your inbox by subscribing to our newsletter.
---
Subscribe and log in to the Spokesman-Review to read and comment on this story