News > Features
Rourke makes peace with Penn
Thu., Feb. 5, 2009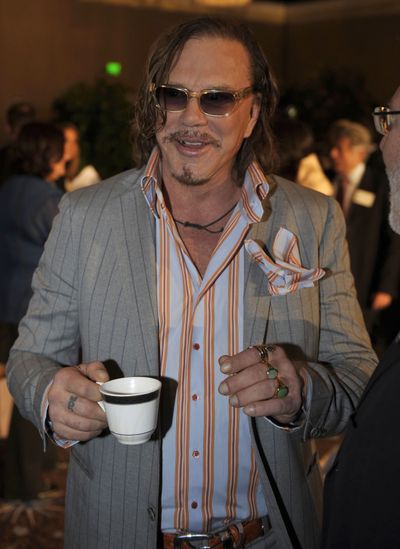 You know how it is. You say something to a friend who passes the remark on to someone else who then ends up Twittering it.
Things happen. Just ask Michael Phelps.
Better yet, ask Mickey Rourke who, on Monday afternoon, was forced to face up to comments he supposedly made about fellow Oscar nominee Sean Penn.
Seems, according to the New York Post, that Rourke – a Best Actor nominee for his role in Darren Aranofsky's film "The Wrestler" – had said mean things about Penn and his Oscar-nominated performance in Gus Van Sant's film "Milk."
After seeing "Milk," Rourke, reports say, called Penn a "homophobe" and an "average" actor. Hard to say which hurt the mercurial Penn more, but he was said to be "furious."
But then there the two were on Monday, having drinks poolside at Los Angeles' swanky Sunset Tower hotel.
A spy told the Post, "Mickey had his little Chihuahua with him for moral support – he looked a little nervous around Sean. Everyone knows Sean can hold a grudge. It was weird, though – some guy they both knew came over with a video camera and started recording them."
Life never ends up being an extension of high school, does it?
Phillips holds on to new career
Hollywood has given up even trying to be original, remaking movies such as "Friday the 13th." Now comes word that television will reproduce "Newlywed Game," featuring former Wilson Phillips singer Carnie Wilson, 40, as host. The VH1 show, which airs April 6, follows the original, hosted by Bob Eubanks, which ABC debuted in 1966.
'Bale Out' a YouTube hit
A Christian Bale temper tantrum last July on the set of the forthcoming film "Terminator Salvation" has been turned into a hot YouTube video. "Bale Out," which was produced by Lucian Piane (or RevoLucian), featured the "Dark Knight" star's profanity-filled tirade set to a dance mix. By Wednesday, the video had received more than 700,000 views.
They better all wear masks
New Orleans' Mardi Gras is attracting a variety of C-list celebrities for its glitzy Orpheus parade, founded in 1993 by Harry Connick Jr. Among those set to show up are Jim Belushi ("According to Jim"), Bryan Bratt ("Mad Men"), comic Carlos Mencia, Josh Gracin ("American Idol"), Christian LeBlanc ("The Young and the Restless") and Ricky Paull Goldin ("All My Children").
Lucky man, that Justin
Something we wish we could have seen: The New York Post spied Jessica Biel, clad in a sexy black dress, "working the room like a perfect hostess" at the recent surprise party she threw for beau Justin Timberlake.
The birthday bunch
Writer-producer Stephen J. Cannell is 68. Actor David Selby is 68. Singer Cory Wells of Three Dog Night is 67. Singer Al Kooper is 65. Actress Charlotte Rampling is 63. Actress Barbara Hershey is 61. Actor-director-comic Christopher Guest is 61. Actor-comedian Tim Meadows is 48. Actress Jennifer Jason Leigh is 47. Actress Laura Linney is 45. Singer Bobby Brown is 40. Country singer Sara Evans is 38. Actor Jeremy Sumpter is 20.
Local journalism is essential.
Give directly to The Spokesman-Review's Northwest Passages community forums series -- which helps to offset the costs of several reporter and editor positions at the newspaper -- by using the easy options below. Gifts processed in this system are not tax deductible, but are predominately used to help meet the local financial requirements needed to receive national matching-grant funds.
Subscribe to the Coronavirus newsletter
Get the day's latest Coronavirus news delivered to your inbox by subscribing to our newsletter.
---