Sports
Undefeated CdA may be best girls team in region
Thu., Feb. 5, 2009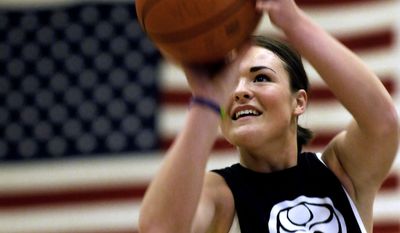 Ron Adams has watched girls basketball in the region grow by leaps and bounds the past 29 years.
From his perch as the director of the Spokane Stars AAU program, he has been blessed to have most of the top players in the area compete for him.
So when he talks about which high school teams are the best, there's more than a lace of credibility to what he has to say.
This year is no different. He's watched three-time Washington State 4A champion Lewis and Clark play a couple of times and he's watched defending Idaho 5A state champ Coeur d'Alene play five times.
Adams didn't hesitate when asked the obvious question.
"Coeur d'Alene has more talent," Adams said. "Coeur d'Alene has more kids on that team that can play (NCAA) Division I basketball than Lewis and Clark. Coeur d'Alene has better basketball players, more athleticism and is deeper than Lewis and Clark."
CdA coach Dale Poffenroth, who coached three state championship teams and two state runner-up teams at Central Valley before he retired from teaching in Washington five years ago and headed east, believed his team needed to be challenged this season. So he tried to put together the toughest schedule he could find.
To get to play Moses Lake, the team that lost to Lewis and Clark in the 4A final last year, he had to agree to go to Moses Lake. The Vikings did so in early December and left 64-53 winners.
He took his team to a tournament in Delaware where the Vikings ended up facing arguably the best program from the Pacific Northwest the past two decades in the championship game – Oregon City, which is ranked No. 1 among 6A teams in Oregon. CdA won 63-52.
CdA, which has won 24 straight dating back to last season, played 14 of its 20 regular-season games on the road.
The No. 1-ranked Vikings continue a journey that they hope lands them in the state title game for a fourth straight year Friday when they take on crosstown rival Lake City in the first round of the Region I tournament.
Which team would win if Lewis and Clark and CdA squared off?
"If the game was played on a neutral court, you'd have to give Coeur d'Alene a small advantage," Adams said. "They'd probably be a two- to three-point favorite. Where Lewis and Clark would have an advantage is it shoots the ball real well. It's too bad they can't play this year. They'd fill a gym up for that game. It'd be a helluva game. That's a fantasy game right there. They'll both go on and win state championships again this year."
With the Greater Spokane League opening up its schedule to allow teams to play non-league games next year, Poffenroth and LC coach Jim Redmon have agreed they want to play. They just have to determine where.
CdA returned four of five starters and a deep bench this season. Poffenroth believes all of his reserves could start for a number of teams.
"The thing I've been pleased with is all the players accepted their roles and they've played well in those roles," said Poffenroth, who plans to coach at least one more year.
CdA's run should continue next season. The Vikings will return two starters and promote a solid core off a junior varsity team that went 18-0 and won by substantial margins.
In the middle of CdA's success has been four-year starter Kama Griffitts. The 6-foot wing, who was named the 5A player of the year last season, recently broke the school's career scoring record. She is averaging 15.5 points per game along with six rebounds, three steals and three assists. Five other players average 6.6 or more points.
Griffitts can't believe her prep career is down to a handful of games.
"The girls who I've played with my whole life … we're going to be graduating and going off our separate ways," said Griffitts, who recently gave an oral commitment to play at Snow College in Utah. "I can't believe it's almost over."
Griffitts said that over and beyond the obvious talent the Vikings possess, the key to CdA's success this season has been a tight bond.
"This team is closer than any of the teams I've played on," she said. "Last year was better than my freshman and sophomore years. But this year we're just like sisters."
Griffitts believes getting out of the Region I tournament could be more difficult than playing at state.
"The league has really pushed us," Griffitts said. "There are so many good players on all four teams. Playing those teams has really made us a better defensive team."
CdA has a chance to do something just one CdA team has accomplished – finish 25-0. The last time that happened was 1993-94, the year before the school split and Lake City opened.
"Coeur d'Alene is 15 points a game better this year than last year," Adams said. "I haven't seen a better team than Coeur d'Alene this year and I see them all."
Local journalism is essential.
Give directly to The Spokesman-Review's Northwest Passages community forums series -- which helps to offset the costs of several reporter and editor positions at the newspaper -- by using the easy options below. Gifts processed in this system are not tax deductible, but are predominately used to help meet the local financial requirements needed to receive national matching-grant funds.
Subscribe to the sports newsletter
Get the day's top sports headlines and breaking news delivered to your inbox by subscribing here.
---
Subscribe and log in to the Spokesman-Review to read and comment on this story