News > Nation/World
Depression haunted octuplets' mom
First child rallied spirit, she told doctor
Fri., Feb. 6, 2009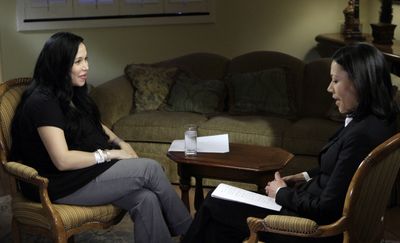 WHITTIER, Calif. – The veil of secrecy octuplets' mother Nadya Suleman shrouded herself in for more than a week was lifted Thursday with the release of public documents showing that the 33-year-old struggled with depression for years until she finally began to realize her childhood dream of having a huge family.
Suleman, who now has 14 children, told doctors she battled with depression for years after she was injured in a riot in 1999 at the state mental hospital where she worked.
The doctors' reports were included in more than 300 pages of documents released to the Associated Press by the state Division of Workers' Compensation on the same day NBC released excerpts of Suleman's first interview. Among other things, the documents reveal that Suleman collected more than $165,000 in disability payments between 2002 and 2008 for an injury she said left her in near-constant pain and helped end her marriage.
Meanwhile, Suleman told NBC what her mother and others have said since the octuplets were born: that she always wanted a huge family to make up for the isolation she felt as an only child.
"That was always a dream of mine, to have a large family, a huge family," she said. "I just longed for certain connections and attachments with another person that … I really lacked, I believe, growing up."
In the interview, Suleman calls her childhood "pretty dysfunctional."
In the state report, however, doctors indicate she had a happy childhood. She told them she was an above-average high school student, enjoyed being a cheerleader, had many friends and stayed out of trouble.
As an adult, however, she said she often battled depression as she struggled to get pregnant and particularly after her injury.
In the report, Suleman told a doctor she had three miscarriages. She told NBC she struggled for seven years before finally giving birth to her first child in 2001 through in vitro fertilization.
She told a doctor who conducted a psychological evaluation for a workers' compensation claim that the first birth was "the most wonderful, best thing that's ever happened in my life."
Suleman said all her children have been born through in vitro fertilization, with sperm donated from a friend. The first six range in age from 2 to 7.
According to the state documents, which were released following a public records request, Suleman was injured Sept. 18, 1999, when a riot involving nearly two dozen patients broke out in the women's ward of the Metropolitan State Hospital in Norwalk.
As she was helping other staffers restrain a patient, a desk thrown at her by another patient hit her in the back. It caused damage to her spine and left her complaining of headaches and intense pain for years.
She blamed it in part for the breakup of her marriage to Marcos Gutierrez, whom she had wed in 1996. "I don't want to keep bringing him down. I want him to move on with his life," she told a psychiatrist. The couple split in 2000 and divorced last year.
A friend said Suleman simply loves children and didn't get pregnant for profit.
"She's not even interested in that right now," said Jessica Zepeda, who lives down the street.
Local journalism is essential.
Give directly to The Spokesman-Review's Northwest Passages community forums series -- which helps to offset the costs of several reporter and editor positions at the newspaper -- by using the easy options below. Gifts processed in this system are not tax deductible, but are predominately used to help meet the local financial requirements needed to receive national matching-grant funds.
Subscribe to the Coronavirus newsletter
Get the day's latest Coronavirus news delivered to your inbox by subscribing to our newsletter.
---
Subscribe and log in to the Spokesman-Review to read and comment on this story