News > Features
New album brings Wells home
Spokane-raised musician returns to Knitting Factory
Fri., Feb. 6, 2009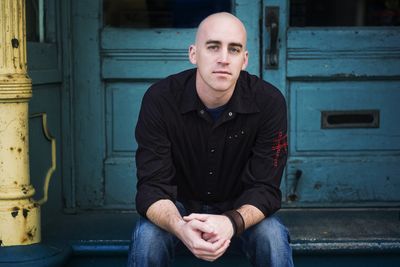 Tyrone Wells left Spokane for college to become a youth pastor in California, but while there, he found a different calling – rock 'n' roll.
"In college I knew I was going to be a musician," Wells, 34, said during a telephone interview while driving through Arizona on his current tour, supporting his sophomore major-label release, "Remains."
He returns home for a show Saturday at The Knitting Factory Concert House.
Wells got his feet wet with music during high school, at North Central, where was the frontman in a band called Axis. They didn't compete in BOBfest – the all-city battle of the bands – but they did take their music seriously enough to sell merchandise and record a demo.
While attending Hope International College in Southern California, Wells joined a band called Skypark. He got a more tangible taste of the music world; that band released four albums and even toured a little.
"When I got involved with music there, that was my second step to taking music seriously," he said. "It helped me learn how to run a business and build a following."
After college, Wells started playing guitar and landed a weekly solo gig at a coffee shop in Orange County. There he formed the True American Records alliance with a few other musicians.
Soon his audience outgrew the coffee shop. He moved to a larger venue and charged admission for his shows, eventually selling out clubs in Los Angeles.
"It was a nervous jump to a bigger room. And I started charging a cover at the same time," Wells said. "My confidence was growing. I was thinking this is something I actually do as a career.
"I had a residency at a club and recorded a record in my bedroom, basically. It all started from humble beginnings."
As an independent artist, he saw his music picked up for films and television, including "One Tree Hill," "North Shore," "What About Brian," "Ghost Whisperer" and the animated film "Everyone's Hero."
Wells set a record for the most college and university bookings in the history of the National Association for Campus Activities showcase in 2006. That same year he signed with Universal Records, which rereleased his fourth True American album, "Hold On."
Last week Wells released his second CD on Universal, "Remain." For the new album, he took a more collaborative approach to the songwriting, working with a circle of songwriters, musicians, and producers in London, including Matin Terefe (Jason Mraz, KT Tunstall), Iain Archer (co-writer for Snow Patrol) and Tim Myers (formerly of OneRepublic).
"My writing strengthens whenever I involve other people – something great happens," Wells said.
"Being in London changed everything, the whole vibe. It was dreary. And there is this sense of history that is lacking here (in the U.S.). All of that crept into the songwriting and defined the direction of the record."
Instrumentally, the album is more raw and more guitar-heavy than Wells' previous outings. It's soul-baring and from the heart, recalling his gospel background.
"We decided to dress the songs up as much as we could," Wells said. "There are still songs that are sparse. Part of me wants to make an acoustic record, with everything totally unplugged, but we were ready to make a bigger sound for this one."
He said he's excited to bring the record live to Spokane and play it for fans, friends and family.
A machine when it comes to touring, Wells has been to the Knitting Factory more often than most people who live here, headlining a show seemingly once every few months as a part of his nonstop nationwide tour schedule.
The shows draw well in Spokane, even though Wells doesn't get much regional airplay on the radio.
"You gotta be a road dog," he says. "Some people make their careers on radio, others do it touring. What success I have is hard-fought from playing live.
"It feels good to know it's authentic," adds Wells. "It's no stroke of genius from marketing. It's from getting up onstage. And people like what we do.
"There's something special about coming to your hometown after chasing your dream and being able to play for people I haven't seen in years. I walk out feeling like a million bucks."
Local journalism is essential.
Give directly to The Spokesman-Review's Northwest Passages community forums series -- which helps to offset the costs of several reporter and editor positions at the newspaper -- by using the easy options below. Gifts processed in this system are not tax deductible, but are predominately used to help meet the local financial requirements needed to receive national matching-grant funds.
Subscribe to the Coronavirus newsletter
Get the day's latest Coronavirus news delivered to your inbox by subscribing to our newsletter.
---
Subscribe and log in to the Spokesman-Review to read and comment on this story