News > Nation/World
Vote on stimulus plan put off
Fri., Feb. 6, 2009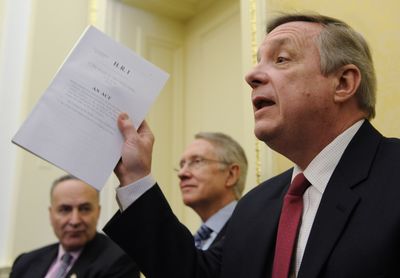 WASHINGTON – Senate leaders called off plans to vote on President Barack Obama's economic recovery plan Thursday night in hopes that a group of centrist lawmakers from both parties would be able to fashion a compromise that would cut the cost of the $937 billion bill and win support from at least a few Republicans.
After a long day of behind-the-scenes negotiations, Senate Majority Leader Harry Reid, D-Nev., dropped plans to hold a final vote on the bill as the bipartisan group of centrists worked into the night to trim as much as $100 billion, an attempt to bring moderate Republicans on board without driving Democrats away.
The stimulus bill is a cornerstone of Obama's efforts to revive the economy. But his hopes for bipartisan support have faded amid Republican complaints that it is laden with spending that does not promote job creation and that it does not offer enough in tax cuts. The House passed the legislation without a single Republican vote, and the price of the bill has grown by about $100 billion since reaching the Senate.
On Thursday, the Senate rejected a full-scale alternative proposed by former GOP presidential candidate John McCain, R-Ariz., that would provide more tax cuts and less spending than Obama wants.
If the overnight effort to find a bipartisan compromise fails, Reid said, the final vote may not come until early next week.
Obama's personal and political prestige are on the line, because he has been deeply involved in lobbying reluctant senators and trying to reach across the aisle to Republicans. The president showed a flash of impatience Thursday morning, saying: "The time for talk is over. The time for action is now."
Obama will have another opportunity to ratchet up pressure on Congress Monday, when he holds his first prime-time televised news conference as president.
Once the Senate votes, the bill may yet be substantially revised in a conference committee that will reconcile differences between the Senate and House versions of the legislation.
The bill is a sweeping package of tax breaks for individuals and for businesses intended to spur economic growth; expanded benefits for the unemployed; aid to states to help maintain health and education services; and funding for highway repairs and other infrastructure projects.
It also includes a hodgepodge of other items, such as spending for increased broadband access in rural areas and for computerizing medical records, which Democrats say will modernize the economy and contribute to long-term growth.
The tenor of debate grew more partisan Thursday, with Republicans sharpening their criticism of the bill and Democrats accusing the GOP of rebuffing Obama's gestures of bipartisanship.
"This bill stinks," said Sen. Lindsay Graham, R-S.C.
Sen. Charles Schumer, D-N.Y., said that GOP opposition demonstrated that "the hard right still has a stranglehold on most Republicans."
When the Senate considered McCain's alternative, which would have cut the price tag to $421 billion, the vote split on strict party lines 57-40.
Local journalism is essential.
Give directly to The Spokesman-Review's Northwest Passages community forums series -- which helps to offset the costs of several reporter and editor positions at the newspaper -- by using the easy options below. Gifts processed in this system are not tax deductible, but are predominately used to help meet the local financial requirements needed to receive national matching-grant funds.
Subscribe to the Coronavirus newsletter
Get the day's latest Coronavirus news delivered to your inbox by subscribing to our newsletter.
---