Organizer thinks big with 10-day sporting event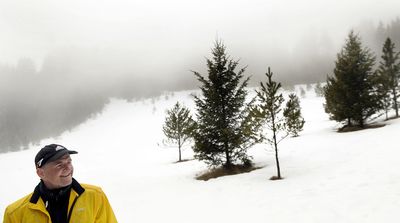 Dave Adlard doesn't think small.
When the North Idaho event planner and gymnastics studio owner wanted to start a regional gymnastics festival, friends told him to start small and build up. Instead he started big and made it bigger. In its first year, the Great West Gym Fest attracted 700 athletes from 14 states and three other countries. Olympic gold medalist Bart Connor made a guest appearance. Gym Fest is now in its eighth year and has doubled in size.
Now Adlard is throwing that same passion and experience into putting on Adventure Sports Week 2009 – a 10-day event to be held at Farragut State Park in North Idaho that will offer 24 different races for adventure sports junkies.
From June 5 to 14, up to 2,000 expected competitors will race through the park's 4,000 acres in events including mountain biking, trail running, orienteering, kayaking and swimming. One event will be a qualifying race for the national XTERRA off-road triathlon series.
The week is billed as having something for everyone. Races will include a mini-triathlon, a run-bike duathlon, an orienteering meet, four- and eight-hour mountain bike lap races, trail runs ranging from several miles to a 50-mile endurance run, kayaking races and distance swimming in Lake Pend Oreille. There's even a fun run for kids.
Rounding out the week will be parties, awards ceremonies, barbecues, camp-outs and instructional clinics with top athletes in adventure racing.
"The way it's put together, it's bringing in a lot of different races into one bigger event," said Ian Adamson, a seven-time world champion adventure racer who also holds the world record for endurance kayaking (262 miles in 24 hours). "I think that's quite valuable because it gives people an opportunity to choose. They could do any number of the races within the event."
Adamson plans to attend and compete in the "Crux and Crucible" events, a two-day duo of multiple-sport adventure races. Adamson said he gets several invitations per week to participate in adventure races, and turns down 99 percent of them. This event drew him because of the format, which he compared to other multiple-sport events, such as the Teva Mountain Games in Vail, the Gorge Games in the Columbia River Gorge or the X Games.
"We're not afraid of big events," said Adlard, 47. "Why have 'little' vision? It's not that much harder to run a big event. I can run a 10-times bigger event for 50 percent more effort."
Adlard said he started adventure racing in 2007 after taking a fifth-anniversary trip to Hawaii with his wife, Lisa. He thought he was in shape until he looked at a picture she took. "I looked at the picture and thought, 'Who's the middle-aged fat guy?' "
For the rest of the vacation, the couple decided they would not lounge on the beach. They went scuba diving, rappelling, ocean kayaking and running. Adlard also happened to be reading a book on the Raid Gauloises, widely considered the world's first modern adventure race. He returned home and called some friends and started putting together an adventure racing team.
Following six years of hosting Gym Fest and years of organizing other gymnastics clinics, Adlard knew how to put together an event. But as he and his team began to attend and compete in adventure races, they noticed a lackadaisical approach to the organization. They thought they could do better.
"If you want to do something that's special for the racers, you need to do more than that," Adlard said. "Having done the gymnastic events we have for so long, you develop a bigger bag of tricks, in terms of being imaginative and creative and what kind of things you can do."
Adlard has organized a team that includes Corey and Michelle Haustein, of Coeur d'Alene, who have competed in Ironman and marathons, and Todd Jackson, a race promoter from Lake Tahoe who has run XTERRA events. All have deep contacts in the endurance and adventure racing fields.
Corey Haustein said the group is made up of athletes who want to see the Inland Northwest become home to more off-road races. The region has its share of triathlons, road bike races and, now, Ironman. But off-road events are not well-represented, he said.
"We're doing it because the area needs it, the area wants it," Haustein said. "It's time to bring something to the dirt."
Adlard acknowledges there is risk in this first year, and said Gym Fest is fronting Adventure Sports Week some seed money. But he's confident Adventure Sports Week will spread to four locations nationwide within the next three to four years, with up to 16,000 athletes participating annually.
"Part of it is having a great model," Adlard said. "You go down the list: venue, awards, entertainment, crew. Then it's a question of delegating the jobs out."
Part of that work has been coordinating the event through Farragut State Park. Randall Butt, the park manager, said the park turned down Adlard's original permit request for August because of too many potential user conflicts. The first two weekends in June shouldn't pose many problems, Butt said, because school will still be in session and summer won't be in full swing yet. Butt said the only potential conflict he sees is between horseback riders and mountain bike racers.
Several events will have world-class mountain bike racers flying at top speed through single-track trails regularly frequented by horseback riders, Butt said. He said the park will post fliers alerting people to the event and will encourage equestrian groups to choose a different venue during that time.
With all the different races and events, Butt said, competitors "will hit about every point in the park during some time."
---